REMEMBER Millie, the wonder pup who made her way home to Corofin after a month?
The poor pooch was so tired and injured when she came home, she had to have her leg amputated.
She faced a long road back to full health, but she is recovering well.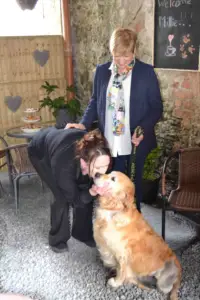 So well in fact, that she was in her element as the guest of honour at the opening of Missybud Cafe's new 'dog friendly' extension in Corofin.
"We had a fantastic day and Millie was an absolute super star, she lapped up all the love and fuss," Missybud Cafe's Lynden Burger said.
We can't think of a more perfect guest of honour!