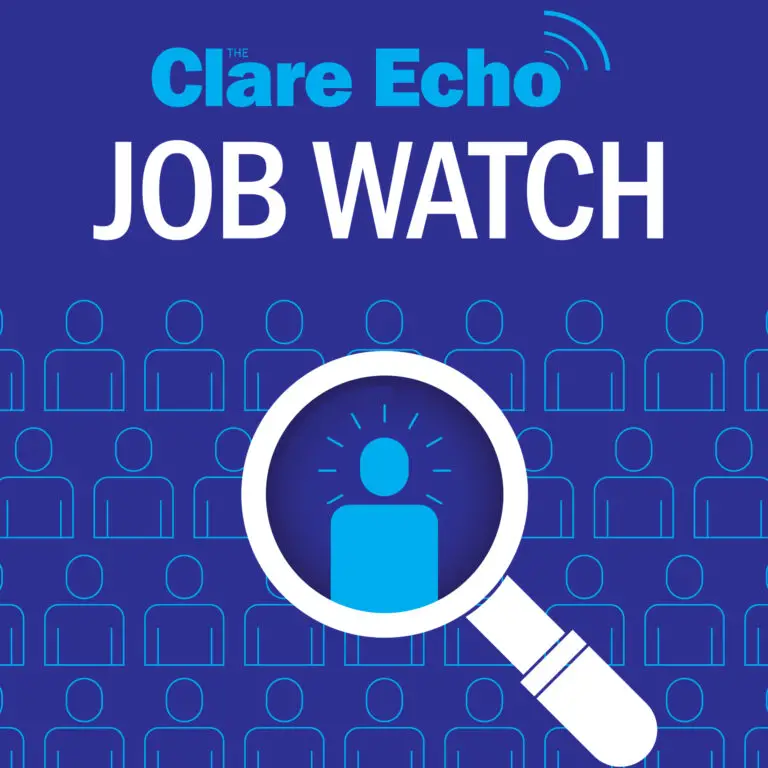 WE ARE delighted to bring to you our Clare Echo Job Alert post.
This post will be updated every Thursday morning. We will keep readers up to date on positions ranging from summer jobs for students, those looking for part-time work, or for people looking to further their career in a specific area.
If you would like to post an advert in our jobs section then contact sales@clareecho.ie
Sherry Fitzgerald McMahon
Posted on 25th November 2021
Sales Support Position
Sherry Fitzgerald McMahon have an amazing opportunity to join a top performing sales team in our Ennis office.
The successful candidate will be capable of working on their own initiative, have excellent verbal and written communication skills and work well as part of a team.
Strong IT skills incuding Microsoft Office (word, excel etc.)
Pro-active 'can-do' attitude
Strong organisational skills with ability to prioritise workload
Ideally have previous customer service and office experience
Position is a minimum of a 4 day week
Own car is a requirement
If you feel you are looking to couple up first-hand experience with further education or simply want to be an integral part of our team, please send your CV along with a covering letter to: ennis@sherryfitzmcmahon.ie
Tel: 065 6867866
Dublin Coach
Posted on 25th November 2021
Coach Driver Position
We are hiring experienced coach drivers in Ennis, on a full-time and part-time basis.
Key Responsibilities of the role include:
To drive the company's vehicles to the highest of standards, making sure driving is performed in a safe and professional manner
To drive in-line with a set timetable
Use of ticket machines and issuing of tickets to customers
Providing a high standard of customer service
The ideal candidate will have:
An up to date Manual Handling certificate
Good spoken English
Please note that all successful applicants must be in possession of a full D-Category EU Driving Licence, Driver CPC card, and a Digital Tachograph card
If you wish to apply for a role with Dublin Coach please email your application to hr@dublincoach.ie
Flynn's Life Pharmacy 
Posted on 25th November 2021
Support Pharmacist, minimum 2 days a week
Pharmacy Technician, minimum 2 days a week
Full time Front of Counter Assistant
Flynn's Life Pharmacy, Gort Road, Ennis
The contact details for any applications are as follows:
sedaly@uniphar.ie
Denmac Stainless Fabrication Ltd
Posted on 25th November 2021
Manufacturing Employee
Denmac Stainless Fabrication Limited require a manufacturing employee. Would suit person with a keen interest in the metal industry and work well as a team.
Apply in writing to the Personnel Manager, Denmac Stainless Fabrication Ltd, Stonehall, Newmarket-on-Fergus, Co. Clare or email info@denmacstainless.ie
Telephone: 061-363777
Limerick & Clare Education and Training Board
Posted on 25th November 2021
Panel of Youthreach Resource Persons
At Further Education and Training Division
Ref. No. 010861
Applications are invited for the above panel.
Online application form and further details are available on www.lcetb.ie
Closing time and date for receipt of applications is 12 noon Thursday 9th December 2021
Limerick and Clare Education and Training Board is an Equal Opportunities Employer.
Canvassing will disqualify.
Obair Community Creche
Posted on 25th November 2021
Full Time Childcare Assistant
Invite application for the position of Full Time Childcare Assistant, 40 hours per week (including paid breaks), 8 hour shift, Monday to Friday, no weekends
Interested applicants should email a letter of application and CV to noreen.mcnamara@obair.org
Interviews will be held as soon as possible.
Position to start immediately. (Pending Garda Clearance & Reference Check)
Obair Community Creche is an equal opportunities employer.
Airport Search Security Officer – Passenger & Cabin Baggage
Posted on 18th November 2021
Part Time and Full Time Opportunities – Fixed Term Contract
Overview
At Shannon Airport we are growing our Airport Search Security Team. Successful candidates will help provide the security and protection needed for all passengers, staff and vehicles entering security restricted areas of
the airport.

Role Purpose
The Airport Search Officer, plays a key role in delivering consistent, targeted levels of safety, security and services, and a quality user experience. The primary focus of the role is to ensure the safe, secure, smooth and timely inspection and screening of passengers and staff , cabin baggage and items carried to national and international standards as defined by the IAA, EU ECAC and ICAO. Full training will be provided, and national certification will apply. In addition to regular work periods, we are looking to cover early morning and late evening rosters, weekends and public holidays and there may be an element of night duty. The Airport Search Officer will rotate between duties within the security function on a 20-hour or 40-hour roster basis. All duties require standing and bending. As these are shift positions, applicants must be over 18 years of age on date of application.
Key Areas of Responsibility
Key tasks/responsibilities:
• The main provision of aviation security screening is the use of advanced technological equipment
• Screening passengers and staff via our new state of the art security scanning area
• X-ray examination and targeted searching of hand baggage
• Control and secure access to a sterile area
• Assist in delivering consistent levels of safety, security and services, and a quality user experience
• Ensure safe, secure, smooth and timely processing of passengers
• Provide the passenger with appropriate regulatory requirement information and assistance
• Divest passengers and staff , and load passenger items into trays and onto conveyor belts in preparation for screening
• Resolve any security screening issues that arise
with the Passenger & Cabin Baggage Screening Supervisor
• Any other duties as assigned to meet operational requirements
Qualifications, Skills and Experience
The candidate should have:
• A willingness to work in a team environment where flexibility is required for changing passenger demand
• A willingness to work a variety of shift patterns, from early mornings and late evenings to weekends, bank holidays and night duties
• An ability to work in an environment where adherence to standard operating procedures is a significant feature of daily responsibilities
• Experience in a service driven organisation
• A professional, friendly, and helpful approach
• Strong customer orientation and excellent interpersonal skills
• A pleasant, confident, and outgoing personality with self-motivation and diplomacy skills
• Excellent communication skills, fluent standard of English and a proficiency in a European language is an advantage
• Candidates must be eligible to work in Ireland
How to Apply:
Applications in the form of a cover letter and current CV (MS Word or pdf) should be sent to: recruitment@shannonairport.ie no later than 12 noon on Tuesday, 30th November 2021. Ensure your email and telephone number (including mobile) are included with your application.
Brothers of Charity Ireland Clare Region
Posted on 18th November 2021
Support Workers
Region: Ennis | Contracts Available: Permanent Full Time, Permanent Part Time and Relief | Hours: 0/78 to 60/78
Region: Shannon | Permanent Part Time, Specified Purpose and Relief | Hours: 0/78 to 78/78
Region: Killaloe/Ballina | Hours: Permanent Full Time and Relief | Hours: 78/78 & 0/78
Region: Various Locations | Permanent Part Time, Specified Purpose and Relief | Hours: Various
Further details available on www.irishjobs.ie
Application via www.irishjobs.ie
Applicants must, on date of Application, have a Full Clean Driving Licence
Please note you may be called forward for interview at short notice.
Shortlisting may apply
Panels may be formed
Canvassing will disqualify
Equal opportunities employer
General Practice Nurse
Posted on 18th November 2021
– General Practice Nurse required for busy Ennis based GP practice.
– Part time initially
Apply to practicenurseennis@gmail.com
Clare County Council
Posted on 11th November 2021
Librarian Panel (Grade 5)
Clare County Council is currently inviting applications from suitably qualified persons for the below competition. Clare County Council will, following the interview process, form a panel for the area set out below from which future relevant vacancies may be filled subject to sanction approval from the Department of Housing, Local Government & Heritage.
Completed applications must be emailed to: recruitment@clarecoco.ie not later than 4.00pm on Thursday 25th November 2021.
Please note the following requirement:
Each candidate must, on the latest date for receipt of completed application forms, hold a degree (level 8 on the National Framework of Qualifications) in the area of Library and Information Studies.
Application forms and further particulars may be obtained by requesting same from the Human Resources Department, Clare County Council at 065-6846251, via email: recruitment@clarecoco.ie or can be downloaded from the following website: www.clarecoco.ie
Clare County Council is an equal opportunities employer and welcomes applications from all sectors of the Community.
Successful candidates will be subject to Garda vetting in advance of appointment to the position.
Scriobh chugainn as gaeilge más fearr leat.
IAC International Aerospace Coatings
Posted on 11th November 2021
Spray Painters
Full training provided
International Aerospace Coatings is the global leader in aircraft painting, interiors, and graphics, with 10 state of the art facilities across the USA and Europe. Our European head office is based in Shannon, Co. Clare. We currently have openings for Spray Painters at both our Shannon airport and Dublin airport facilities. Full training will be provided to upskill to aircraft spray painter.
For more information and to apply, go to IAC website https://iac.aero/careers/  email careers@iac.aero
Ennis Electrical
Posted on 11th November 2021
Retail Sales Assistant
Suitable for a confident, capable person with sales experience. Good customer service and communication skills.
This is a full time position.
Please apply with CV to audrey@enniselectrical.com
Fergal Warren Mechanical Contractor
Posted on 11th November 2021
RGI Registered Plumber
We are currently recruiting an RGI Registered Plumber in the Munster Area.
Qualifications and Experience:
Applicants will be required to hold a National Craft Certificate or Fetac 6 Plumbing and hold relevant certification for RGI Registration. Must have a sound working knowledge of commercial and domestic gas boilers and controls.
Additional responsibilities may include boiler upgrades, full system replacements, fault finding and repairs to domestic and commercial plumbing & heating systems, power flushing and balancing etc. The candidate will have the opportunity to work in Clean Environments, Hospitals, Schools, Businesses and Domestic settings.
Requirements:
RGI Registration Essential
Experience of both Commercial and Domestic Heating Systems; i.e. BMS systems, controls and wiring
Experience in Fault Finding and Repairs
Must have proven track record of supervising fast moving projects
Previous experience working in the Irish Market
Valid Safepass/Manual Handling required
Job Types: Full-time, Part-time, Permanent
If you are interested in this role, please send your CV to: info@fergalwarrenplumbing.ie
Moloney's Fuels
Posted on 11th November 2021
Part Time seasonal work available with Fuel Merchant.
Rigid licence preferable but not essential.
Tel: 087 6694438
Cup Print
Posted on 4th November 2021
Production Operators
CupPrint is one of the world's leading producers of printed paper cups. Our speciality is short to mid-sized runs and unrivalled delivery. As the largest supplier of environmentally friendly paper cups in Europe and now part of the Huhtamaki family, this is an exciting time in our business.
To meet ongoing business growth we need to expand our team and are currently recruiting for Production Operators at our Ennis manufacturing site.
Main tasks are:
Packing product
Carrying out quality control checks
Obtaining requirements from Job Cards and recording key information
Running machines
The working week is 3 x 12 hour shifts, all days
Requirements:
Working knowledge of written and spoken English
Prior experience is not essential
Comfortable working in a very busy manufacturing environment
You must have existing entitlement to work in the EU
To apply, please send your CV to careers@cupprint.com
Cup Print is an equal opportunities employer.
Zest
Posted on 4th November 2021
Pastry Chef/Baker
Full Time Position
Work as part of our bakery team in our production kitchen in Shannon producing all of our sweet and savoury items.
Early shifts of 06.00 – 14.30
Great work life balance
Catering Assistant
Full & Part Time Positions Available
Evening shifts from 16.00 to midnight.
Working as part of a team in our production kitchen bakery in the finishing, garnishing and assembly of our daily orders for our cafes.
Bar Staff/Food & Beverage Staff
Full & Part Time Positions Available at Shannon Airport
For part time positions we have the flexibility to work around a candidate's availability
For any of the above positions please forward your CV to info@zestfood.ie
Armada Hotel
Posted on 3rd November 2021
Are you the best at what you do? Do you want to be?
We want to find 100 of Ireland's best to be part of our next big adventure!
We have something few others offer – the chance to work in one of Ireland's most innovative hotels and a healthier approach to work and life that means our staff and their families get to truly enjoy an exciting career and a great life, by the sea.
Join our team!
Accounts Assistant
Assistant Managers
Banqueting Porter
Banqueting Supervisor
Banqueting Team Members
Bar Supervisors
Bar Team Members
Baristas
Breakfast Chef
Café Assistants
Catering Assistants
Digital Marketing/ Social Media Executives
Front of House Manager
Guest Relations Assistant
Head of Beverage Development
Horticulturist
Hotel Receptionist 
Housekeeping Assistant
Housekeeping Supervisors
Kitchen Porters
Maintenance Supervisors
Mixologists
Night Porter
Pizza Chef
Prep Chef
Reservations Agents
Restaurant Manager
Restaurant Supervisors
Restaurant Team Members
Senior Chefs
Sommelier
Stores Assistant
Trainee Chefs
Wedding & Events Operations Manager
Apply for any of these positions at https://www.armadahotel.com/QuestfortheBest.html
Resilience
Posted on 28th October 2021
Human Resources Administrator
Supporting over 550 healthcare employees, you'll be responsible for providing day to day HR administration, co-ordination & support across all areas of HR.
This position is full time permanent. Based in our Ennis headquarters the role offers flexible hybrid working.
Please send CV's to careers@resilience.ie