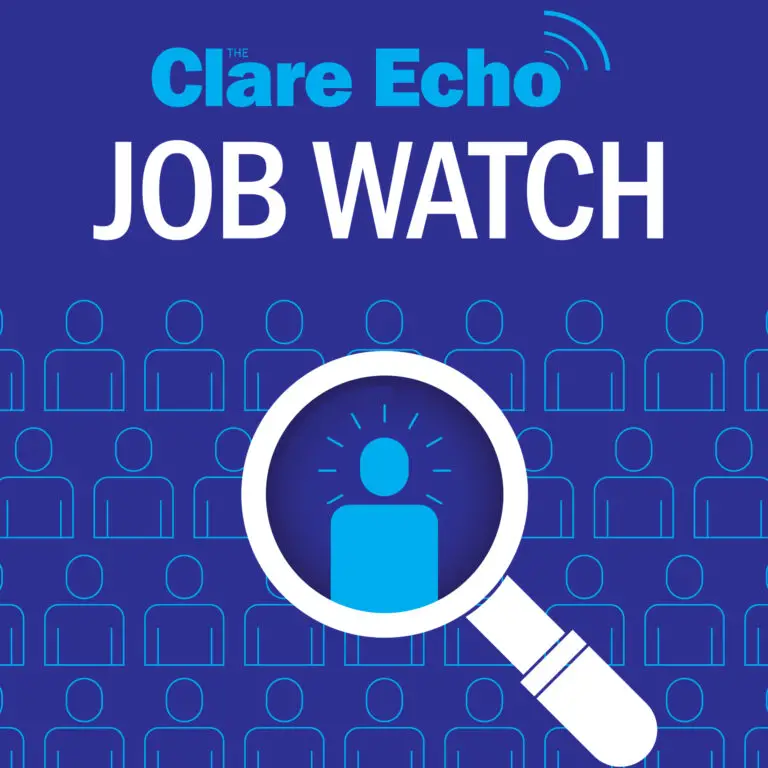 WE ARE delighted to bring to you our Clare Echo Job Alert post sponsored by Key2Recruitment.
This post will be updated every Thursday morning. We will keep readers up to date on positions ranging from summer jobs for students, those looking for part-time work, or for people looking to further their career in a specific area.
Visit Key2Recruitment at https://key2recruitment.ie/ for more job posts and recrutitment services.
If you would like to post an advert in our jobs section then contact sales@clareecho.ie
Loop Head Tourism Marketing and Project Co-Ordinator
Loop Head Tourism (LHT) would like to appoint a person to the position of Marketing and Project Co-ordinator.
This position is for a 1-year contract with the hope that it will be extended.
Duties will include the maintenance of LHT's presence on the web.
Support and co-ordination to LHT network members and distribution of marketing material. Growing and supporting relationships with partners within the tourism industry.
A full job description is available from chairperson@loophead.ie
Beauty Therapist
Beauty Therapist Required at Irene's Hair and Beauty Salon.
Gel nail experience required. 
Please Facebook PM or phone 0659060107
PRODUCTION OPERATOR
Join our Production Team at Zimmer Biomet in Oranmore, Galway.
This dynamic, fast-paced facility is a global leader in musculoskeletal healthcare, producing artificial hips, knees and joints at Zimmer Biomet in Galway.
We want to hear from motivated team players with a track record of delivery. 
Manufacturing or trade experience an advantage but not essential as full training is provided.
This is an opportunity to develop your career in a leading multinational.
For more detail email your CV to productbuilders@careerwise.ie
12 MONTH CONTRACT
FULL-TIME POSITION (36HRS P/ WK)
The successful candidate will have
Significant experience of working in a GP surgery
Excellent written and verbal communication skills
Proven ability to work as part of a team
Knowledge of Healthone software package essential
Own transport
Please email CV with contact details of referees to:
manager@saffronandbluemedicalclinic.ie
Closing Date for Applications:  Friday 26th March, 2021(12noon)
Join our Crew at the Armada Hotel!
Please contact hr@armadahotel.com for more info!
Spanish Point, West Clare
www.armadahotel.com
---
Operations Manager
The Burren Perfumery manufactures and sells perfume and skincare products from its Centre in North Clare. It is a multi-disciplinary environment which includes a working factory, Visitor Centre and mail order fulfilment. We strive for high standards in every facet of the business: customer care, product quality, design and manufacturing. The Burren Perfumery is a positive, varied and unique work environment.
The Operations Manager will be working as part of the management team, the successful candidate will have overall responsibility to ensure the smooth and efficient running of the Burren Perfumery Centre including retail, cafe, visitor facilities, grounds and visitor experience. You will be professional, enthusiastic with exceptional attention to detail. Essential for this position is the ability to work on your own initiative and to lead and direct teams.
This is a varied role and one that is the vital link between the first-rate quality of The Burren Perfumery brand and the visitors' experience. This is a new position and is an interesting, unique opportunity for the right candidate.
Please contact Voltedge on info@voltedge.ie for more information
Manufacturing Employee
Denmac Stainless Fabrication Limited require a manufacturing employee.  Would suit person with a keen interest in the metal industry and work well as a team. 
Apply in writing to the Personnel Manager, Denmac Stainless Fabrication Ltd,
Stonehall, Newmarket-On-Fergus, Co.Clare or email info@denmacstainless.ie   Telephone:   061-363777.
Care Worker
RehabCare is the health and social care division of the Rehab Group.
Our aim is to enhance the lives of all of our clients through the provision of highquality,flexible, person-centred services. We presently provide and are developinga number of services, including Resource Centres,Residential Services, RespiteCare,Supported Accommodation and Home Based Services for people with disabilities.
Care Worker
Fixed Term Contract, 6 Months, 30 hours
Clare Residential Service, Ennis
To facilitate a service user focused service to adults with varying disabilities &complex health needs that include, Intellectual Disability, Epilepsy andParkinson' Disease.
Minimum Education & Skills Required
Training in responses to behavior that challenges and medicationmanagement.
Minimum of QQI Level 5 in Social Care
A basic knowledge of domiciliary care
Job Duties & Responsibilities
Experience of service users with relevant disability.
Experience of facilitating and implementing a person centred plan.
Assist service users in the taking of medication in line with policy and procedure
Find out more & how to apply on our Careers Page at www.rehab.ie or contactShannon Kearns on 086 0486991
/ shannon.kearns@rehab.ie
A commitment to living the organisational values of Team work, Dignity, Justice, Advocacy and Quality
Closing date for receipt of applications is 11th February 2021
Rehab Group is an Equal Opportunities Employer
Part-Time Pharmacy Sales Assistant
Part-Time Pharmacy Sales Assistant
24 hour contract
Pharmacy experience preferred
To apply send CV to: allcarecareers@allcarerecruitmen.ie
Flynn's Life Pharmacy in Ennis, Co Clare
Receptionist/Legal Typist
– Excellent customer service & communication skills required
– Ability to work under pressure
– Team player with telephone , typing & IT skills
– Filing & document management
Email or post letter with CV to williamcahir@cahirsolicitors.com
All Applications received in strict confidence
RECEPTIONIST / RETAIL ASSISTANT
Must have pleasant, friendly manner and enjoy dealing with the public.
• Good phone manner • Computer literate
Experience not necessary but an advantage
Email cover letter and current CV to wildatlanticopticians@gmail.com
Manufacturing Lead
We are seeking a highly motivated individual to fill the role of Manufacturing Lead to grow the business into the future.
Key Tasks of the Role
– Assist in introducing the latest technology to help improve manufacturing within the business
– Assisting the design team on various tasks such as new product specs, design of components etc.
– Dealing with customers and bringing specifications to the manufacturing team for implementation
– Developing prototypes and new product designs
– Involvement in continual improvement and development of new components and products
– Contributing to the strategy focused on embedding a culture of operational excellence
– Implement a LEAN principles approach with the manufacturing team
– Assist in stock management and liaising with selected sourcing partners
– Liaising with the production team to deliver on-going orders on a consistent and efficient basis
– Ensure strategic manufacturing deadlines are delivered on time, with high levels of efficiency
– Keep up to date with manufacturing technology trends and research new methods of improvement
Competency Requirements
– Manufacturing, engineering, construction, or similar degree; relevant work experience would be advantageous.
– High level of proficiency in CAD software; Solidworks, would be advantageous
– Exceptional organizational skills
– Prepared to work as part of a team
– Excellent communication skills are essential
– Willingness to develop and broaden software/digital knowledge as required by the company
Location
Torpey, Belvoir, Sixmilebridge,
Co Clare, Ireland.
How to Apply
Please submit your CV and a covering letter to the following email address for consideration:
manager@torpeyhurleys.com
Full Time NMBI Registered Nurse
ROSEMOUNT HOUSE NURSING HOME
are recruiting a Full Time NMBI Registered Nurse
Flexibility and competitive rate of pay.
Friendly, dynamic and homely working environment.
Applications immediately to: The Manager, Rosemount House Nursing Home, Gort or