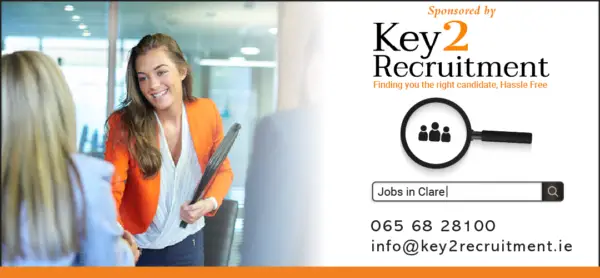 WE ARE delighted to bring to you our Clare Echo Job Alert post sponsored by Key2Recruitment.
This post will be updated every Thursday morning. We will keep readers up to date on positions ranging from summer jobs for students, those looking for part-time work, or for people looking to further their career in a specific area.
Visit Key2Recruitment at https://key2recruitment.ie/ for more job posts and recrutitment services.
If you would like to post an advert in our jobs section then contact sales@clareecho.ie
---
Join our Crew at the Armada Hotel!
Please contact hr@armadahotel.com for more info!
Spanish Point, West Clare
www.armadahotel.com
---
Operations Manager
The Burren Perfumery manufactures and sells perfume and skincare products from its Centre in North Clare. It is a multi-disciplinary environment which includes a working factory, Visitor Centre and mail order fulfilment. We strive for high standards in every facet of the business: customer care, product quality, design and manufacturing. The Burren Perfumery is a positive, varied and unique work environment.
The Operations Manager will be working as part of the management team, the successful candidate will have overall responsibility to ensure the smooth and efficient running of the Burren Perfumery Centre including retail, cafe, visitor facilities, grounds and visitor experience. You will be professional, enthusiastic with exceptional attention to detail. Essential for this position is the ability to work on your own initiative and to lead and direct teams.
This is a varied role and one that is the vital link between the first-rate quality of The Burren Perfumery brand and the visitors' experience. This is a new position and is an interesting, unique opportunity for the right candidate.
Please contact Voltedge on info@voltedge.ie for more information
Click here to apply.
---
Sales Executive
The Clare Echo is looking to hire a Sales Executive. This key position will appeal to a highly ambitious individual who a) believes in their own ability to sell and b) understands the value of advertising in The Clare Echo.
Key responsibilities
selling newspaper and online advertising space
creating leads and building client portfolio
managing and maintaining strong client relationships
hitting monthly targets set by Sales Director
regularly liaising with The Clare Echo design and editorial teams to ensure client satisfaction
Attributes desired
strong communication skills
self-motivated and confident
team player
must be highly organised
competent with computer programmes
Submit your CV to editor@clareecho.ie or post submissions to The Editor, The Clare Echo, 36c Abbey Street, Ennis, Co Clare
---
Digital Marketing Officer
The Clare Echo is looking to hire a Digital Marketing Officer. The ideal candidate will be at the forefront of The Clare Echo's online strategy and will be expected to bring cutting edge ideas to the table which can be executed competently in a timely manner.
Key responsibilities
maintain daily digital marketing activity; manage website and social media content 
develop and drive company's online strategy
 create innovative campaigns and execute same from start to finish
identify key areas where The Clare Echo can optimise and engage with its social media and website audience; generate engagement with all age demographics
 devise campaigns to help maximise The Clare Echo's ability to communicate with business community
produce reports for The Clare Echo sales and editorial teams and give feedback on where improvements can be made
manage online advertising content
explore and implement online subscriptions; develop email marketing campaigns in tandem with our online strategy
manage potential website revamp / upgrades using resources which will be made available to you
Experience & Skills
Digital marketing degree or similar
Experience in a similar role desirable
Adobe suite literacy
Expertise in SEO
Submit your CV to editor@clareecho.ie or post submissions to The Editor, The Clare Echo, 36c Abbey Street, Ennis, Co Clare
---
Manufacturing Employee
Denmac Stainless Fabrication Limited require a manufacturing employee.  Would suit person with a keen interest in the metal industry and work well as a team. 
Apply in writing to the Personnel Manager, Denmac Stainless Fabrication Ltd,
Stonehall, Newmarket-On-Fergus, Co.Clare or email info@denmacstainless.ie   Telephone:   061-363777.
---
Care Worker
RehabCare is the health and social care division of the Rehab Group.
Our aim is to enhance the lives of all of our clients through the provision of highquality,flexible, person-centred services. We presently provide and are developinga number of services, including Resource Centres,Residential Services, RespiteCare,Supported Accommodation and Home Based Services for people with disabilities.
Care Worker
Fixed Term Contract, 6 Months, 30 hours
Clare Residential Service, Ennis
To facilitate a service user focused service to adults with varying disabilities &complex health needs that include, Intellectual Disability, Epilepsy andParkinson' Disease.
Minimum Education & Skills Required
Training in responses to behavior that challenges and medicationmanagement.
Minimum of QQI Level 5 in Social Care
A basic knowledge of domiciliary care
Job Duties & Responsibilities
Experience of service users with relevant disability.
Experience of facilitating and implementing a person centred plan.
Assist service users in the taking of medication in line with policy and procedure
Find out more & how to apply on our Careers Page at www.rehab.ie or contactShannon Kearns on 086 0486991
/ shannon.kearns@rehab.ie
A commitment to living the organisational values of Team work, Dignity, Justice, Advocacy and Quality
Closing date for receipt of applications is 11th February 2021
Rehab Group is an Equal Opportunities Employer
---
POSITIONS AVAILABLE at FitFork
Apply at fitfork.ie
---
Part-Time Pharmacy Sales Assistant
Part-Time Pharmacy Sales Assistant
24 hour contract
Pharmacy experience preferred
To apply send CV to: allcarecareers@allcarerecruitmen.ie
Flynn's Life Pharmacy in Ennis, Co Clare
---
Receptionist/Legal Typist
– Excellent customer service & communication skills required
– Ability to work under pressure
– Team player with telephone , typing & IT skills
– Filing & document management
Email or post letter with CV to williamcahir@cahirsolicitors.com
All Applications received in strict confidence
---
RECEPTIONIST / RETAIL ASSISTANT
Must have pleasant, friendly manner and enjoy dealing with the public.
• Good phone manner • Computer literate
Experience not necessary but an advantage
Email cover letter and current CV to wildatlanticopticians@gmail.com
---
Manufacturing Lead
We are seeking a highly motivated individual to fill the role of Manufacturing Lead to grow the business into the future.
Key Tasks of the Role
– Assist in introducing the latest technology to help improve manufacturing within the business
– Assisting the design team on various tasks such as new product specs, design of components etc.
– Dealing with customers and bringing specifications to the manufacturing team for implementation
– Developing prototypes and new product designs
– Involvement in continual improvement and development of new components and products
– Contributing to the strategy focused on embedding a culture of operational excellence
– Implement a LEAN principles approach with the manufacturing team
– Assist in stock management and liaising with selected sourcing partners
– Liaising with the production team to deliver on-going orders on a consistent and efficient basis
– Ensure strategic manufacturing deadlines are delivered on time, with high levels of efficiency
– Keep up to date with manufacturing technology trends and research new methods of improvement
Competency Requirements
– Manufacturing, engineering, construction, or similar degree; relevant work experience would be advantageous.
– High level of proficiency in CAD software; Solidworks, would be advantageous
– Exceptional organizational skills
– Prepared to work as part of a team
– Excellent communication skills are essential
– Willingness to develop and broaden software/digital knowledge as required by the company
Location
Torpey, Belvoir, Sixmilebridge,
Co Clare, Ireland.
How to Apply
Please submit your CV and a covering letter to the following email address for consideration:
manager@torpeyhurleys.com
---
Full Time NMBI Registered Nurse
ROSEMOUNT HOUSE NURSING HOME
are recruiting a Full Time NMBI Registered Nurse
Flexibility and competitive rate of pay.
Friendly, dynamic and homely working environment.
Applications immediately to:
The Manager, Rosemount House Nursing Home, Gort or
email: donal.rosemounthouse@gmail.com
---
Security Officer Required
Shannon Area
Must have full Drivers Licence & PSA Licence
Email CV to eurosec2@gmail.com
---