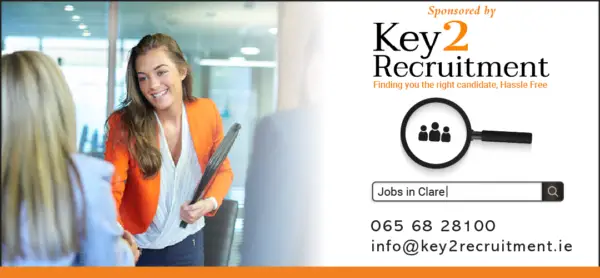 WE ARE delighted to bring to you our Clare Echo Job Alert post sponsored by Key2Recruitment.
This post will be updated every Thursday morning. We will keep readers up to date on positions ranging from summer jobs for students, those looking for part-time work, or for people looking to further their career in a specific area.
Visit Key2Recruitment at https://key2recruitment.ie/ for more job posts and recrutitment services.
If you would like to post an advert in our jobs section then contact sales@clareecho.ie
---
Full Time NMBI Registered Nurse
ROSEMOUNT HOUSE NURSING HOME
are recruiting a Full Time NMBI Registered Nurse
Flexibility and competitive rate of pay.
Friendly, dynamic and homely working environment.
Applications immediately to:
The Manager, Rosemount House Nursing Home, Gort or
email: donal.rosemounthouse@gmail.com
---
Security Officer Required
Shannon Area
Must have full Drivers Licence & PSA Licence
Email CV to eurosec2@gmail.com
---
Childcare Practitioner
The Clare Family Resource Centre has a vacancy for a Childcare Practitioner with a minimum of:
– QQI Level 5 in Childcare
– QQI Level 5 in Paediatrics First Aid
– 2 years working in childcare setting
If you are passionate about nature and the outdoors, fun, energetic, creative and a good team player, showing intiative in every situation then we have the adventure for you. 20 hours a week with flexible hours – good work conditions and renumeration.
Send your CV to clarefamilyresource@gmail.com or post to Clare Family Resource Centre, Watery Road, Ennis, Co Clare.
---
Part-time Cook & Part-time Cleaner
An experienced part time cook and an experienced part time cleaner are required for a religious community in Ennis.
The cook will be responsible for:
– Planning varied menus
– Preparing the main daily meal for 6 people
– ensuring kitchen, dining room and all equipment is cleaned daily
The cleaner will be responsible for:
Maintaining the highest standard of cleaning within the community
Both roles commence late October 2020
Closing date for applications Friday, October 30, 2020
Email CV to rrooney@edmundrice.eu
---
Part-time medical secretary
Part-time medical secretary required for busy GP in Shannon area. Experience essential.
Apply to 
Box Number 247
The Clare Echo,
36C Abbey Street, 
Ennis, Co Clare
---
School bus escort
Doora National School requires a school bus escort to accompany SEN pupils from their home, to and from school. The bus escort must be available in the mornings and afternoons throughout the school year.
Experience working with children with SEN is desirable. Candidates need to be professional in their manner and have good communication skills.
Appointment is subject to Garda vetting and reference check.
Please send CV and letter of application to 'The Chairperson, Doora NS, Doora, Co Clare' by 31/10/2020.
---
Delivery driver assistant
A part-time delivery driver assistant is required by a busy furniture shop in Ennis. Assembly experience required.
Please apply to 
Box No 195
The Clare Echo
36C Abbey Street, 
Ennis, Co Clare
---
Full Time Pharmacy Technician
Haven Pharmacy Hollys are hiring a Full Time Pharmacy Technician. Requirements:
– Pharmacy Technician qualification
– Experience in a community pharmacy setting a distinct advantage
– Candidate must meet the highest standards in customer care
– Part-time may be considered for the right candidate
Send your CV with cover email to hollys.ennis@havenpharmacy.ie
---
Hair stylist
A full time hair stylist is required for Irene's Hair Salon, Kilkee.
OR RENT THE HAIR SALON SPACE AS AN OPTION
Send CV to:
Irene's,
32 O'Curry Street, 
Kilkee, Co Clare
or call Irene on 065 9060 107
---
Childcarer
CLDC is recruiting Early Years Practitioner's to join our staff team of dedicated childcare professionals.CLDC operates two community crèches in West Clare (Cairde Beag Kilrush and Kilkee). CLDC is a not for profit charitable organisation offering affordable childcare to families in West Clare
Candidates must hold a minimum of Fetac level 5 (or recognised equivalent) in a childcare qualification with experience in a childcare setting – full day if possible.
Candidate must have access to own transport as they will be required to work between either locations.
For full job description and person specification,
please email imatthew@cldc.ie
Closing date for applications is 5pm on Friday 18th September 2020
Clare Local Development Company is an equal opportunities employer. Garda Vetting will apply.
Completed applications to include CV and cover letter to be forwarded to Iyabo Matthews, HR Dept., CLDC, Unit 1 Westgate Business Park, Kilrush Rd, Ennis, Co. Clare or imatthew@cldc.ie
---
Driver wanted for Fuel Merchant in Ennis
Must be able to carry heavy goods
Have a good work ethic and good customer relations.
C licence required
Seasonal Work
Tel: 087 6694438
---
Qualified Beautician Wanted
. Qualified Beautician Wanted for busy salon
. Must have gel/shellac nail experience
. Proficient IT Skills
. Maternity cover leading to Full time
Contact 0866010878
---
Part-time Deli & Till Staff Wanted
Busy Service Station in the Ennis area looking for staff to fill part-time deli & till roles, up to 30hrs available for suitable candidates.
Must be flexible across weekdays/evenings and weekends.
Experience and HACCP training an advantage but not necessary.
Please send CV to shopadvert123@gmail.com
---