THOUGHT there were no lizards in Ireland? Well, think again.
Seven year old Sean McMahon from Ennistymon was out enjoying the sunshine in his back garden when he came across a little reptile friend.
The lizard was placed back on the garden wall, but not before his mom Lisa took some photos to catalogue the find.
A lizard has also been spotted in Kildysart.
The common lizard (Zootoca vivipara), is Ireland's only native terrestrial reptile, though sightings are less common than its name suggests.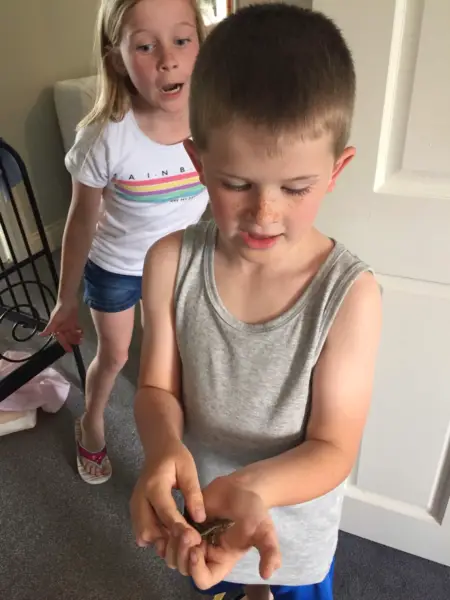 Unlike most reptiles, the common lizard likes damp habitats as the humidity helps them grow. Ideal homes for the common lizard are south-facing damp grassland, scrub covered hillsides, dunes or banks. It is also known to live in peat bogs and artifical habitats such as a garden.

As lizards are cold blooded, they need to undergo a type of hibernation in winter to survive the Irish climate (don't we all). Therefore, sightings are more common around this time of the year.
Adult common lizards are brown or green in colour and about 6cm long with a lifespan of about five years.
So if you see a common lizard this summer, he is not lost!