Co Clare is dealing with widespread effects of coronavirus ranging from the closure of businesses and schools to the cancellations of events and gatherings along with dozens of people entering self-isolation.
The Clare Echo will provide updates on such implications here as soon as we get them and on our social media channels, follow us on Twitter, Facebook, Instagram and LinkedIn for more.
For your update to feature, tweet @ClareEcho / @thepmanofficial, phone the newsroom 065-671-9021, message us on Facebook, DM us on Instagram or email news@clareecho.ie
18:06 – 40 new cases of coronavirus confirmed in Ireland. Now 169 cases in the Republic of Ireland and a total of 214 on the island of Ireland.
18:00 – Earlier this afternoon, Cllr Roisin Garvey (GP) visited twenty houses in Inagh village checking in on elderly residents with her friend, Noreen Shannon. "I used my sleeve to ring the bell, stood back and when they answered we'd a five minute chat two metres apart with all of them. I said if they needed fuel or food or a prescription collected to call me. They all wanted for nothing but all said I was the first to call into them and were glad we did and I left them all my number. I also rang about 20 more last night that I know live on their own. If we who are healthy and able all check in on a few houses we will together make a big difference. I'll do it all again in a few days. It took up very little of my time which we all have lots of now. It is together we will thrive. I'm not looking for compliments. I got as much out of it as the people I visited. I just thought it would be ok to suggest others do the same. Ar scath a chéile a mhaireann na daoine.
17:46 – Ennis retailers, The County Boutique, Bambinos & Cornucopia have announced they are to temporarily close with immediate effect.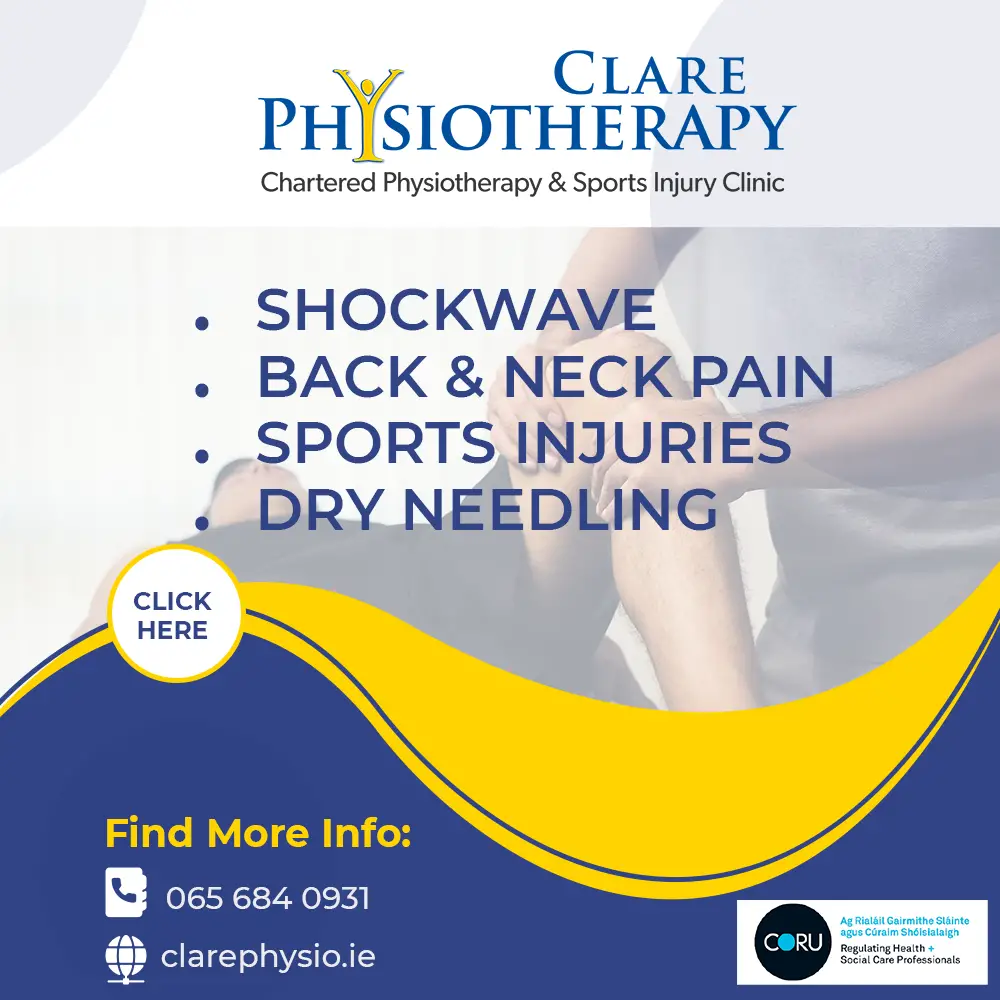 17:40 – Ozone Gym on the Quin Rd closed its doors yesterday and is hopeful of re-opening on Monday 30th March. "There have been no cases of coronavirus at the gym and this is purely a precautionary move. The health and safety of our staff and customers is at the top of our list and now is the time to take action. If we have the ability to do something to protect those closest to us then we have the responsibility to do something. Ozone started up in the worst recession the country had ever seen over 11 years ago and have since been serving the people of Clare and surrounding areas to the best of our ability. We promise you that we will continue to do so when this period of uncertainty has blown over and everyone is safe. We will still continue to educate and encourage our clients and community with home workouts, nutrition videos and lots more through our social media and emails, to help keep you fit and healthy, particularly now more than ever".
17:30 – All pubs and bars have been advised to close. Full story HERE
17:00 – Lahinch Beach busy throughout the day with plenty of walkers also spotted doing the Cliff Walk in Kilkee.
16:40 – Hustle Fitness in Ennis has informed members it has temporarily closed. Management cited the announcement of a further 39 cases and the Government's viewpoint that social distancing is not being taken seriously enough as a factor for their decision. "The health and well-being of all our staff, our members, their respective families and the wider community, is our number one priority so we feel it's only right to shut the facility.  I would like to take the opportunity to thank all of our amazing staff and brilliant members for going to incredible lengths over the past ten days which has allowed us to keep our doors open". All memberships have been frozen and the facility will reopen "as soon as it's safe".
16:20 – The Armada Hotel in Spanish Point will close to non residents from 6pm this evening (Sunday) and to residents on Tuesday until 30th March. Managing Director, John Burke said it was "A very very difficult day here for us all, and a decision made in consultation with the public and the team. The Armada has weathered many storms over the years, and just like the rest of the country we will weather this one too. We hope to welcome you all back in due course, when we will need your custom more than ever".
16:00 – The Temple Gate Hotel will close from tomorrow (Monday) until Monday 30th March. "As a family owned and operated business, our loyal staff and their families have to be priority". They will monitor the situation and their emails (info@templegatehotel.com) on an ongoing basis.
14:36 – From Monday evening, SweetNGreen Café in Ennis will temporarily close. "Our social conscience and the duty of our care to our staff in these unbelievable times means it just doesn't feel right to have a location for social gatherings". Staff will make soup and brown bread daily for elderly relatives and all health care workers. Contact them via Facebook or Instagram for more.
14:10 – More Ennis pubs have announced they will be closing to help stop the spread of coronavirus. McHughs and Knox's Bar are amongst them.
14:00- The Gastro Bar in Killaloe is to close "just two days before our busiest day of the year". Management say this is "out of sheer respect for all hospital staff who are working around the clock all over the world as we speak".
SUNDAY – 13:00 – The Town Hall in The Old Ground Hotel, Ennis is closed. The Poet's Corner is open today with tables suitably apart from one other to comply with social distancing guidelines and will cater for anyone in the community that wishes to eat out.
18:40 – "Over the next few weeks while most of us are staying indoors minimising public contact our emergency services will be leaving their families to go to work every day to keep us safe. So in advance thank you to the nurses the doctors the ambulance crews the Gardaí the fire service the coast guard the army the navy and the air corps," Cllr Pat Daly (FF).
18:34 – Ennis Parish are streaming mass live. Click on the link – HERE
18:30 – Blindboy Boatclub is among those to publicly encourage people to stay out of pubs as part of social distancing. "Please urge everyone you know to stay out of pubs tonight. Give them a DM, say it in you Watsapp groups, be sound about it. We all need to stay at home and find different types of craic to save lives".
18:27 – Smokers are more at risk of picking up coronavirus, the Chief Medical Officer has cautioned.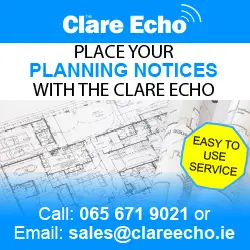 18:25 – Cases on a county by county basis are to be reported in the near future by the National Public Health Emergency Team.
18:23 – An urgent appeal has been issued by Chief Medical Officer, Dr Tony Holohan for people to reduce their social activity in light of busy pubs across Ireland, of which Co Clare is included.
18:00 – Newmarket-on-Fergus GAA have outlined that they have "a team of members" willing to assist where necessary.
17:58 – A second patient has died from coronavirus in Ireland. 39 new cases in the country have been confirmed.
17:20 – From midnight on Monday March 16th, the US travel ban will be extended to Ireland and the UK.
15:59 – Cllr Cillian Murphy (FF) demonstrating social distancing back in Kilkee.
This is what #SocialDistancing looks like here in #Kilkee Another upside to coastal living. ? pic.twitter.com/z2MqTrsPRu

— Cllr. Cillian Murphy (@Tri2bResponsibl) March 14, 2020
13:17 – US Embassy in Dublin has confirmed that the J1 visa programme is being suspended by the US Bureau of Education and Cultural Affairs for 60 days.
13:00 – Living in Shannon? A new group has been set up to try help people out as we aim to flatten the curve and reduce the spread of coronavirus.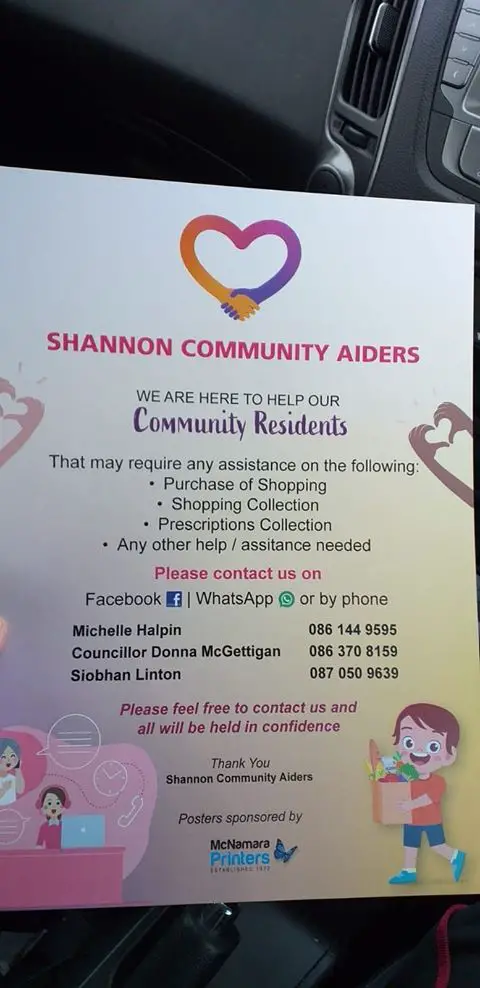 11:40 – Online abuse of the Clare family that became the first case of coronavirus in Clare has been slammed by elected representatives. More details – HERE.
11:05 – Tulla GAA club with an important message that we shop local in these uncertain times. "If anyone needs shopping, meals etc collected/delivered and are stuck please let us know and we will arrange someone to help out. Also, let's keep it local more than ever over the next few weeks and support our local businesses where possible".
SATURDAY: 10:40 – Randaddys Restaurant in Lahinch also doing takeaways in an attempt to get people fed that may not what enter any premises.
23:37 – Crusheen GAA have become the latest Clare club to step up their voluntary efforts during the #Covid19 crisis. The club would like to offer help and support to anyone who needs it, groceries, messages, prescriptions collected etc. "Contact Diarmaid 0851472067, Orla 0864038022, or any comittee member & we'll do our best to help." #CommunityResponseIRL
23:34 – The Cliffs of Moher Visitor Experience will remain closed to the public up to and including Sunday, 29 March 2020. "The closure is necessary to support the introduction of new measures to minimise the spread of COVID-19 in Ireland."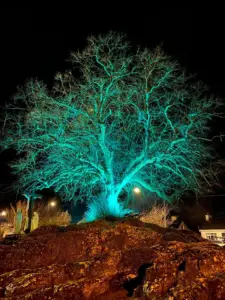 22:28 -Despite the cancellation of the parades and the ongoing National restrictions, Tuamgraney Development Association are doing their bit to light up the village during the week of St Patrick's Day. The lime tree "and our new green spire" will be floodlit for the next 7 days.
21:33 – Clare TD Cathal Crowe is urging people to use contactless payment system rather than handle cash / punch numbers into a credit card machine keypad. "I've also put a pair of gloves in my car for handling the petrol pumps. I think we all need to change small things that heretofore we did habitually without thinking."
21:30 – Clare Haven Services: "In line with ongoing announcements by Government about keeping safe with this virus floating around we have unfortunately needed to implement some restrictions to our service. However, do please continue to phone the helpline 0656822435 or your support workers' number if you need support, information or help of any kind. Our priority continues to be the safety of the women and children in Clare against the scourge that is Domestic Abuse."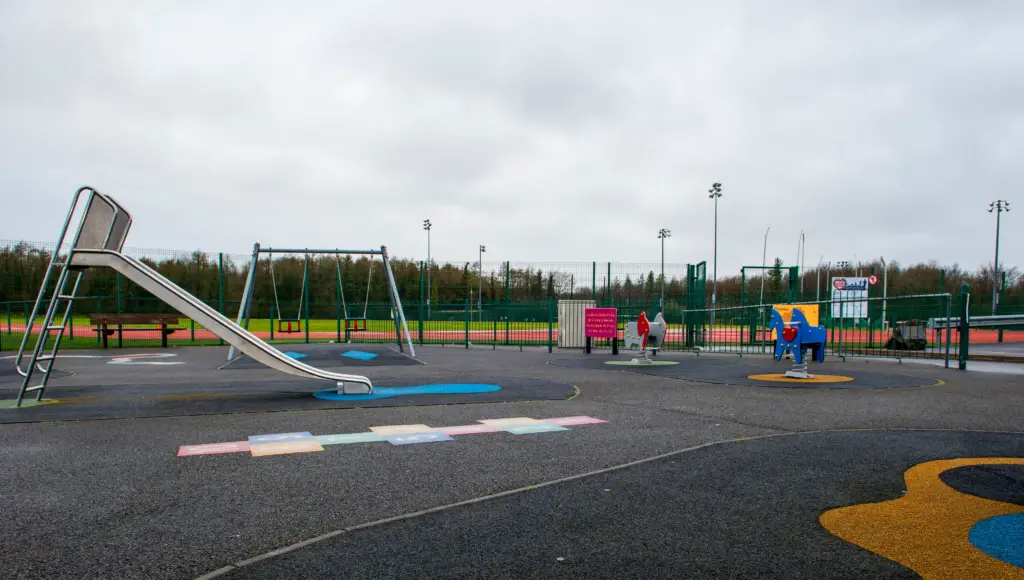 20:53 – Nobody was risking the playground at Lee's Road today. Our photographer John Mangan went up to take a look.
20:30 – The Country Store in Broadford are open and happy to do all meals or baked goods as takeaway. If anyone needs something dropped locally call 061 473977.
20:27 – Circle K is offering free tea and coffee to all emergency services and frontline HSE workers.
20:25 – Dysart O'Dea Doggy Day Care & Kennels have closed doggy day care til March 29 while the boarding kennels remain open with strict rules in place.
20:22 – Clare Volunteer Centre has advised anyone volunteering to ask themselves, "Am I well enough to volunteer?" And if so, adhere by HSE instructions.
20:19 – Dunnes Stores at Skycourt in Shannon have a quota of four per customer on the following: toilet rolls, liquid soap, Dettol and boxed tissues.
20:04 – Scariff: If any customers feel they are vulnerable and wary of coming into town, please call Centra Scariff on ‭(061) 921 000 who'll be more than happy to help. They have also reiterated, there is no need to panic buy
19:57 – Riverlodge Health & Fitness at the Auburn Lodge in Ennis have taken the decision to postpone all classes including group swim lessons until March 29. The steam room and sauna will be closed and jacuzzi limited to two people.
19:31 – Our updates will now continue courtesy of Editor, Stuart Holly.
19:27 – Dr Tony Holohan, Chief Medical Officer, said the National Public Health Emergency Team is not telling pubs and restaurants to close, due to restrictions on social distancing.
19:23 – It is a family's doctor and not out-of-hours GP services that will issue referrals for coronavirus testing. Doctors are advising that a patient should only attend GP out of hours for urgent GP care and not solely to access Covid-19 testing, which will not occur.
19:20 – AAA Taxis have told The Clare Echo that all taxis will be restricted to a maximum of three passengers with the front seat off limits in adherence to social distancing.
19:19 – Hotel Woodstock have closed their pool, sauna, steam room and jacuzzi, group classes have been discontinued and baby swimming classes, this kicks in from tomorrow Saturday until March 29th. The gym and shower facilities in the Leisure Club remain open.
19:13 – Éire Óg GAA club have appealed to members that now have free time on their hands to assist people in the Ennis community that need extra support with tasks such as completing the shopping or walking the dog.
18:55 – Lahinch Parish Priest, Fr Des Forde is planning on doing mass via Facebook Live over the weekend. "Having a mass here in the house or in Lahinch Church is my intention".
18:40 – In Lisdoonvarna and Scariff, we've received notice of offers to assist with childminding over the coming weeks. Email news@clareecho.ie for more on this one.
18:25 – Elective surgeries and outpatient appointments at all UL Hospitals Group sites now cancelled until Wednesday March 18th.
18:02 – There are 20 new cases of coronavirus in the Republic of Ireland. Now 119 cases on the island of Ireland.
17:59 – Talty's Mace in Lissycasey are running a call and collect service. "Customers can call in their shop order and we will do the shopping for you and drop out to your car. Also for our loyal customers that are unable to leave their homes we are offering a delivery service". Phone 065-683-4151 for more.
17:56 – For bookings for travel from today (13 Mar) until Tue 31 Mar, Ryanair will waive the flight change fee for customers who wish to change their travel plans due to the current Covid-19 outbreak. This policy applies to all existing and new bookings. "While customers will still need to pay the difference in fare when changing a flight, we believe removing the change fee will provide more flexibility. This does not apply to customers affected by flight cancellations as they are entitled to a refund or a free move onto an alternative Ryanair flight".
17:52 – The Long Dock in Carrigaholt remain open, "We are open all day every day". For those that don't want to sit in the restaurant, there is a takeaway option.
17:50 – Shannon Ferries are continuing operations. Those on board the ferry must remain in vehicles when crossing at all times, management have encouraged the purchase of tickets online to allow for minimal contact.
17:46 – O'Connors Texaco in Shannon are offering to deliver groceries and coal blocks within the Shannon area for those who are "vulnerable and cannot leave the house, the elderly or people with pre-existing conditions". Ring 061 364484 for more.
17:42 – All three teaching unions, INTO, ASTI, TUI have postponed their Easter conferences.
17:38 – Crowe's Gala in Sixmilebridge have implemented a quota on baby food "in interest of fairness". The shop has received an additional stock on Calpol and baby food.
17:30 – O'Flynn's Centra in Sixmilebridge say they are "extra busy" but continuing to meet daily demands.
16:55 – Kildysart Drama have cancelled their three act comedy for 2020, Love Thy Neighbour.
16:32 – Clonlara GAA Club has offered to help those in its community. "Anyone in the parish who is at home and needs groceries, messages, medications collected or assistance in any way", contact any club officer. "We'd especially like to keep an eye on any older residents or people living with chronic conditions who may be concerned about going to public places".
16:11 – Ennistymon Choral Society has postponed its April production of Joseph and the Amazing Technicolour Dreamcoat. "The most important thing is the health and safety of our community. This is a postponement only – the show must go on".
16:00 – Plenty of secondary school students visible in Ennis throughout the day on the first day of school closures.Dr Anne Marie McLaughlin Respiratory Consultant at St James Hospital in Dublin appealed to parents on RTÉ to limit their children's social interactions to stop Covid 19 spread "this is not school holidays".
15:30 – Some staff at Zimmer in Shannon have been sent home that had been in European countries last week.
14:05 – Self employed and want to get the word out that your business is operating as normal? See above on how to contact us.
14:02 – Events catering to over 100 people at Treacys Oakwood Hotel in Shannon have been cancelled and all entertainment in the hotel until March 29th. "We do appreciate your understanding of these decisions and patience during this testing time".
14:00 – Ennis based NC Paint & Decor are willing to do home deliveries. "To all customers who are bored in self isolation and fancy a bit of DIY work, feel free to ring up and order over the phone and we will deliver around Ennis and neighbouring areas".
13:58 – Business as normal at The Shannon Springs Hotel and The Old Lodge Gastro Pub. "We can reassure all our customers that health and safety of our customers and employees are of the utmost importance to us".
13:55 – Elderly motorists won't have to exit their cars if they go to Coote's Shop and Bakery in Ennis. "Drive up to the front or back door, beep the horn and we'll pop out when we're free and get you what you need".
13:51 – The Market Bar & Restaurant in Ennis are looking at starting a delivery service next week. "At a time of difficulty everywhere, we want to ensure all of our customers that all necessary hygiene steps are being taken to keep all our staff and customers safe. We want our customers to know that we are always available for takeaways and are looking at possibly starting a delivery service early next week. Any of our elderly or vulnerable customers who need anything, please do not hesitate to contact us at 065-68-49935 and we will do our utmost to help".
13:46 – St Francis Credit Union have reminded customers that most of their services are available online or by phoning 065-682-8305 for those who wish to avoid coming into their offices.
13:41 – Club Dangan Menswear in Ennis remains open. "We would like to reassure all customers that we continue to implement best practice to provide a safe retail environment in both of our stores".
13:30 – Scariff Parish Priest, Fr. Joe McMahon PP has agreed to broadcast Sunday mass from the Studio of Scariff Bay Community Radio every week starting this Sunday at 11am and not from the church in Scariff following the cancellation of masses across the Killaloe Diocese. The community radio station had previously committed to broadcasting from the church.
13:10 – Shannon Leisure Centre will close this evening at 9pm and will not reopen until Monday March 30th.
12:40 – Members of Ennistymon GAA are volunteering to assist anyone that needs shopping, meals or fuel collected or delivered. Contact any club officer if you would like to volunteer or are in need of assistance.
12:29 – From 5pm this evening until Sunday March 29th, Shannon Heritage will suspend all its visitor attractions. This includes Bunratty Castle & Folk Park, the Cliffs of Moher retail outlet plus banqueting operations at Knappogue and Bunratty.
11:55 – Shannonside Drama Group have postponed their production of Sive until further notice. "We would like to thank those who attended the shows last weekend and for those who had reserved places for this weekend.
We hope to provide you all with more entertainment in the not too distant future".
11:15 – We spoke to Dr Michael Harty earlier this week about ways to combat the spread of coronavirus. Full interview available, HERE.
11:09 – Coiste na nÓg Iomaint An Chlair have deferred the U14 hurling Championships until April 3rd and the Minor A  and B league's until April 2nd, at the earliest. The County Committee has warned there will be no permission granted to play challenge matches in the interval.
11:03 – An Garda Síochána are putting a contingency roster into effect from Monday. Annual leave will be restricted to no more than five percent of a Divisional/Bureau workforce at any given time effective from today.
Approximately 325 Garda students in the Garda College will be attested as Garda members next week and allocated to Garda stations nationally in the coming weeks (approximately 200 from one class, and 125 from the next class).
Garda members working as tutors/instructors in the Garda College will be deployed to operational duties or essential training services.
Training in the Garda College will be deferred until further notice expect for specialist training activity (firearms, driver, armed support).
In order to enhance community support, 210 additional vehicles have been hired.
Members of An Garda Síochána who were scheduled to avail of the severance package on 1 April 2020 have been invited to defer their retirement for three months.
Subject to Government approval, Garda members of all ranks who have reached the compulsory retirement age can apply to remain in employment for a further 12 months subject to terms and conditions. Any Garda member who is required to retire on age ground on or before 1st June 2020 and wishes to remain in service can forward an application for the consideration of the Commissioner.
The Commissioner has designated the ongoing situation as an "exceptional event" in accordance with the Working Time Agreement.
Non-essential foreign travel will not be undertaken. All unnecessary large gatherings will be restricted. Only essential meetings in accordance with Government guidelines will take place with attendance limited to essential personnel only.
10:55 – Clare FM are to broadcast Sunday mass live from 9am this weekend with Fr Brendan Quinlivan.
10:30 – Ailwee Cave & Birds of Prey Centre is closed until Monday March 30th.
10:00 – Weekly bingo and social dancing at Corofin Hall is cancelled until further notice.
09:54 – Aer Lingus are updating their systems to extend the flexible change policy to existing bookings. From 15:00 GMT today, online bookings made before 06 March for travel in March, April or May will not be subject to change fees. Fare difference may apply.
09:44 – A visiting ban at all six UL Hospitals Group's sites including Ennis General Hospital and University Hospital Limerick has been extended until March 29th. There is a drop-off & collection services available to help people get important personal items to and from their relatives in hospital. Security staff at University Hospital Limerick and reception staff at Croom, Nenagh, Ennis, and St John's Hospitals will be happy to assist with queries about this service.
09:40 – The Cryotherapy Clinic based in the Tracklands Business Park in Ennis has issued a reminder that "particularly in the short to medium term" soft tissue injuries can be treated by physiotherapists and physical therapists to prevent people waiting at their GP's practice. Group bookings are not being taken at the Cryo Clinic with single appointments to continue with sufficient time slot for each client. "We will as we always do, adapt while taking care".
09:31 – National Tree Week and all associated public events have been cancelled.
08:06 – All public masses in the Killaloe Diocese have been suspended till March 29th or further notice where necessary. Strict guidelines are provided for funerals or weddings.
FRIDAY – We're back to keep you posted. How have you been affected by Covid-19 so far? What impact has it had on your business or family. Let us know, tweet @ClareEcho / @thepmanofficial, phone the newsroom 065-671-9021, message us on Facebook, DM us on Instagram or email news@clareecho.ie
23:30: We're logging off for the night. Heart-warming to see the acts of generosity being carried out by businesses to make life easier for the people of Clare, not to mention the responsible behaviour of business who have taken it upon themselves to close in the interests of the general public. Please follow national guidelines to help contain Covid-19 and if you are feeling unwell, contact your GP immediately. Again, if anybody would like us to share a message do not hesitate to contact news@clareecho.ie or message us on Twitter, Facebook or Instagram.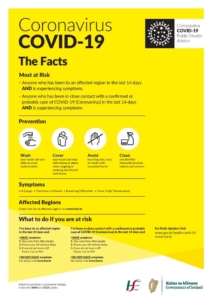 23:26: Those thinking of going to the cinema, Shannon Omniplex have introduced new measures including 'In-Cinema Seat Separation' (every second seat will be unoccupied), Self-Scanning of Tickets, Increased Cleaning Regimes and Hand Sanitising Stations in every cinema foyer.
23:08 – For any elderly/vulnerable people who may have motoring issues over the next few weeks, may need a jump start or need vehicle maintenance advice, Sheils Motor Group Ennis are offering their service free of charge
22:53 – The Cliffs of Moher will remain open however the visitor centre will be restricted to a maximum of 100 persons (including staff) at any given time.
22:31 – For our Killaloe followers: The Discover Killaloe Facebook page has said if there are any elderly or vulnerable locals who need anything at all during this time, "please message the page and we will arrange help, whether it be groceries, pharmacy prescriptions, dog walking or anything at all."
22:28 – O'Brien Community Stores are offering free home delivery within the community to those who may be vulnerable to the coronavirus around Ennis and Kilmaley.
"All of our stores are well stocked currently with everything you would expect in a convenience store – including antibacterial products, toilet rolls etc at the same price as previously – however, we would like to remind all of the community that excessive purchasing may affect those who really need these items, including families with young children and the elderly and vulnerable. We would ask you not to over purchase."
22:15 – Calvin Arthur Barbers and Scoundrels Chop Shop in Shannon to close until March 29. Owner Colm McGuinness saying "us blokes aren't going to die of neglecting our hair for a couple of weeks but the vulnerable people in our lives could die if we don't act now".
22:07 – O'Sullivan & Hansbury's Daybreak on the Kilrush Rd in Ennis are running a delivery service for customers in the area. Call 065 6820312
22:02 – If you're looking for some retail therapy over the weekend to take your mind of Covid-19, Home Gallery Ennis is holding a clearance sales of ex-display floor model stock
21:55 – Market House café and butchers in Ennistymon have rearranged their seating plan to adhere to the government directive of social distancing
21:46 – Jones Supervalu in Miltown Malbay are offering a "shop and collect" service where you can email them your shopping list and they'll have it ready for you at the front door. More info on their Facebook page. If you have an enquires please contact 0657085677 or 0879777878.
21:40 – All public Masses in Diocese of Galway, Kilmacduagh and Kilfenora, on Sundays and weekdays, are suspended until 29 March or until further notice.
Please be advised that baptisms, weddings and funerals may take place so long as the congregation is limited to 100 or fewer.
21:36 – Poker classic and raffle in aid of Kilkee Community College is postponed
21:34 – Clodagh Lawlor's evening of country music and dance scheduled for Newmarket-on-Fergus on March 28 has been postponed
21:31 – Clare Local Development Company have deferred the start date of the Motor Technology course to April 6. For more information call 087 778 0356
21:27 – Trump International Doonbeg has taken the decision to cancel its Recruitment Open Day. All open vacancies can be applied for online at https://harri.com/doonbeg
21:15 – Run Clare has taken the decision to cancel the two remaining events of the series, including the Eamon Moloney 10k. Medals will still be available for those who entered.
21:00 – Our Editor Stuart Holly is now at the desk to take over updates from around the county taking over from Head of News Páraic McMahon. Send updates to Twitter: @ClareEcho / @Stuart_Holly, message us on Facebook, DM us on Instagram or email news@clareecho.ie.
20:55 – The most important times to wash your hands are:
✔before preparing food
✔after preparing food
✔ before eating food
✔after eating food
✔after using the toilet
✔after being in contact with a sick person.
20:53 – Co Clare Hunt Charity Ride in aid of Clare Suicide Bereavement Support has been cancelled. It had been scheduled for March 15th. "We are very disappointed that we are unable to hold this event but we know it is the right decision based on the information we have all been given today". The Charity Ride will return in 2021.
20:50 – Free hour-long online grinds in Irish for Leaving and Junior Cert are to be carried out by Ballyea's Paul Flanagan. These will act as revision for the Irish orals and exams. Email paulflanagan1992@gmail.com to book in. U18s parents to email.
20:48 – The Clare Association Muintir an Chláir awards dinner fixed for Saturday 28th March in Treacy's West County Hotel, Ennis will not take place for the next three months "at least".
20:46 – A night of songs and stories in Kilshanny House scheduled for Saturday night is off.
20:44 – Fundraising table quiz for Scariff Bay Community Radio that was to be held tomorrow night in Ryan's Bar Scariff is not going ahead.
20:38 – SKB Community Fitness Centre in Shannon have issued a number of practices as standard protocol "for the safety of our staff and members" for the foreseeable future. Anyone who has travelled from an effective area, with Covid-19 symptoms or feeling unwell is to stay away from using gym facilities for an "isolation period of two weeks". Gym equipment is to be wiped before and after use with spray provided. Members must also sneeze into their elbow and wash hands when entering and leaving the gym.
20:33 – The Great Limerick Run has been switched from the May Bank Holiday weekend to the first weekend in October in the interest of public health.
20:31 – An Easter fashion show that was to raise funds for the Newmarket-on-Fergus Agricultural Show has been postponed.
20:29 – Coffee morning in aid of Ennistymon Hospital pencilled in for Monday has been called off.
20:27 – A nine pack of toilet roll available for €2 in Vaughan's Spar, Miltown-Malbay according to our sources in the West!
20:23 – If you're having car trouble in Ennis or in need of tyres or a service, Martin Daly Tyre Stop have said they will come to you to collect and then return your car. You can call them on 0656898070 or 0868118987.
20:20 – Sunday's scheduled display by the Crusheen Apostolic Society has been pushed back to a later date.
20:17 – The remainder of the West Clare Drama Festival in Doonbeg will not be going ahead. This comes off the back of  The Amateur Drama Council of Ireland cancelling the 2020 drama festival circuit.
20:15 – Clare Marts Limited will operate their sales as usual until further notice. The new protocol that will be in place means there will be limited access only in the sales rings to people who have business to conduct there, and at all times will be restricted to less than 100 people. Clare Marts would ask only people with business at the mart to attend (buyers, sellers and hauliers). Parents are requested to keep children away from the mart at this time due to the current situation.
20:11 – Gregan's Castle and Hotel issued a reminder earlier today that US citizens "are excluded completely from the travel restrictions" which do not apply to Ireland. Management have stressed the need to adhere to "facts not frenzy".
20:09 – East Clare Fitness have said they will be adding extra hand sanitizer bottles to their gyms and will be carrying out daily deep cleaning of all used equipment. Class formats have changed from Thursday with each participant now using their limited piece of equipment for the duration of the 45 minute class. Each class must be pre-booked including bootcamp classes. "We need to ensure that people maintain social distancing so bookings are important".
20:05 – Green Cross Pharmacy in Killaloe has appealed for customers to phone ahead if ordering their regular prescriptions "in order to reduce waiting time and contact time with elderly and vulnerable patients". They can be phoned on 061-620128. They remain open as normal from 9am to 6:30pm Monday to Friday, 9am to 6pm on Saturday and 11am to 2pm on Sundays and Bank Holidays.
20:03 – Bingo in Cooraclare is off and will not go ahead "until further notice".
19:59 – An Evening with Eugene Lambe which was due to take place in Corofin tonight was postponed earlier this week.
19:50 – Local authority offices, cultural facilities and sport/recreation facilities operated by Clare County Council have closed to the public from 6pm until March 29th.
Pat Dowling, Chief Executive of Clare County Council, said, "The Local Authority is taking actions we believe are appropriate to minimise the spread of the virus. Council staff will present for work to ensure a continuity of service across our key operations," he added. Mr. Dowling said the Local Authority's Crisis Management Team will continue to meet on an ongoing basis as well as liaise with Government Departments and agencies across the Mid West Region.
List of closed Council-supported facilities:
• Áras Contae an Chláir, Ennis
• Municipal District Offices in Shannon, Kilrush, Ennistymon, Scarriff and Shannon
• All public branch libraries
• Local Studies Centre and Library HQ
• County Museum
• Cultúrlann Sweeney Kilkee
• glór
• EASI Studio in Ennis / Tulla Stable Studios
• Courthouse Gallery Ennistymon
• Active Ennis Leisure Complex
• Clare Dog Shelter
• Waterpark House, Ennis
• All public toilet facilities
• Ennis Fire Station Public Office
• Recycling and Transfer Stations – Ballyduffbeg, Ennis, Lisdeen, Shannon and Scarriff
The public grounds at Active Kilrush and Active Ennis John O'Sullivan Park, Lees Road, will remain open.
The Planning Department will continue to accept and process planning applications received by post. Third Party observations can be received by post and/or email.
Motor Tax renewals can continue to be processed online by applicants or alternatively, renewal applications may be forwarded by post.
The Fire Department will continue to accept and process fire safety certificate and disability access applications received by post.
Clare County Council's Digital Hubs in Kilrush, Ennistymon, Feakle and Miltown Malbay will remain open to users.
Members of the public with additional queries regarding Clare County Council services should contact 065-6821616 or customerservices@clarecoco.ie.
19:42 – Tulla GAA club have postponed their Road Hurling Tournament which was due to be held on Sunday March 15th. This will be rescheduled at a later date.
19:30 – The Ennis Farmers Market will be open as usual tomorrow (Friday). "We will be reviewing this on a weekly basis". Inagh Free Range Farm will not be at the market this week.
19:20 – The Dáil and Seanad will sit next week to pass emergency social protection legislation to assist private sector workers affected by coronavirus.
19:17 – Hotel Doolin have offered to provide free dinners for elderly people and those with pre-conditions living in the area. "If you know of any elderly or vulnerable people in Doolin who may be unable or reluctant to venture out to supermarket or a restaurant please let them know that we'd be happy to call around to them with a dinner from Hotel Doolin". Ring 065-7074111 before 12pm with orders and they pledge to complete deliveries by 6pm, free of charge.
19:14 – All school and sports facilities at St Flannan's College are closed until March 30th.
19:12 – Cllr Joe Garrihy (FG) has urged people to work together. "All essential supply chains and services will be maintained so please do not go panic stocking / shopping. These are difficult & challenging times but together we will come out the other side. Listen to experts on this matter".
19:08 – In an attempt to limit the spread of Covid-19 in Scariff. Scariff Bay Community Radio will broadcast mass live every Sunday from the Church of the Sacred Heart. Presenter Eoin O'Hagan told The Clare Echo, "Please help, if your Mother or Father, other relatives or friends are unable technically to tune in on FM or Online, by setting up their radio, laptop or tablet so they can listen to Mass, so saving a trip to church and possible infection".
19:06 – Fitness4Fun have cancelled all community based exercise classes in the county for over 55s.
18:51 – Cllr Ian Lynch (IND) has appealed to the people of West Clare to "look out for each other". The Kilrush representative stated, "Please check in on family, friends and neighbours. People who may be in the higher risk category may have concerns with shopping, if you are in a position to help please check that they are ok.
I am available as always to help out where I can".
18:50 – Bingo in Lisdoonvarna is cancelled until March 29th. Organisers have said, "We will have time to arrange fantastic raffle prizes in the meantime".
18:47 – Kilkee representative, Cllr Cillian Murphy (FF) has committed to carrying out errands for constituents who are living alone and "in the elevated 'at risk' category" that may be nervous about going to the shops over the next few weeks. I also think if others are in a position to help, and know someone who might need this type of support over the next few weeks it would be really good to make contact with them and ask if they need any help".
18:27 – A storyline from Australian soap, Neighbours involving Karl and Susan Kennedy due to be filmed in Dublin was scrapped earlier this week due to coronavirus.
18:21 – Munster U18 Cup Final between Ennis RFC and Cobh Pirates scheduled to take place on Sunday in Irish Independent Park is called off. Refixture expected to be announced in the coming weeks.
18:20 – Evolution Nite Club in Shannon is closed "until further notice". The Shannon Knights Bar and Bistro will remain open. Coppers Nightclub in Dublin is shut for the remainder of March.
18:13 – In response to the government's escalation of its response the COVID-19 pandemic, FTA Ireland (FTAI) is reassuring the public that the nation's supply chain is resilient and there is no need to stockpile items.
Aidan Flynn, General Manager of FTAI comments: "As the business organisation representing Ireland's logistics sector, FTAI wants to reassure the public that the nation's supply chain is resilient and well equipment to deal with the COVID-19 pandemic; there is no need to stockpile food and other basic items. However, we ask that members of the public now stop stockpiling activity as it will place unnecessary pressure on the supply chain. As a nation, we should deal with this pandemic calmly and remain considerate of others.
18:09 – Department of Health confirm 27 new cases of coronavirus in the Republic of Ireland. The biggest daily increase recorded in the country so far.
17:55 – Horse Racing Ireland has announced that racing in Ireland is closed to the public until March 29 beginning with tomorrow's racing at Dundalk.
17:45 – Dunnes Stores in Ennis have restocked toilet roll along the aisles.
17:22 – All football activity postponed by the FAI until March 29.
17.03 – The Singing Pubs final (fundraiser for Kilrush Tidy Towns) due to take place on Saturday in Kilrush Golf Club has been postponed.
16.58 – All performances, events, gatherings and activities in glór will be cancelled (or postponed where possible) from 6pm on March 12th, 2020 until Sunday 29th March. "Our box office is currently inundated with calls regarding refunds. Please be patient. While glór will be closed to the public, our box office will still be staffed Mon – Sat 10am – 5pm to assist you. 065 684 3103 Thank you for your patience during this unprecedented time."
16:42 – Cllr Clare Colleran Molloy (FF) says now is the time for solidarity within Ireland. "This is the time for us Irish to demonstrate true national solidarity. We need to base our behaviour on the excellent health professional guidance on hygiene and distancing. As we look out for our loved ones, please check in remotely with those vulnerable neighbours in our communities. If there is any way that I can help, please don't hesitate to contact me. Together we will overcome this unprecedented threat to our health. Together we will comply with best guidance, limit the spread, and minimize fatalities in Ireland".
16:32 – Guinness PRO14 season suspended indefinitely.
16.16 – In a statement to The Clare Echo, Clare TD Cathal Crowe (FF) says young mothers have been unable to buy baby formula in Clare due to people panic buying. "Over the past 24 hours I have been contacted by a number of people across the county telling me that they have not been able to find baby milk formula. They have tried a number of shops but everywhere appears to be sold out. This is a very worrying development as this is a basic necessity for many families across the country", said Deputy Crowe.
"I am urging people not to panic buy. We have received assurances today that supermarket supply chains will not be affected so there is no need to be stocking up on these products. It is only putting pressure on the supermarkets and is causing distress for people who are now unable to get essential items.
15:50 – Brogan's Bar and Restaurant on O'Connell St, Ennis say it will be "business as usual". "We would like to reassure all of our customers that the health and safety of our customers and employees are of the upmost importance to us. It is business as usual here in Brogans but we have implemented a number of steps to ensure that our present high standard of cleanliness and safety are of the best standard possible. Our entire team have been trained in these procedures and are committed to implementing them to the highest standard. Thank you to all of our valued customers for your custom as always".
15:38 – Shannondoc services to operate as normal. For more, click HERE
15:26 – Music Generation Clare have closed all programmes until Monday March 29th.
15:22 – Comhaltas Cultural Centres are to remain open. "We know that we can depend on all members and units to be diligent, co-operative, proactive and compliant during this exceptional time of crisis for all people". Hosting of County Fleadhanna to be considered in the coming days.
15:10 – Hustle Fitness in Ennis have informed members they will be unable to train unless they bring a hand-towel with them as of 6am tomorrow morning.
14:59 – Clare Camera Club have cancelled all meetings until April.
14:51 – All events and group visits to Clare County Library have been cancelled.
14:50 – Old Bakehouse Restaurant in Miltown Malbay have increased the distance between tables. "In response to today's guidelines on social distancing, our tables are now all at least one meter apart. We hope this will give you peace of mind".
14:49 – Angel Lane in Limerick is closed tonight.
14:48 – Newmarket-on-Fergus GAA have postponed the reopening of their clubhouse which was due to take place on St Patrick's Day.
14:44 – Geraghtys Spar in Turnpike, Ennis are in the process of setting up a dedicated mobile line for customers who may not feel safe leaving their homes. They stated, "A number of staff have volunteered to offer to deliver customers groceries in their own time to help out our loyal customers. For now please feel free to email the shop on sparturnpike@gmail.com or call us on 065-6824544. We are hoping to have a dedicated mobile line available tomorrow".
14:42 – Sinn Féin TD, Violet-Anne Wynne has welcomed the school closures. "As a mother of 5 children, I have had serious concerns for the health of children if they are themselves infected by the COVID-19 virus or pass on the deadly virus to other family members who are elderly or seriously ill". She added, "School teacher structures in rural Clare often operated differently to the methods employed in urban town's and cities. Teachers of sport or example, could have had to travel to a number of different schools to teach and therefore were further increasing the risk of virus infection."
14:37 – Motorsport Ireland have suspended all events until March 29th. CEO Leo Hassett commented, "We will endeavour to work with the clubs affected to try and reschedule new dates. We will continue to evaluate the situation and play our part in the greater national interest".
14:35 – Limerick City and County Council have announced Riverfest 2020 has been postponed, in the interests of public health. "High level meetings have been taking place in the council around Riverfest 2020 since the cancellation of the Limerick St Patrick's Day Parade and Limerick International Band Championship due to concerns about COVID-19 (Coronavirus) on Monday last" (09 March 2020). Last year more than 120,000 people enjoyed the city's biggest festival, the majority of them in the Riverfestival Village based around Arthur's Quay Park.
14:34 – Tonight's scheduled pub quiz in McDermott's Pub in Doolin is cancelled.
14:30 – Ennis 10km and Kids 2km have been postponed. The races were being organised by Ennis Track. "We will be in touch with all registered by email and post a rescheduled date once decided". The 10 Miler scheduled for April 12th is currently under review.
14:27 – All Community Games activities in Clare postponed until further notice.
14:25 – Dolans in Limerick have postponed the following shows; And So I Watch You From Afar, The Stunning, Napalm Death, George Micheal Tribute and Fox Jaw. "Tickets for the rescheduled dates will be valid. All ticket holders will be contacted via email with the rearranged date. Tonight's shows are Going ahead as scheduled as they fall within the governments guidelines. Please contact info@dolans.ie for more information".
14:24 – Ryan's Centra in Tobairteascain have informed customers they will put in place a delivery system with effect from tomorrow to help the elderly & vulnerable.
14:19 – Clare Drama Festival have cancelled their upcoming Festival which was due to run from Thursday 19th to Saturday 28th March. Tom Hanley, Festival P.R.O. said that having carried out a thorough risk assessment "it was considered that the health of our patrons, their families and the wider community was of paramount importance and that holding the 10 night festival could contribute to spreading the virus in our community. Clare Drama Festival regrets the inconvenience to the 10 performing groups and all associated with the festival and thanks them for their understanding of the situation".
14:11 – St Flannan's will not be taking on St Raphael's College on Monday as a result. It also means the Allianz National Leagues are deferred for now. Local games in the U21 hurling championship also put on hold.
14:10 – All GAA, camogie and ladies football activity is to be suspended at all levels until March 29th from midnight. "This is to include all games, training and team gatherings at all ages and all grades. We will continue to liaise with Government officials and review the situation between now and the end of the month, assessing the impact of these measures on our competitions. In the meantime, the Association is encouraging all members to continue to follow the guidelines which have been provided by the health authorities".
13:39 – Beef Plan have announced their national AGM due to take place on March 22nd has been deferred.
13:31 – Ennis Badminton and Tennis Club have cancelled tonight's Adult Tennis Open Night and two other Open Nights Planned in March. All schools and coaching sessions are off until March 29th. Clubhouse will be locked with no access, including for badminton players. A spokesperson for the club told The Clare Echo, "Individuals can still play tennis and do so at their own risk. Please note no access to toilets/showers or defibrilator. Members are still required to book courts. We realise that this may be inconvenient but in the interest of public health and given the latest information available the Committee feel that the above steps are prudent and in all our interests This will apply from this evening at 6pm until the 29th of March". 

13:24 – Clare Local Development Company is to close its offices for a two week period commencing tomorrow (Friday March 13th) and lasting until Monday March 30th. Their offices in Westgate Business Park on the Kilrush Rd in Ennis will be closed to the public but CLDC services will continue to be delivered "where practicable" with staff remaining on site. They can be contacted via 065 68 66800, info@cldc.ie or on Facebook.
13:24 – Clare District Soccer League have confirmed that all games are off. "Following the announcement made by the Government earlier, the Clare District Soccer League have taken the decision to postpone all local competitions for the foreseeable future," a spokesperson told The Clare Echo.
13:23 – All confirmations and communions in the Diocese of Killaloe have been postponed. The situation will be reviewed in mid-April following the Easter holidays.
13:22 – Ennis Musical Society "with a heavy heart" has confirmed that Seussical the Musical will not be going ahead for the remainder of its run. They had completed two shows to date and are hopeful of getting the musical back on stage later this year. Regarding refunds, they are liaising with glór and will post further updates via their website.
13:13 – Shannon Tidy Towns have postponed their Awards and Appreciation Night. This event was due to take place at The Hope Café on Thursday April 2nd at 7:30pm.
13:11 – Schoolboys Football Association of Ireland has instructed all SFAI affiliated leagues to suspend games until further notice.
13:06 – Treacys West County Hotel is to close to the public in an attempt to limit the spread of Covid-19 for two weeks. A spokesperson for the Ennis hotel outlined, "Following the announcement this morning by the Taoiseach and the Government and specifically the restrictions placed on gatherings of 100+ people for Indoor events, Treacys West County Conference and Leisure Hotel has taken the decision to temporarily suspend its business from midday on March 16th and will re-open for business on March 30th. Based on the advice from state authorities and given due consideration to the impact on our business, the Hotel Management believes it prudent and in the best interests of our staff and business that we take this unprecedented step.
"We are currently engaging with all our impacted customers to advise of this decision. We wish to apologise to our customers for any inconvenience caused and would encourage all our patrons to heed the advice of the HSE and relevant state services in dealing with this virus. We will continue to be available via our front of house team on 065 6869600 and via our social media platforms to answer any queries and staff requests".
THURSDAY – Earlier today, Taoiseach Leo Varadkar (FG) announced that schools, colleges and cultural institutions across the country are to close from 6pm.
This week, the decision was made to cancel all St Patrick's Day Parades in Co Clare.