Sycamore Drive: launching Friday August 31st 2018 at 5pm
DNG O'Sullivan Hurley are thrilled to be opening the doors of its offices to launch 47 truly unique properties by quality home builders Keogh Homes. One of our latest new homes projects is positioned in the popular residential area of the Limerick Road in Ennis.
Cormac O'Sullivan, Partner at DNG O'Sullivan Hurley commented;
"I have the pleasure of working on some wonderful projects and Sycamore Drive certainly doesn't disappoint! The first thing you notice is the striking design. The architects have managed to incorporate traditional high quality materials into a fabulous 21st century finish. Ranging from 1,296 sqft to 2,000 sqft they are substantial homes and lend themselves to a range of buyers and lifestyles".
Sycamore Drive has been designed by Hassett Leyden Architects for sustainability and modern living from the outset and to achieve this the developers Keogh Homes have brought together talented designers working on each aspect.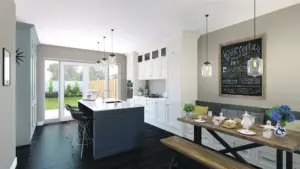 "These houses offer expansive and versatile living space arranged on two floors for the three bedroom properties in Phase One and over three floors for the four bedroom option. The stunning kitchen and dining rooms open out on to the sun terrace and landscaped rear gardens while the living rooms enjoy vaulted ceilings and overlook the landscaped central green area. When it comes to accommodation the houses offer 3-5 bedrooms with a selection of en-suite bathroom finishes and bespoke fitted storage."
Keogh Homes have carefully designed the bath and shower rooms using high quality white sanitary ware with striking chrome taps and showering accessories. Each property features an individually designed contemporary kitchen combining fabulous style with function and have quality branded appliances included.
These beautiful new homes are being offered at a guide price of €260,000 (3 bed option). The turnkey design and finishes must be viewed to be appreciated and the DNG team invite you to come and join the Prosecco launch on Friday August 31st from 5 pm to 7pm.
There is no appointment required, you can just come along on the launch day. Alternatively, if you wish to book a specific time, request a brochure or discuss the development in more detail please call
Catherine Murphy on 065 6840200 or email catherine@dngosullivanhurley.com.