DROUGHT conditions have led to one part of the River Fergus drying up for the first time in at least five decades.
Local Ruan resident Brian Cunningham explained that in his 39 years living in the area pictured, he has never seen the riverbed completely dry up.
"It's like that now a week," explained Mr Cunningham. "That photo was taken on Sunday. That's the main River Fergus. If you go back up you can walk along [towards Dromore] in your runners the water never passed your ankles.
Mr Cunningham said that his now deceased grandfather had spoken of a time in the early 70s when the Fergus water levels were low in the area, however he insists it never dried up.
However it's understood that there are no issues with supply to the lower Fergus due to its underground channels.
Alan Coote of Clare Watersports told The Clare Echo that he is currently unable to run his kayaking tours from Dromore to Ballyalla due to the low to non-existing water levels however he continues to operate in Ballyalla.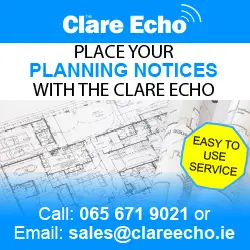 "I'm 10 years doing trips, it does get low but never like it is now," explained Mr Coote.
He also confirmed that there have been no residual knock-on effects for Ballyalla as the Ennis lake has two springs which are keeping the water level maintained.
The green flag continues to fly in Ballyalla and Alan said that the water quality was tested as recently as this week. Clare County Council told The Clare Echo that all water quality tests have been coming back perfect. They added that about 15-20 mm of rain is due to fall today (Thursday) and it is expected that water levels will rise in the coming weeks.