Potential homeowners are experiencing 'extreme difficulties' in attempting to rent or purchase property.
Following up on a previous motion, Cllr Gerry Flynn (IND) reiterated his appeal for Clare County Council to run housing workshops in each Municipal District.
He stated, "The current situation for many people trying to purchase or rent property is extremely difficult to navigate and I believe the Council is well placed and need to be out there and putting forward other measures to support the public as available social housing is limited and cannot possibly cope with the current demand in addressing accommodation needs".
A pilot workshop is being organised for Shannon, Director of Service, Anne Haugh confirmed in response. She detailed that this would take place in February and they intend to invite MABS, the Residential Tenancies Board, the Housing Agency, Banks, local auctioneers and local mortgage brokers.
At the workshop, the Council will outline to attendees information on the Rebuilding Ireland home loan, leasing options for landlords, RAS, Housing Assistance Payment plus new schemes in the development of the Shannon MD. "Subject to the success of this pilot evening the event can be rolled out to other MDs," Haugh flagged.
Flynn who is the Chair of the Social Development SPC that has responsibility for housing insisted the motion was not aimed at Shannon solely, "I want something inclusive for the whole county. I don't agreed with your last comment that it should be subject to the success of the pilot". He said that when this was debated last year, there was agreement that all four MDs would be included.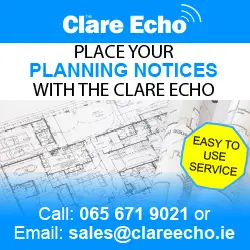 "There are more options than social housing for people to get a home from Clare County Council. We've got to be positive, there is many a time a team has gone out and was not successful but they stuck at it," Cllr Flynn added. The Shannon representative said the pilot can be tweaked before running it another Mds. "We were never as hard pressed as to support people getting homes".
Mayor of Ennis, Cllr Johnny Flynn (FG) agreed that the roll-out to all four Mds was approved in 2019. "It is important that we have it," Cllr PJ Ryan (IND) commented at the January meeting of the local authority.