CLARE County Councillors threw a curve ball into the Presidential race on Monday evening. Granted, out of 28 councillors in the Banner county, it took the votes of just seven of them to do so, most of them abstaining. Many pundits had thought that the announcement of Sinn Féin's Liadh Ní Riada would be the fifth and final candidate to make it to the ballot paper before this week's deadline.
However, Peter Casey's nomination by Clare County Council put him half way to reaching the four-council nomination target with 9 councils left to decide. With Donegal also looking like they will nominate him, he should pick up at least one more from the remaining 8 councils to make it to next months election as an official candidate.
That said, two opinion polls at the weekend from RedC and Ireland Thinks both confirmed what many of us already knew; incumbent Michael D Higgins has a massive lead some 6 weeks ahead of polling. That doesn't mean anything can be taken for granted. David Norris and Sean Gallagher were early favourites last time out. Adi Roche was an early leader in the 1997 race along with Mary Banotti, however, Mary McAleese ended up comfortably winning that election. The shadow boxing can end after the nomination deadline has passed and, with the official launch of President Higgins' campaign to come this week, the campaign will really begin in earnest.
Sinn Féin's nomination of Ní Riada was a well flagged one. The official selection was supposedly only made at an Ard Comhairle meeting of the party last Sunday; however, her campaign Twitter page and website had been set up several days previously and that afternoon, an official campaign launch was done with a plethora of printed campaign materials and t-shirts. There was even a campaign video already prepared. So, not the democratic decision of the party's Ard Comhairle after all, it would appear. It does beg the question though, even with the change of leadership in SF, just who is calling the shots behind the scenes? And why are decisions being laid in front of the party's executive for mere rubber stamp. Ní Riada herself in an interesting choice. Her cultural credentials for the job are not in question given her work on behalf of the national language and her time in TG4, not to mention being the daughter of one of the most notable Irish composers of the last century. Nevertheless, she is not without controversy. She said in previous interviews that she refused to give consent to have her daughters vaccinated, citing utterly disproven reports as justification at the time. She has since, officially, rowed back on those claims but her outburst at the time certainly hurt her reputation. She also refused to call the Provisional IRA a terrorist group in an interview with Hot Press, drawing a ferocious backlash from the victims of IRA violence.
At the end of the day though, Sinn Féin would privately concede that they have not a hope in hell of winning this election. That's not what this is about for them. What is important to them is that they're the only party who have officially run a candidate. All other nominees will be classed as Independent candidates. Initially SF saw this as a great opportunity for them with a month's publicity that other parties won't garner. Personally, I think they're made an error of judgement on this one. The Irish people have moved on from party politics for party politics' sake. The role of President has evolved to much more than a political prize to be fought over. As such, SF now look to be caught in the past, fighting an election against a very popular incumbent for the sake of it. The realisation of their error was etched in the faces of all their members who appeared at their official launch, each photographed looking glummer than the last.
The real fear now is that a poor performance by Ní Riada could cause the Sinn Féin brand more damage that its worth. The main reason she was picked ahead of any other potential nominee was one of profile, or lack thereof. With a win in this election not seen as credible, SF are using it to give a profile boost to their least know MEP just months ahead of the European elections. She is one of the MEP's representing Clare, yet her nomination last weekend saw plenty of friends and family contact me to find out just who she was and why they had never heard of her before. Contrast this to Matt Carty and Lynn Boylan, Sinn Féin's two other MEP's for the Republic of Ireland constituencies, who are well known for strong media performances since their election, alongside Ní Riada, in 2014.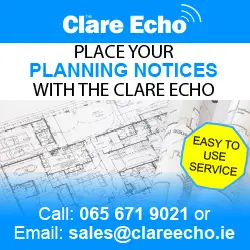 Sinn Féin may have made a huge miscalculation by jumping the gun to announce their intention to run a candidate at a time they thought it may have been a two-horse race between their nominee and the incumbent. With the entrance of Gallagher, Duffy, Freeman and now Casey to the fray, Ní Riada may simply fade into the background and, in doing so, make the whole SF party look weak and devoid of any great talent outside of their most senior ranks. On the other hand, all other political parties are now free to concentrate their efforts on preparing for Local and European elections next May as well as any snap General Election that may occur in the meantime. For instance, without the Presidential election to worry about, Fine Gael have been free to examine constituencies like Clare and make, what they feel, are appropriate additions to their ticket. Likewise, Fianna Fáil can now sit back and analyse the county to see what should be done about their ticket in the wake of the withdrawal of John Hillery. SF are looking at Clare as a location to make a breakthrough in the next General Election. For the next 6 weeks though, they will be talking to the Clare electorate about Ní Riada in a race she cannot win instead of talking up their General Election candidates here. SF have made a gamble in running a candidate, but I think it's been an ill-advised one. Anything below 12% for Ní Riada at the end of the day would spell crisis for SF. They've unnecessarily backed themselves into a corner and will have to come out fighting to save face. This is an effort they could have done without!