*CEO of Ennis Chamber, Margaret O'Brien and Sean Lally of Hotel Woodstock. Photograph: Arthur Ellis
IMBALANCE favouring Dublin Airport and hindering the likes of Shannon Airport will continue to exist until the national aviation policy is amended, one of the authors behind an economic impact report on the Shannon Airport Group has said.
Oxford Economics won the tender to complete an economic impact report on the Shannon Airport Group. They commenced their work in early 2023 and concluded over the summer months.
A team of four personnel from Oxford Economics worked on the report, they completed one site visit to Co Clare when compiling the contents of the document.
Director of Consultancy with Oxford Economics, Neil McCullough explained, We collected a lot of information from the Business Parks through an online survey, we asked a lot of the questions and tried to make it real easy for everyone. We put the survey up, we didn't get everyone responding but that is okay, the Airport Group have information on the number of people that are there and where they don't we can use information on floor space, there is guidelines on the numbers you can fit into the floor space for different types of buildings, we're able to estimate an awful lot of it, we've published data on productivity and the different sectors, all of that can come together to estimate economic activity".
"We looked at the direct activity that happens at the Airport and at the Business Parks and estimated the supply chain effects of that so what is actually being bought in the economy to support that level of activity. We looked at the other standard channel of impact which is consumer spending, what those employed directly and indirectly in the supply chain were spending their income on. We found there is a substantial economic impact supporting over 20,300 jobs, close to €4bn contribution to the GDP and about €643m in tax revenues. The Airport itself has further benefits, we've estimated the impact connectivity has to productivity, the impact from tourism and trade that it facilitates and we also found the Airport can do an awful lot more, there is loads of capacity for growth and yet all of the passenger growth since 2011 has been captured by Dublin Airport. Aviation policy is geared towards further growth at Dublin Airport, we've made a number of recommendations in the report to try address that".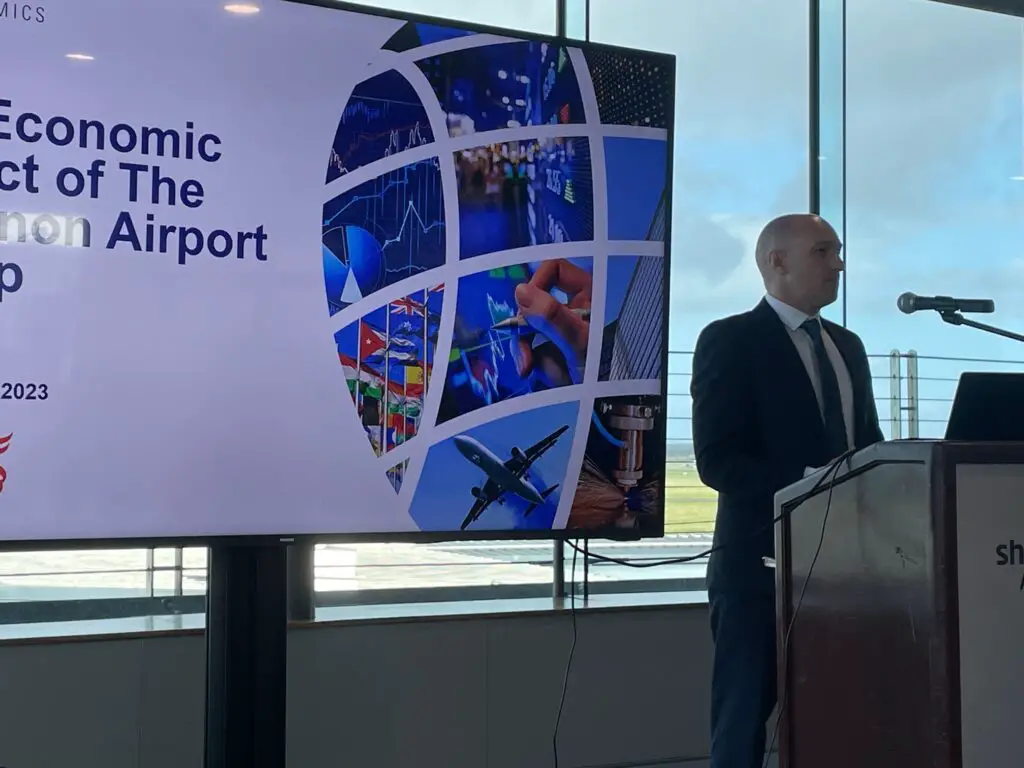 Dublin Airport will continue to be the main beneficiary unless the recommendations of the report are adhered to, he said. "There is further expansion plans at Dublin which doesn't make a lot of sense when you look at the likes of Shannon and others that have the capacity to take up that growth. The aviation sector in Ireland is highly concentrated already, 85 percent of passengers go into Dublin Airport, in the study we looked at a number of different companies in Europe, only Holland was slightly higher, the rest of them were considerably below that and there is European companies out there and Governments trying to take steps to reduce the dependency on one airport, there is tonnes of economic evidence that healthy regional airports can have a real impact on labour markets through investment, can boost population and economic activity".
Speaking to The Clare Echo, Neil admitted that a review of the national aviation policy was the most important of their recommendations. "The national aviation policy which was set back in 2015, since then a lot has changed, Project Ireland 2040 which was its overarching framework for Government has been put in place, looking at that will also address some of the other recommendations on State Aid rules, it is all contained within that policy".
Shannon Airport's importance was evident in the responses from businesses to their survey. "We've done studies in the UK, we've looked at Heathrow, Stanstead and Gatwick, I think the universal truth is where you have an airport you tend to get business parks so there might be a lot that are logistics or aviation focused but you get a cluster of certain types of companies, they provide tonnes of jobs so you get the hotels but also the logistics which rely on the movement of goods and packages. Airport themselves might provide a lot of jobs but it is that network of other firms around it that really boosts the number of jobs around it. We got some testimonials from companies around here, a lot of them said without the Airport they wouldn't be here or that it would be a much smaller market, it allowed them to grow, invest and access new markets".