*Photograph: Eoin O'Hagan
Necessary road works and the delay to complete them has caused "a lot of inconvenience" for the businesses and residents of Scariff.
Cotter Plant Hire are to commence work on May 20th with an estimated completion date of August 30th for the proposed upgrade of the main street in Scariff.
In February 2017, Clare County Council hosted an informal public session on the proposal to upgrade this stretch of road. The local authority stated two years ago, "The €111,764 project is 85% funded by the Department of Arts, Heritage, Regional, Rural and Gaeltacht Affairs and is expected to be completed by mid-2017".
"It has taken a long time to get the issues in Scariff dealt with. The 30th of August seems a long way away but there is a lot of work involved," Cllr Pat Burke acknowledged.
"Residents in Scariff had to put up with a lot of inconvenience for the last year to year and a half and in fairness Irish Water held it up," Cllr Joe Cooney stated. He felt the awarding of a contract was "brilliant news" but appealed to engineers within the Killaloe Municipal District to "make sure for the August bank holiday weekend that everything will be as good as possible and under control. It is a major weekend for East Clare".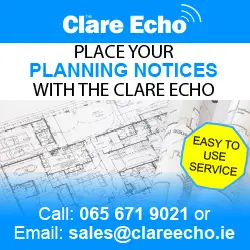 Although he welcomed the announcement, Cllr Pat Hayes expressed his frustration with the delay. "I'm disappointed it has taken so long, for the people of Scariff it has been very disappointing and it is not a good way to do business. The time it takes projects to get through the system to get done takes the good out of them, the people of Scariff have been very patient".
Reiterating comments from Cllr Cooney to be prepared for the August bank holiday in which Scariff hosts the annual harbour festival, Hayes added, "I would ask that one side is fully completed and majority of work nearer to town be done".
Senior executive engineer, Tom Mellett confirmed the plans are now on display at the Scariff office of Clare County Council.