*Ronan Taaffe. Photograph: Burren Eye Photography
A momentum-fuelled Tubber blitzed St Joseph's Doora/Barefield with five timely goals to power through to their third Intermediate Hurling Final in four years.
Tubber 5-15
St Josephs Doora/Barefield 0-15
Venue: O'Garney Park, Sixmilebridge
Picking up where they left off against Sixmilebridge last time out, the North Clare side were simply ruthless as a succession of sucker-punches took their tally to an unprecedented 10-29 in just two outings. Central to another command performance were the attacking triumvirate of the Earley brothers Clive and Blaine along with county senior Domhnall McMahon who after combining for 5-10 in the quarter-final, would raid for a further 4-10 this time around.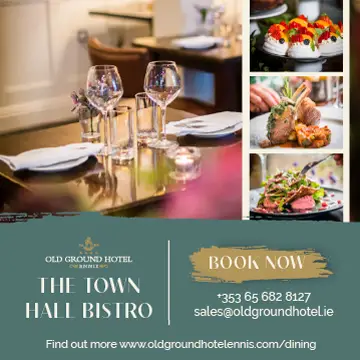 Every goal was a deeper wound for the Parish to ship as in contrast, they failed to heed the warning sign of Bodyke's late revival in their last eight bout a fortnight ago. On that occasion, they leaked two very preventable goals in the final 20 minutes while slumping to 11 second half wides to almost let slip an 11 point cushion. And on Friday, they certainly didn't help themselves once more as nine first half wides were magnified by leaving themselves exploited at the back for all five goals which in truth could have been eight.
Remarkably, Tubber set the tone from the throw-in as Ronan Monahan immediately collected possession to run at the heart of the Doora/Barefield defence before offloading to Clive Earley to subsequently feed Cathal Murray at the edge of the square for a goal inside 15 seconds.
Despite a succession of wides, St Joseph's eventually recovered from that early set-back, only to be hit by a second killer blow in the 26th minute. A three point burst through Davy Conroy (2) and Brian Guilfoyle had lessened the damage to just the minimum but with St Joseph's beginning to get on top, Ronan Taaffe's monster restart managed to bypass everyone but Clive Earley who would have a clear path to score his side's second goal at 2-5 to 0-7.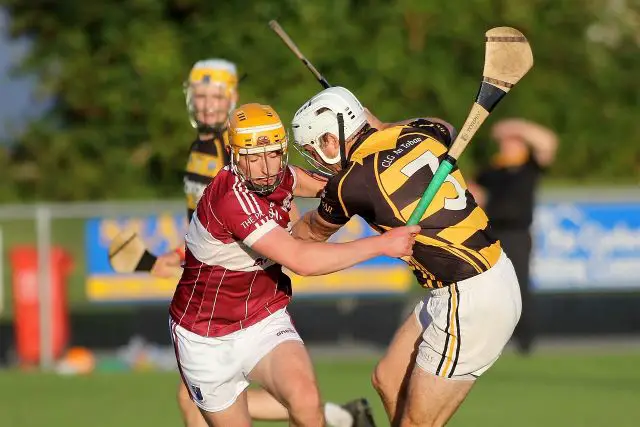 Cathal Murray had a glorious opportunity for a third goal soon afterwards but it wouldn't be long before it arrived as Domhnall McMahon used his strength to shrug off his marker and race through to catapult Tubber to a 3-8 to 0-9 interval cushion.
With the wind blowing directly across the field, it wasn't as if Doora/Barefield had even the aid of the conditions to cling to. However, through key performer Darragh O'Shea, now at midfield, they did commence the comeback bid after only ten seconds of the new half.
Within eight minutes, the towel could have been thrown in however as following a straight red card for Cian Barron following an off-the-ball incident with James Howard, the Parish would subsequently concede another two goals in the space of three minutes.
Inevitably it was the Earley brothers that inflicted the final nails in their opponent's coffin as first Clive cut in from the right corner to garner his second goal before Blaine's equisite control from a Domhnall McMahon delivery allowed him the space to put 15 points between the sides by the two-thirds mark at 5-10 to 0-10.
And that was essentially game over really as Tubber managed to comfortably maintain that gap for the remainder despite the best efforts of Darragh O'Shea, the Hannan twins Jack and Tom, Davy Conroy's frees and substitute Fionn O'Brien.
Up the other end, Tubber replacement Justin McMahon was somehow denied a sixth goal at the death by a point blank save from goalkeeper Paul Madden. However, it was merely academic by that stage as Tubber, along with the attacking Holy Trinity of the Earleys and captain McMahon were best served by a towering display from centre-back Fergal O'Grady, the tigerish Joey Droney and the settling presence of county senior Patrick O'Connor at full-back.
It's difficult not to be impressed by a determined Tubber collective who appear to be getting better by the game. However, it comes with a major caveat, as recent past experiences have certainly hammered home to Tubber that semi-final performances are quickly forgotten about if they aren't replicated in the final.
That said, you have to be in it to win it.
Scorers for Tubber: Clive Earley (2-3); Domhnall McMahon (1-4); Blaine Earley (1-3, 3f); Lorcan O'Grady (0-3, 1f); Cathal Murray (1-0); Mark Earley (0-2)
Scorers for St Joseph's Doora/Barefield: Davy Conroy (0-8, 5f); Conor Tierney (0-2); Tom Hannan, Cian Barron, Brian Guilfoyle, Darragh O'Shea, Eoghan Thynne (0-1 each)
Tubber
1: Ronan Taaffe
2: Emmett Quinn
3: Patrick O'Connor
4: Joey Droney
5: Mark Earley
6: Fergal O'Grady
7: James Howard
8: John Fawle
9: Ronan Monahan
12: Lorcan O'Grady
11: Domhnall McMahon
10: Jonah Culligan
13: Blaine Earley
14: Cathal Murray
15: Clive Earley
Subs
20: Shane O'Connor for Culligan (54)
19: Justin McMahon for Murray (54)
17: Declan Ryan for Fawle (55)
18: James Taaffe for B. Earley (57)
22: Gerard O'Connor for Howard (57)
St Joseph's Doora/Barefield
1: Paul Madden
2: Peter Collins
3: Kevin Dilleen
4: Brian Clancy
9: Darragh O'Shea
5: Jack Hannan
7: Adam Mungovan
8: Jarlath Colleran
11: Davy Conroy
21: Caimin O'Connor
12: Tom Hannan
20: Brian Guilfoyle
13: Conor Tierney
14: Alan O'Neill
10: Cian Barron
Subs
18: Mossie Hehir for Collins (HT)
15: Eoghan Thynne for Guilfoyle (38)
22: Fionn O'Brien for O'Connor (44)
19: Conor Kearns for O'Neill (59)
17: Keelan Butler for Clancy (59)
Referee: Jim Hickey (Cratloe)