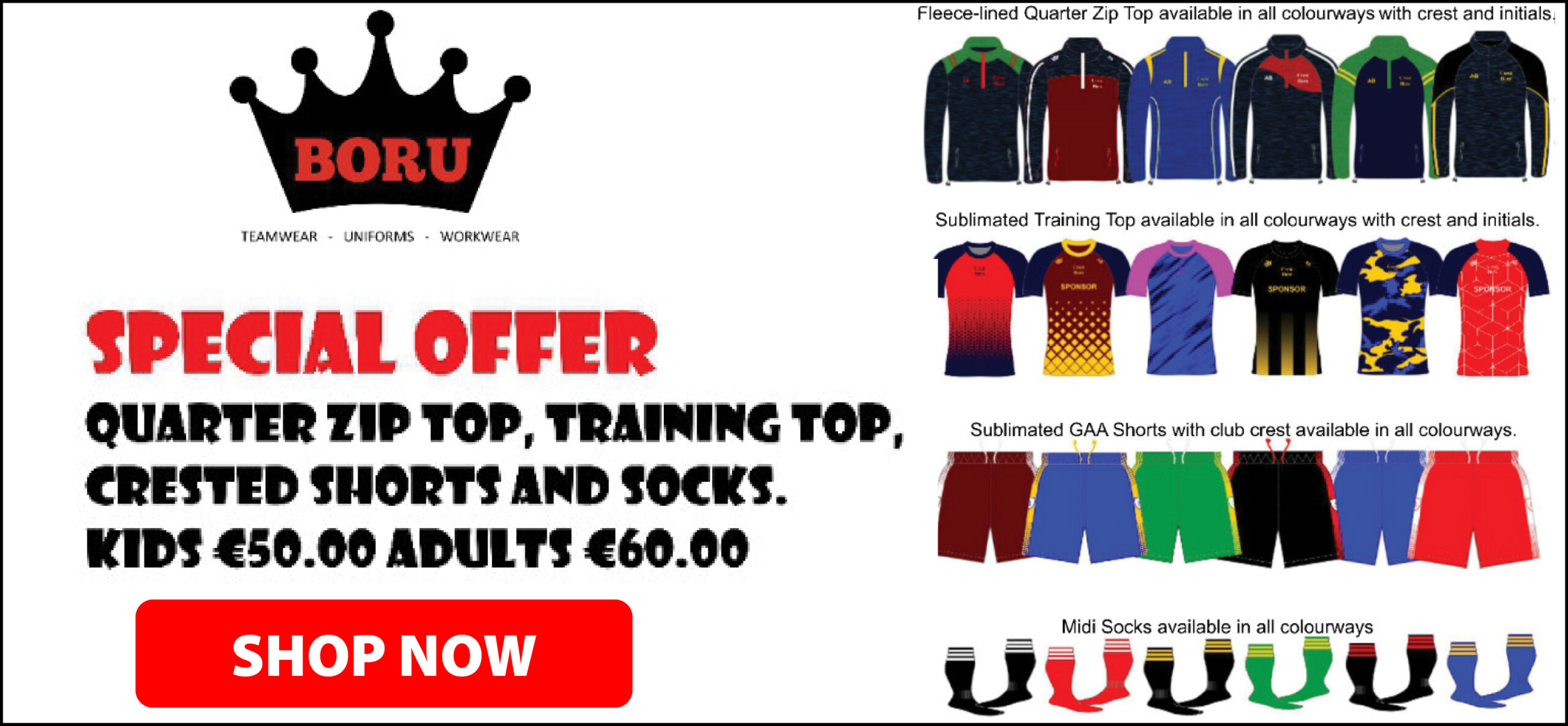 *David Collins and Darragh Sexton clash in the 2016 decider. Photograph: Martin Connolly
Cratloe and Kilmurry-Ibrickane last met in the Clare senior football final in 2016 when a replay was needed to produce a winner.
The drawn game attracted an attendance of 4,450 spectators to Cusack Park and after the sides were level on eight occasions ,the final scoreline was 1-9 to Cratloe and 0-12 for their West Clare opponents.
There were missed chances by both sides on a day when the first half ended with a mass brawl involving most of the players and some of the substitutes.
The teams had exchanged points on three occasions before Kilmurry took a one point lead through Keelan Sexton at the turn of the second quarter. Three minutes later Cratloe put a great move together which ended with a Cathal McInerney goal.
Kilmurry dominated the final five minutes of the half and landed four unanswered points to lead at the break, 0-8 to 1-4.
It was score for score throughout the second half and the teams were level at 1-7 to 0-10 entering the final quarter. wice Kilmurry-Ibrickane took the lead, both scores coming from frees by Keelan Sexton but on each occasion Cathal McInerney responded for Cratloe.
Cratloe; P. De Loughrey; S. Chaplin, B. Duggan, . McFaddan; M. Murphy, M. Hawes, L. Markham; C.Ryan (0-1), J. Galvin; P. Collins (0-1), S.Collins C. Cooney; C. McInerney (1-5, 0-3f), S. McHugh, D.Collins (0-1);
Subs; E.Boyce for McFaddan (inj), S. Hynan for Cooney (inj), S.Gleeson (0-1) for McHugh;
Kilmurry-Ibrickane; I. McInerney (0-2, f); M.Killeen, D. Hickey, C. Morrissey; S. Hickey (0-1), M. McMahon, D. Sexton; M. McCarthy, K. King; N. Hickey (0-1), M. O'Dwyer, M. Hogan (0-1); D. Callinan, E. Coughlan (0-1), K. Sexton (0-5,2f);
Subs; N. Downes (0-1) for N. Hickey; S Moloney for Hogan; P. O'Dwyer senior for McCarthy.
Referee; R. Hickey, Eire Og, Ennis.
A powerful second half performance steered Kilmurry-Ibrickane to the title when the replay took place two weeks later. This time the attendance was down a little to 3,722.
Kilmurry-Ibrickane led by two points, 0-8 to 0-4, at half time before a goal from Martin McMahon, nine minutes into the second half turned this tie in their favour.
After this score Kilmurry took control in most areas and went on to record a 2-13 to 0-6 victory, limiting Cratloe to just two points in that second half
Cratloe were reduced to fourteen men when Conor Cooney picked up a second yellow card in the final minute, Keelan Sexton found the net from the penalty spot for the winners to seal victory.
Darren Hickey, Ciaran Morrissey, Darragh Sexton, Michael Hogan, Enda Coughlan and Keelan Sexton were prominent throughout for the winners while, for a disappointing Cratloe, Sean Chaplin, Liam Markham, Conor Ryan and Cathal McInerney did best.
The team line outs in the replay were
Kilmurry-Ibrickane; I McInerney (0-2 f); M.Killeen, D. Hickey, C. Morrissey; D. Callinan, M.McMahon (1-0), D. Sexton; M. McCarthy (0-2) K.King; M. O'Dwyer (0-1), S. Hickey (0-2), M.Hogan (0-1); K. Sexton (1-4, 1-1f), P. O'Dwyer (0-1),E.Coughlan
Subs; N.Downes for Callinan; N. Hickey for Downes (inj.), E. Talty for Morrissey, T. O'Connor for McCarthy; J. Daly for M. O'Dwyer;
Cratloe; P. De Loughrey; S. Chaplin, B.Duggan, L. Markham; M. Murphy (0-1), M. Hawes, E.Boyce; C.Ryan, J. Galvin; A. McFadden, S. Collins (0-1), S. Gleeson; C. McInerney (0-4,3f), P. Collins, D. Collins;
Subs; C. Cooney for McFaddan (inj); S.McHugh for Gleeson,
Referee; P. Cosgrove,Corofin;