*Photograph: Martin Connolly
A revised application for the development of 18 social housing units in Scariff is to be submitted to the Department of Housing.
Department officials recently refused the pre-planning aspect of the application by Clare County Council. This stage involves a check on procurement, consistency with design guidelines, cost and value for money. These aspects now have to be revised.
Clare County Council intend to start construction of the eighteen house development in the third quarter of this year and to have completed by the same juncture in 2022. To hit this timeline, the revised pre-planning aspect would need to be with the Department by the end of this week.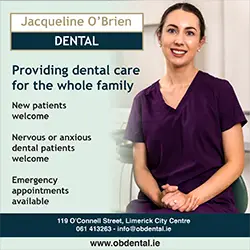 An update on the progress of the development was sought by Cllr Pat Burke (FG) at recent sittings of the Killaloe Municipal District and Clare County Council.
Director of Services, Anne Haugh confirmed that "a slight delay" had been encountered. "Complexities" around the site such as the cost have put local authority officials back to the drawing board. She said that consultation on the re-submission had been "fairly positive". Changes were required to meet the needs of the Department, she confirmed.
When questioned by Cllr Burke if a reduction of units would be a result of the re-submission, Ms Haugh detailed that density and a reduction of footprint would be a factor assessed to achieve a lower cost. "We're trying to get the balance of not losing many units but also achieve savings".
"It is a pity it met a stumbling block," Cllr Burke commented. "We are all aware of the shortage of housing and the need for developments to be fast-tracked," the Whitegate representative outlined.
Cathaoirleach of the Killaloe Municipal District, Cllr Pat Hayes (FF) voiced his disappointment with the delay and the potential that the car park would not proceed. There is concern in Scariff over the development's future, Cllr Joe Cooney (FG) admitted. "Scariff is an area that could do with another housing development".
Such concerns were abated by Haugh who confirmed the plans for Scariff remained "very much in action".