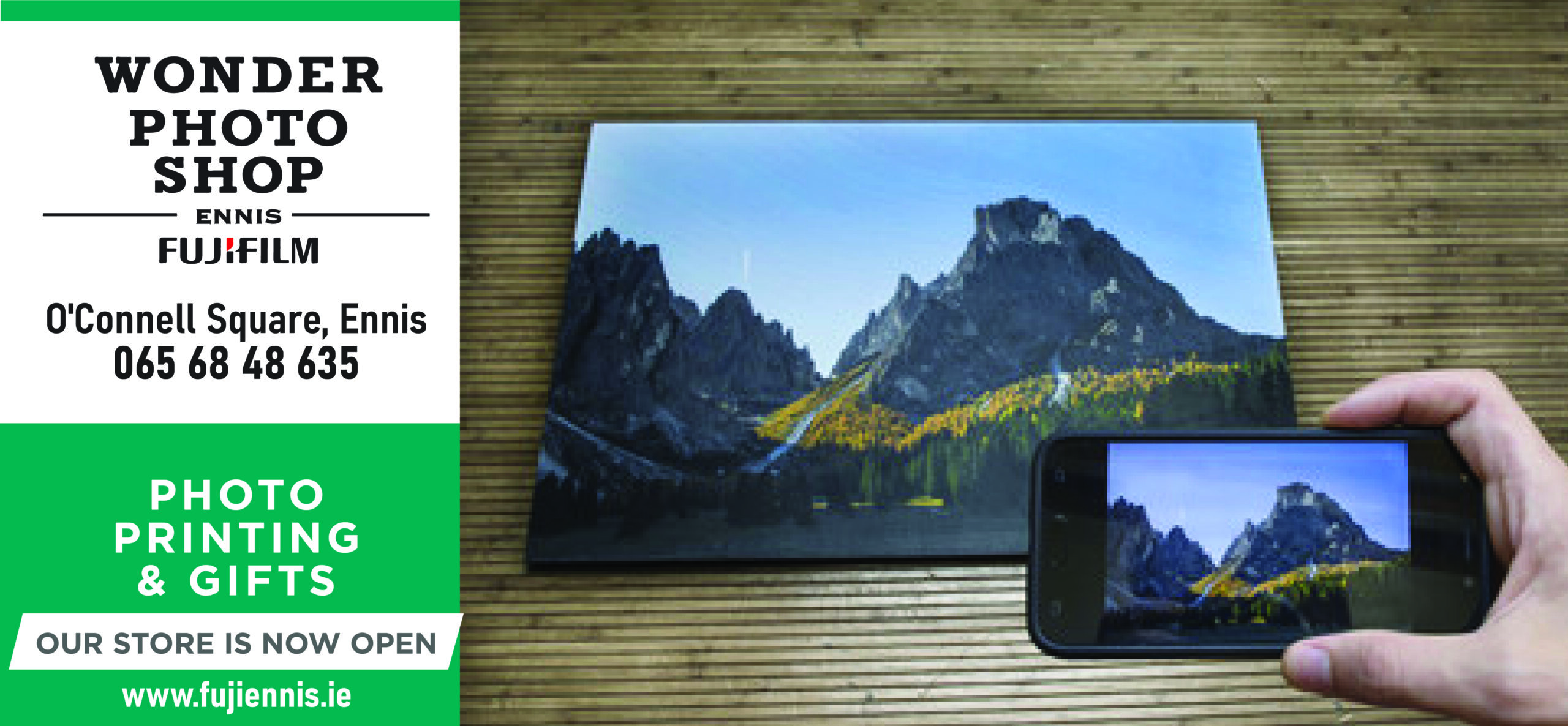 *David Woodford.
One of Ennis' most well-known and universally popular businessmen, David Woodford has died.
Not alone is Clare's music community in mourning but so many sectors right across the county town and beyond are feeling the loss of a gentleman.
Known to generations as the owner of Record Rack in the Market of Ennis, David and his wife Eileen catered for the musical taste of hundreds of customers. They did so with a smile and a warmth which is fondly remembered by all those who ventured in the doors. The respect and appreciation they held for each genre is remembered to this day by all musicians.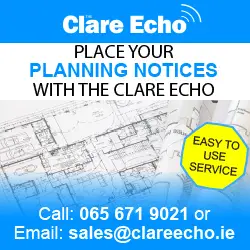 Married for just shy of four decades, their resilience in overcoming illnesses and setbacks plus how they interacted with the public has resulted in them being endeared by countless individuals across Co Clare.
From its opening in 1982, Record Rack was for many Clare people the place in which they purchased their first tape, cassette, CD or vinyl. Their experience in store was equally as memorable. In May 2010, it became The Irish Shop. Record Rack returned in June 2016.
A past pupil of Rice College, David's musical exploits as a drummer with Hot Ice were clear to see. The band also included Steve Kerin, Paul Hayes, Joe Costelloe and Vince Costelloe. They were once described as "one of the most promising rock groups to ever evolve in the town of Ennis".
Many individuals will not associate the Ennis man with music, for some it will be his adventures in the Honda Gold Wing Rallies but the majority will speak of the loving relationship between him and his dear wife, Eileen.
DJ Trevor White first came across the couple when beginning his music career in 1995. "I would have went into Record Rack and you were greeted inside by himself and his wife Eileen. From the minute I met them, they were nothing but nice, I was a young lad at the time but you always got the sense from the staff inside there that it was like a family atmosphere, it was a lovely nice place to go into and you could feel it straight away".
As an up and coming DJ, he vied alongside Darren Purtill and Francis Franks to get their hands on the latest imports, of which there would be only one copy, the rest of which would follow one to two months later. Once a week, they would be waiting for the store to open, such was the competition between them, "we were all trying to get our hands on the best tracks at the time and you would have David and Eileen behind the counter laughing at us because they knew it was a regular occurrence every Thursday".
Trevor got to know David and Eileen much better as the years progressed along with a solid friendship. "You'd stand at the counter, you would have to clear your afternoon, there was no point going into Record Rack for half an hour, buying a CD and walking out the door, you would really need to allow three hours of free time to go in there. The knowledge of music he had, even movies, a super intelligent man who was willing to share his knowledge with you," the Ennis native reflected to The Clare Echo.
Conversations never ran dry with David whether the distance between them was a week, two months or a year, Trevor pointed out. "They were a lovely couple, he was a gentleman and she is a lady. I have yet in my life from the 25 years that I know them, I've never met anyone that had a bad word to say about them, even though the minor most negative things, no one would say they were too expensive because they looked after everyone with prices, no one could say anything bad about them and nobody I know has said anything bad about them, that is highly thought of they were in this town. He is a massive loss to the town, he was one of Ennis' biggest characters and is such a massive loss, so many people knew him and so many people loved him". The efforts of the Woodfords in contacting Trevor and his wife Lorraine during her bout of illness comes to his mind as an example of how genuine they are.
An infectious love of music was inhaled by David's friend and fellow musician, Seanie Moloney who is now based in New York City. "I knew David pretty much when I was starting out playing and he was with Hot Ice and I was in a band called Ulysses, I remember Stevie Kerin on guitar and Vince Costello was the singer. Dave always had a smile on his face when he'd meet you and just was the consummate gentleman. One of the boys really and was always very helpful and encouraging. He was a very passionate musician, just lived and breathed music".
Thirty one years ago, Sinead Pyne opened Cornucopia in Lower Market St. She described David as being part of her "retail family". She was a regular visitor to Record Rack, mainly to purchase Sinead O'Connor CDs to be played in the fashion store but also for the chat. "Dave was the kind of guy you never just bought off, there was always a chat". She remained struck by the love between him and Eileen. "There never seemed to be a cross word between them, they were always together and you could see how much they enjoyed each other's company, their relationship was aspirational".
During the early days of opening the store, Woodford was one of the most pleasant individuals Sinead dealt with. "I was just out of school. I had buckets of enthusiasm but not much else. The atmosphere was lovely there, himself and Eileen got on so well together, he really knew his stuff about music. He was always great if you needed a bit of advice".
Whatever the topic, be it parking or pedestrianisation, she remembered that David was always "level-headed" and a person Sinead knew she could rely upon for decent advice. She believes it is individuals like him that would have been setting the example as businesses across the county begin to pick up the pieces following COVID-19.
Singer, Damien Gormley admitted that he wouldn't have sold a single CD were it not for the advice and friendship provided by Dave and Eileen, the two individuals whom he purchased his first CD from. A prediction from Dave that Gormley would become a musician by alerting him to his potential is vividly remembered.
"They brought music to life in Ennis that nobody can ever top".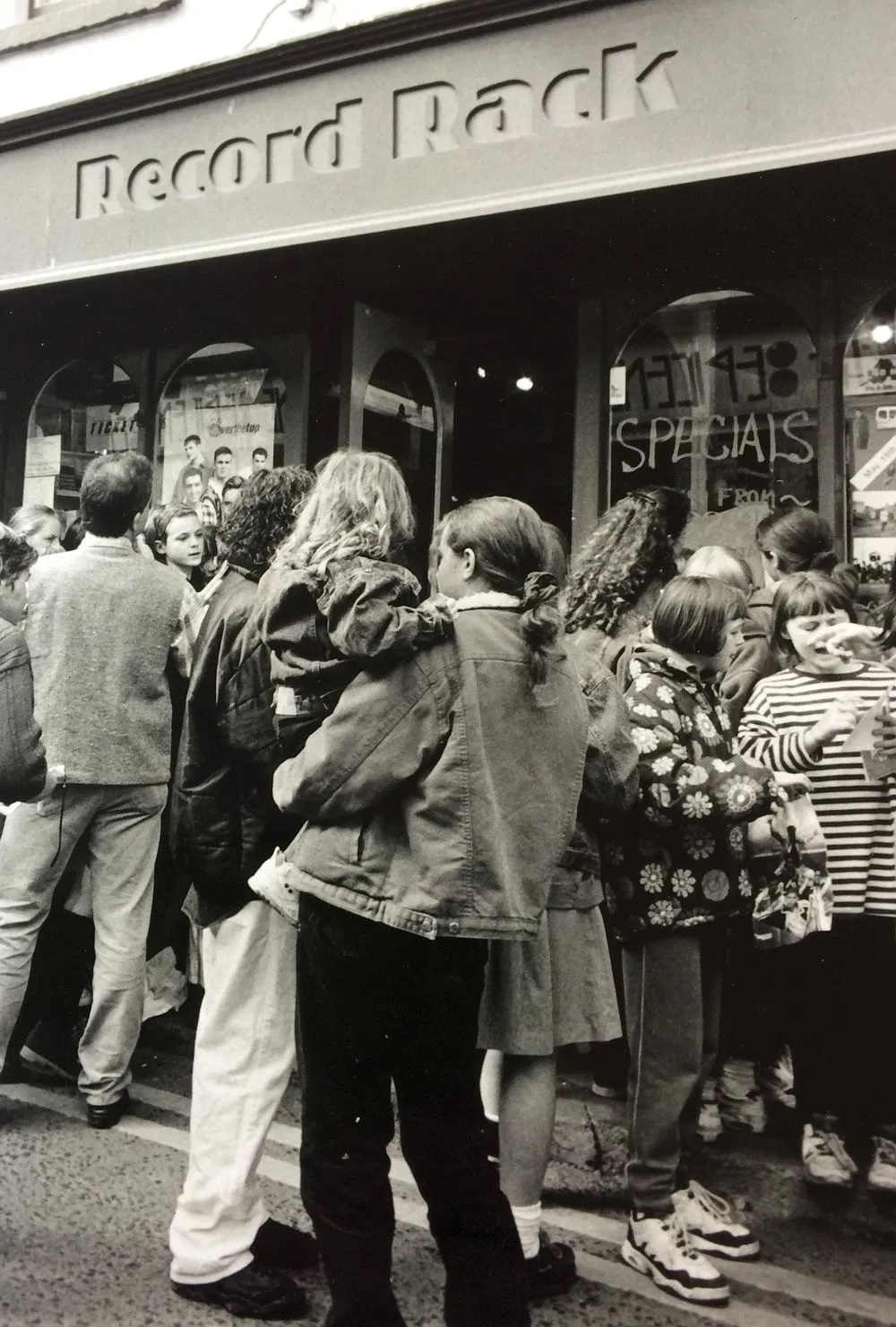 Bouzouki player, Eoin O'Neill moved to Doolin in the 1980s, for the next two decades trips to Record Rack were always memorable. "Dave was the only one in Clare as far as I know that was selling records, tapes, CDs and stuff like that. If we got a lift into Ennis which was very a rare thing, we were stuck in Doolin but we were very happy to be stuck in Doolin, if we got a lift to Ennis it was always straight to The Record Rack. He would have the local musicians as much as the international musicians, it wasn't just a matter of going in and buying a tape in those days, there was a conversation and a friendship, I'm sure it was the same for everyone that went into the shop. Lots of people went back week after week to buy off Dave and chat to Dave".
Local acts were treated the same as global superstars within Record Rack and appeared side by side major musicians. "I remember going in with a friend of mine, Mary Custy, she had heard of a young band in Limerick that were starting out and we asked if he a cassette of this young band from Limerick, he said 'just got it in this morning and you're the first to buy it'. It was The Cranberries and they had their first cassette out, he was there at the start of the big names and he was there for us that didn't necessarily need to be big names but it was very important for us making a part of our livelihood that Dave would sell six tapes or CDs a week for us".
Consuming coffee at coinciding times in Ennis also stokes fond memories for Eoin. "We had coffee at the same times, when I would have coffee in the Town Hall, Dave and his wife Eileen would drop in around 11 o'clock to the Town Hall, everybody that was there knew Dave and Eileen, everybody got a warm smile, sometimes we got more and there might have been a chat involved, that smile helped us all".
O'Neill highlighted the role stores such as Record Rack play, crucially it is the personnel behind the counter that add to the experience that accompanies one who walks through the doors. "When Record Rack doesn't exist, there is something hugely missing in the Clare music scene. When he started up again and started selling LPs again it was a lovely atmosphere in that shop, it is a huge loss. Record stores by their very nature are meeting places for music people, not just musicians but people who love music, those meeting places are vital. They don't exist to the same extent as they did years ago".
Owner of the Rowan Tree Café Bar, Brian O'Neill acquired his first piece of music from David, a tape of The Police. Years later, they worked together on a campaign for Shannon Airport to separate from the Dublin Airport Authority.
"There were a couple of passions in Dave's life, music being one of them, motorbikes and particularly Gold Wings was another passion. The people of Ennis and the business community of Ennis, their hearts will go to what his love and his love was Eileen," Brian noted.
He believed the Woodfords epitomised the sense of supporting local. "A lot of people talk about 'supporting local and we should be supporting local more' but Dave and Eileen have been doing it all their lives, people may not realise that they are in with me today or with somebody else tomorrow or buying gifts or a purchase. It has always been local, always dealing with people in the most pleasant manner that you could expect to be served by or to serve someone by".
As regular visitors to The Rowan Tree, Brian witnessed this in action first hand. He also saw how David carried illness with dignity and a positive outlook. "There is very few people in Ennis who haven't purchased some form of music off David in either of his ventures. Most recently, we purchased vinyl for my eight year old son to play on the record player, he picked whatever he wanted to. There is people from my son's age up to grandparents and others in the town who have an experience of buying and purchasing music.
"Music instils something in your being whether it is classical or deaf metal, whatever your choice it instilled something in you and some people will have the relationship of those albums, records, tapes, CDs, they will have that link with David forever through those. For me, it will be The Police, those and the memories of the things we have done. The memories of the pleasure that it was to meet Dave and Eileen on a regular basis, how pleasant the experience of having the chat with them was, very respectful and gentlemanly in all his conversations but capable of standing up when somebody needs to".
Due to current guidance from the Government and the HSE, a private funeral will take place on Monday. The mass will be streamed on the Doora Barefield parish webcam.
David died peacefully at Milford Care Centre. He is dearly missed by his loving wife Eileen, mother Benny, brother Aidan, sister Anne, brothers in law, sisters in law, nephews, nieces, relatives, friends, neighbours and dog, Billy.