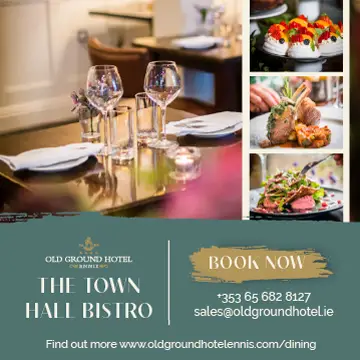 *Newmarket Celtic captain Eoin Hayes raises the Premier Division trophy. Photograph: Joe Buckley
NEWMARKET CELTIC have been crowned CDSL Maloney Hardware Premier Division champions for the twentieth time in their history.
Newmarket Celtic 2
Avenue Utd 1
Venue: Frank Healy Park, Doora
In sweltering heat, Newmarket and Avenue produced yet another monumental battle, made more impressive by the weather but also the fact that they went toe to toe on Wednesday evening.
There were plenty of changes from midweek, Newmarket had four switches with Eoin Kelly, Ethan Fitzgerald, David McCarthy and Darragh Leahy handed starting berths for Stephen Kelly, Jack Kelly (abroad), Ronan McCormack and Cathal Hayes.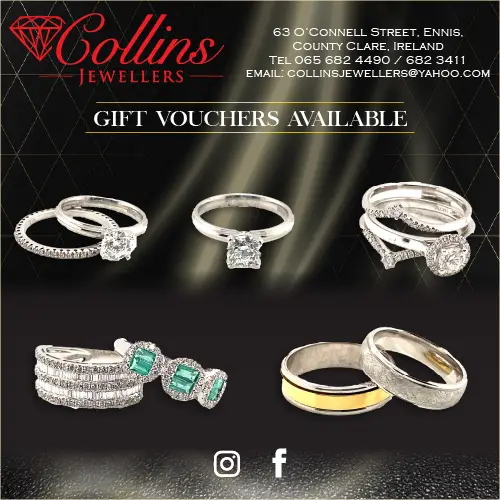 Three forced changes were made by Avenue, star striker Elias Kunz and full-back Cullen McCabe had left the country for Thailand and the United States of America respectively while Ronan Kerin was also sidelined. It prompted a rejigging of their lineup with Calum Barrett, Dylan Barry and Philip Talty making the first eleven but midfielder Nnabuike Nneji was shoved to attack in the absence of regular forwards Kunz and Kerin.
They also had to contend with a suspension for manager David Russell who was restricted to having no involvement with the team while assistant manager David O'Grady was also absent. It prompted Avenue to call on their most qualified coach, Gary Seery a performance analyst with the FAI and a UEFA A licence coach to join Oliver Fitzpatrick, Conor Mullen and Eoin Slattery at their dugout.
Within thirty seconds, both sides had chances, the Avenue didn't get on target after a Dylan Barry delivery found Philip Talty but he didn't cause any trouble while at the other end Luke Woodrow made his first save of the day to deny Darragh Leahy.
His counterpart Shane Cusack did well with his first stop, pushing a Calum Barrett effort from distance just over the cross bar to force a corner, the resulting swing in from Mossy Hehir hit the head of Mark Roche but his header went narrowly wide.
By the seventh minute, Avenue had broken the deadlock, taking a minute longer than it did on Wednesday evening in Roslevan. After Eoghan Thynne was fouled by David McCarthy, Dylan Casey took the free and Nnabuike Nneji got a touch and light shot to it but it was deflected into the net by Harvey Cullinan.
To have any chance of winning the league title, Paddy Purcell's Newmarket needed to respond and that they certainly did. Their influence on the game grew with every passing minute while they put together the next seven scoring chances in succession.
For the first four of these, different Avenue Utd players stood in to diffuse the situation, Luke Woodrow saved from Kevin Harnett, Dylan Barry made a vital sliding tackle to dispossess Eoin Kelly lining up a rebound from a Darragh Leahy shot, Dylan Casey then got his timing right to clear as Leahy was closing in while Calum Barrett got his head to a shot from Aaron Rudd.
Avenue's best chance to go two up arose on thirty two minutes. Luke Woodrow's goal kick from an Eoin Hayes shot was directed on by a Mossy Hehir header putting Nneji through on goal, he managed to take the ball round Cusack but hit the side netting instead of the back of the net.
By continuing to pile on the pressure, Newmarket looked sure to be rewarded and they were when the clock struck thirty six minutes. A short kickout from Woodrow to Dylan Casey saw Eoin Hayes turn over his opposing captain and he played a precision pass to the on-rushing Darragh Leahy to bang home the equaliser.
Straight away Avenue came close to going back in front. Cusack again was the saviour, this time stopping Mark Roche's effort, had Nneji been quicker to pounce and drill the rebound rather than controlling it the second goal could duly have arrived.
Before the half-time whistle would sound, Newmarket managed to swing the tie in their favour. Again it was captain Hayes to play a pivotal part with the assist, he gathered possession, weaved through the defence only to be taken down and leaving Michael Rock with little choice to award a penalty which Harvey Cullinan once again struck past Woodrow.
If Newmarket were the more threatening of the teams in the first half, then it was certainly the other way round on the restart. Mark Roche came close first before Celtic then had two corners in a row but failed to create anything from them.
An equaliser for Avenue arrived on sixty six minutes but Mossy Hehir's effort was disallowed after Newmarket Celtic goalkeeper Shane Cusack was taken down as the ball hit the net.
Hehir's younger brother Conor came very close to levelling matters with an excellent strike on eighty nine minutes but the save from Cusack was outstanding to push the ball out for a corner.
Continuing to show their ability to move the ball well and at pace, Avenue carved out a great opportunity to go level. Conor Hehir stayed composed in possession to find Mikey Dinan and the substitute delivered a great ball to Nnabuike Nneji who held off his man to put debutant Kayden Deegan-Herlihy through but the Clare minor footballer lacked power in his shot which was comfortably dealt with by Cusack.
Celtic worked the ball up the field themselves and Darragh Leahy missed an easy chance to add to his tally with Luke Woodrow not under too much pressure making the stop after Tadhg Noonan teed up the Shannon man. He had another chance to collect his second goal with the final effort but Woodrow again made the stop.
With fifty one minutes played of the second half, Avenue had one more chance and Mark Roche was within inches of nabbing an equaliser, he beat Cusack but just about beat the net with the winger and Conor Mullen both falling to their knees at the same time, fully aware at that moment that it was game over.
Back in December when The Clare Echo dished out the now annual Clare Echo Sporting Awards, Avenue Utd and Newmarket Celtic was given the gong of best sporting rivalry. It remains the case seven months on and is unlikely to be matched, they are by far the best two soccer teams in the county and there is no sense of familiarity in Clare sport like their battles, not to mention the history between goes back to their respective foundations. Keeping it healthy and sporting is key with each side inspiring the other to go further each year.
That Avenue Utd won the double last season and left Newmarket empty-handed was certainly a motivating factor for them as they began a campaign which has seen them win the FAI Junior Cup for the first time, reach the Munster Junior Cup final and regain the Premier Division title. So it will be certainly be riveting to see how David Russell, his management and players respond when they resume pre-season because like Newmarket they have bundles of potential to be competing in the business end of the provincial and national competitions.
On this day, Avenue certainly felt the loss of Elias Kunz. Last season, he helped catapult them to double glory with a tally of 34 goals. He always causes problems against Newmarket, his absence coupled with that of Ronan Kerins saw them forced to remove Nnabuike Nneji from midfield to attack in order to try keep some sort of physical presence but by half-time they had to divert him back to centre midfield.
Mistakes were punished and that is why sport is cruel, Newmarket capitalised on two blunders for their goals while Avenue didn't make their momentum count in the second half. That Avenue only lost one game in the Premier Division before this play-off shows the importance of every single point in the race for league glory. Conor Hehir, Eoghan Thynne and Mark Roche were best for the Ennis club.
Granted Newmarket became the first Clare club to win the FAI Junior Cup but it is certainly fair to say had they ended up losing the Premier Division title to Avenue Utd, it would have seen their season end on a whimper. Instead, they are back on a high to cap off a season that they will never forget.
Given the high temperatures and the tough battle from Wednesday, the second half was going to be won by the side with the greater depth and Newmarket came up trumps in this regard. It was typified by Ronan McCormack's sliding tackle to not alone dispossess Mark Roche but win a throw in the closing minutes but also the showing of Eoin Kelly at right-full, a player who hadn't been a regular all season but steadied the ship when introduced during the week and again was solid throughout.
When the pressure mounted, they stood tallest and chief among them were the trio of Shane Cusack, Conor McDaid and Eunan Doherty who on countless occasions diverted the danger and allowed Celtic time to wipe the sweat from their brow. With the one goal cushion, it came down to leadership and grit, Celtic reigned supreme in this sector and deservedly cap off one of their greatest spells with league title number twenty.
Newmarket Celtic: Shane Cusack; Eoin Kelly, Ethan Fitzgerald, Harvey Cullinan; Conor McDaid; Eunan Doherty, Kevin Harnett, Aaron Rudd; David McCarthy, Eoin Hayes, Darragh Leahy.
Subs: Davy Lennon for Harnett (HT), Gearoid O'Brien for Hayes (53) (inj), Stephen Kelly for Kelly (69), Tadhg Noonan for McCarthy (74), Ronan McCormack for Rudd (90).
Avenue Utd: Luke Woodrow; Calum Barrett, Jamie Roche, Dylan Casey, Conor Hehir; Dylan Barry; Eoghan Thynne; Mark Roche, Philip Talty, Mossy Hehir, Nnabuike Nneji.
Subs: Stephen Jordan for Barry (HT), Mikey Dinan for Calum (81), Kayden Deegan-Herlihy for Talty (81), Gary Roche for Mossy (85),
Referee: Michael Rock.