*Artist Rachel McManus with sixth class pupils and their teacher, Marion Crimmins. Photograph: Joe Buckley
CLONMONEY NS has received a BLAST of colour with the addition of a new mural to its play area.
As part of the Department of Education's 2022 Arts-in-Education BLAST (Bringing Live Arts to Students and Teachers) Residency Programme, up to 425 new Arts-in-Education residencies in schools each year have been enabled.
The aim of this scheme is to give students in schools all over the country the opportunity to work with a professional artist on unique projects to be planned and developed between the artist, the teacher and the school under the co-ordination of the Education Support Centres Ireland ESCI network of 21 full-time education centres.
Through the BLAST project, Clonmoney NS applied for an artist to help us paint a mural on a wall in our school. Funded by the Clare Education Centre, the students had the opportunity of working with Rachel McManus.
Sixth class pupils in consultation with Rachel and their teacher, Marion Crimmins decided to paint a mural on a wall in the infant yard to bring colour to the area.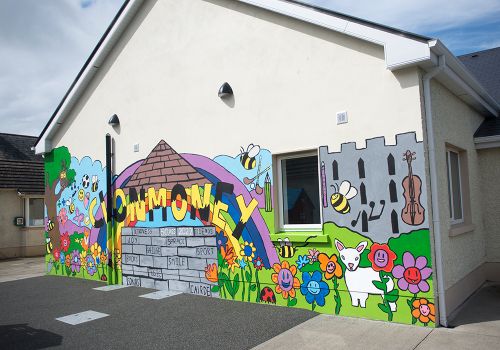 Initial sessions in February were spent planning the mural with ideas floated about for the design. Drawing commenced hereafter with a period of weeks spent outlining and painting the mural. Sixth class pupils Ailish, Margaret, Eilís, Ali and Sophie reflected, "It took a while but eventually the mural started to take shape. We had a few challenges height wise but eventually we secured scaffolding thanks to Flan O Neill with the help of James Moroney and Mikey Jones.
"Finally the mural was finished and it looked great. We really enjoyed the experience. It was fun to get out every day and paint and it was amazing to see the mural develop and reach completion. We loved every single minute of it. It now brings a smile to all our faces and lifts our spirits every day".