*Moneypoint. Photograph: Páraic McMahon
Despite the looming loss of over 100 jobs at Moneypoint, there is hope for the site of the power plant with one West Clare elected representative maintaining it has the potential to become "the Silicon Valley for renewables".
Speaking at Tuesday's special meeting of the West Clare Municipal District, Cllr Cillian Murphy highlighted the "enormous" opportunities for renewable energy at Moneypoint following ESB's announcement that several jobs are to be cut.
"Fifteen years ago the largest off shore wind farm in the world was in the Irish Sea, yet in 2019 it remains the only off shore wind farm in Ireland delivering 25MW of green energy. In the same timeframe the UK has seen 7GW of offshore wind farms installed, 280 times the capacity. We are now the worst performing EU state on climate action. Yet, the potential is enormous, Ireland's seabed territory is one of the largest in Europe, more than ten times the size of our land mass. And we have an incredible wind resource off our entire coastline".
He referred to a 2017 PNAS study which stated offshore wind is estimated to have three times the power generation of onshore wind and the ongoing testing of deep water offshore wind turbine systems in Portugal. "Their system is a semi submersible platform mounted with a 8.4MW turbine, floating in waters 85-90 metres deep. For context they are over 3 times the capacity of those already operating on Loop Head".
Cllr Murphy added, "The 100m depth line is approx 45 km off the Clare coast, it is a lot closer to the coasts of Galway, Mayo, Kerry and Cork which could be an issue due to visual impacts, for us in Clare that extra distance should mean they are below the horizon. There are a number of different floating platform systems being tested and funded around the world, they all have a couple of similar characteristics, they are constructed on shore, and are then towed offshore for positioning. For that we need a large construction site, zoned industrial, close to population centres with suitable quantities of accommodation capacity nearby to international access points with a deep water jetty, relatively close to the deep water generation sites, in other words, Moneypoint ticks almost every single one of those boxes".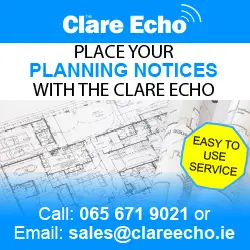 Ongoing oil and gas exploration off the coast is believed to give a boost of €25m to the economies of Cork and Mayo annually, such benefits can be reaped in West Clare according to the Fianna Fáil councillor. "Offshore wind should be considered to be the oil and gas resource of the future and could potentially deliver similar economic benefits to West Clare if Moneypoint was used as an off shore wind construction, maintenance and supply base.
"Politically we should be offering similar tax incentives to offshore renewables that are on offer to fossil fuel companies, a full rebate of their exploration costs before any tax on profits is levied. I also think we should be looking at a similar model to Norway's approach to oil and gas, where the state has a share in any development, retains a share of future income and any Intellectual Property rights. I believe a move like this would make Moneypoint with its deep water access to the sea, its zoned land that could be used for the construction of offshore platforms, its 400kv connection to the national grid and onwards to the existing inter connector with the UK and a future one to France, a global campus for renewable energy technologies, the Silicon Valley of renewables as it were, and one of the most exciting places to be in world for the development of renewable tech," the tourism consultant added.
"ESB are lessening their commitment to production, our Governmentt have a responsibility to local community and environment," Cillian concluded.
Independent TD, Dr. Michael Harty reiterated such views that Moneypoint's future must incorporate offshore energy. "The focus for the future of Moneypoint is offshore wind, that is the only way Moneypoint is going to generate electricity into the future. The ability to generate energy from offshore wind is far greater off the West Coast, it needs to happen in Moneypoint. Moneypoint as a deep sea port is as deep as Rotterdam, many cargo vessels cannot get into Rotterdam, it could be a pre-clearance point for cargo going to North America.
Senator Martin Conway commended Cllr Murphy for his research into potential plans for Moneypoint but warned offshore wind would take time to harness at that location. "The timeline ESB have said is 8-10 years because there is a myriad of works associated with that. If there is a commitment and a determination it can happen much sooner.