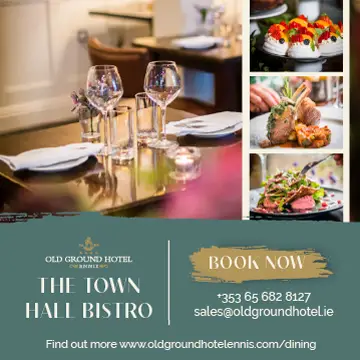 *Páraic McMahon. Photograph: John Mangan
THE Clare Echo is delighted to announce a new editorial appointment as part of its continued expansion.
By Elaine Tubridy
Journalist Páraic McMahon has been appointed as Head of News & Sport, a new position within the organisation. Editor Stuart Holly says that the appointment will serve to help further develop The Clare Echo's journalism offering and increase its reach across Clare.
The new position will see the Newmarket-on-Fergus native play an increased role in the editorial process, while being tasked with developing a new sports section with increased coverage to be rolled out early in 2020.
Editor Mr Holly said, "I'm delighted to give Páraic this opportunity, which will not only increase his responsibilities but will also facilitate The Clare Echo's continued growth as a company. While Páraic will now play a larger part in the editorial process, he will also be in a position to help nurture journalists such as Cian O'Broin, the latest addition to our news room.
"At such a young age, Páraic has already displayed his capabilities as an excellent and highly productive journalist. His thirst for knowledge and dedication to journalism will continue to enrich The Clare Echo product."
Páraic McMahon is a graduate of Mary Immaculate College, Limerick, where he studied Media, Communications and English, he received an A1 for his final year Undergraduate Dissertation which was a video documentary, 'The Fleadh Down in Ennis'. Having come on board with The Clare Echo in 2018, he continues to have work published in national media outlets such as The Irish Examiner, RTÉ, The Irish Times, TheJournal.ie, The42.ie and The Irish Independent.
"It is a great privilege to become the youngest Head of News and Sport with a media outlet in the country. In what is a challenging time for journalism, I am excited to take on the new role and look forward to building on our news coverage plus creating what we hope will be a unique sports section that the whole county can savour," McMahon said.