*Mary Nagle. 
MARY NAGLE AND FIONA O'CONNELL have been appointed as the Young Curators in glór.
glór, along with the NASC network of venues has announced the appointments to develop a programme of work by young people for young people to be presented at the Ennis venue from September to November of this year.
In 2021, and in a new innovative approach to programming, twenty-one young curators were engaged by the NASC network of venues to programme a festival for children and young people, delivering for the first time, a national arts programme curated entirely by young people.
This year, glór and NASC have expanded the Young Curators Programme, Corofin's Mary Nagle continues as a curator with the new appointment of Fiona O'Connell from Cratloe as a young curator, arts worker and musician confirmed.
From the age of twelve, Mary played organ for the Corofin church choir and played flute in the National Youth Orchestra of Ireland for four years trained in classical music, graduating from the CIT Cork School of Music in 2017. She. She has been published in the poetry collective Ó Bhéal Five Words Anthology was part of the team for the Cork International Poetry Festival in 2018 and was programme co-ordinator for the West Cork Chamber Music Festival.
Mary then moved to London to study journalism. She wrote articles about a wide range of topics including the rise of e-scooters, a divorce fair, festivals, and prisons in the pandemic. She moved back to Clare when the pandemic hit and currently teaches flute, piano, and violin at the Dublin School of Music.
Over the last number of years, Fiona has worked with a variety of arts organisations. She currently divides her time between Limerick Jazz and Emerging Limerick Filmmakers. Most recently she co-founded independent music collective Sunwell Tapes with an aim to showcasing the best of emerging Irish talent through showcase gigs in various venues.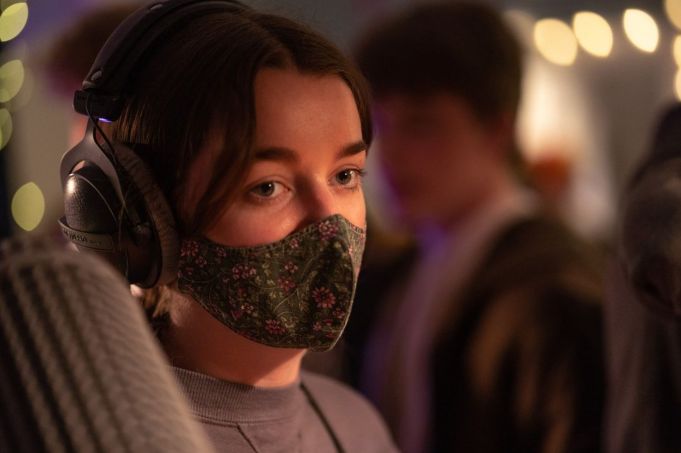 Fiona's ethereal folk music balances upon both her intricate vocal melodies and delicate approach to song writing, combining the simplicity of traditional folk melodies with pop, ambient and electronic elements to weave a lane of her own. Last year Fiona took part in glór's Artist to Artist Mentoring programme under fellow Clare songwriter Síomha and went on to support Síomha on her national 'Infinite Space' tour. In July, Fiona played The Folly Festival in Laois alongside acts including Róisín O, Hermitage Green, and Moncrieff.
Mary and Fiona are currently working on a programme to be presented in autumn.