*Tomás Mac Conmara. Photograph: Eamon Ward 
The 2019 Ennis Book Club Festival has kicked off on a high.
Anticipation had been building for Ireland's only book club festival for a while with the Beast from the East forcing the late cancellation of the 2018 equivalent and large crowds of all ages attended the various events on offer for its opening day on Friday.
A full house gathered in Cruises as Artistic Director, Paul Perry introduced the opening event with novelist David Butler exploring James Joyce's imaginative world outside the pale. The 2001 winner of Poetry Ireland's Ted McNulty award spoke of the Queens Hotel's connection to Ulysses protagonist, Leopold Bloom. The official opening of EBCF took place in glór coinciding with an Elemental Fusion in glór.
"This year we can't promise the sun, but we can promise you good company, and a wonderful warm atmosphere to share your interest in books and reading," Perry stated. In her opening remarks, Chairperson Cora Gunter praised all those who remained loyal, "I'm especially delighted to be welcoming you all back to Ennis this year given that we had to cancel the 2018 Festival. I'm so thankful to all our friends, supporters, grant providers and local businesses who stood by us in the last twelve months so making it possible for us to regroup, rebuild and come back with this programme".
The Irish Times Book club set up shop in The Temple Gate Hotel as Books Editor, Martin Doyle interviewed Kevin Breathnach on his debut novel, Tunnel Vision while American poet Thomas Lynch examined how the work of Dennis O'Driscoll, Seamus Heaney, Phillip Casey, Macdara Woods and Matthew Sweeney kept his access to Irish poetry alive.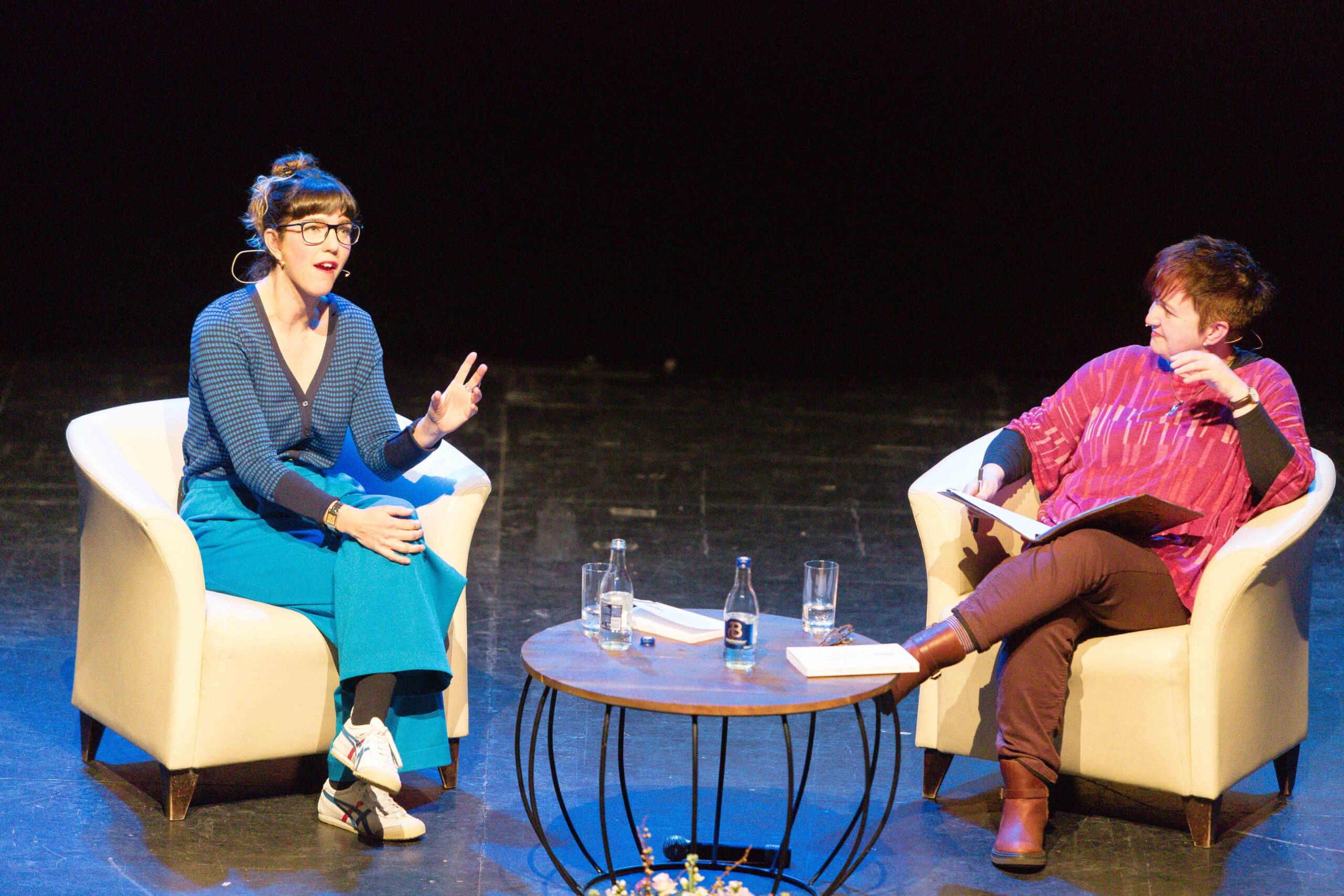 Irish Book award winner, Emilie Pine conversed with Dr Tina O'Toole in front of a live audience in glór which preceded Conor and Zhanna O'Clery's talk on The Shoemaker and his Daughter.
It was Clare's very own, Tomás Mac Conmara that welcomed over 200 people to the Great Hall of The Temple Gate to attend his lecture, 'Demons – The Black and Tans in Memory and History'. County Librarian, Helen Walsh when introducing to the Tuamgraney man noted, "he is the leading oral historian in the country".
Beginning his presentation, Tomás felt 'heartened' by the strong turnout. "It is heartening for me as I've been a historian for years, my aim and drive has been to record memory to ensure it is not lost". He added, "Tradition dies hard it does die unless we do something to preserve it it will be lost". The author highlighted how history needs to be recorded "as an experience" and not just facts and figures, how people speak and feel on a subject can be as vital as the where and when in tracing the past.
His latest book, 'The Time of The Tans' which is an oral history on the War of Independence in Clare has sold out in bookshops in Ennis, it's success has ensured he is the top selling author for Mercier Press this month. "I would appeal to the younger people here to read your own landscape and keep it alive. Unless we preserve it nobody will", he said when concluding the presentation.
Two jam packed days of the Ennis Book Club Festival remain, a full schedule of events is available HERE.