*Photograph: Martin Connolly
Paul McGinley made the statement on Tuesday "if a dog sat down for five minutes he would have got painted", though County Dog Warden, Frankie Coote may not like to hear it, there is truth in what McGinley said such was the amount of work undertaken by Clare County Council in preparation of the Dubai Duty Free Irish Open.
Accurate figures on the amount of money spent by Clare County Council for The Irish Open are not yet available as money is being funnelled down from different Departments, one of which provided €750,000 in funding. Lahinch hotelier, Michael Vaughan has claimed €10m has been invested in Lahinch over the past year in both the public and private sector.
Short tourism film features which will be broadcast on Sky Sports and across Europe as well as on the Golf Channel in USA to more than half a billion people have been commissioned by the local authority with the objective of enticing viewers to visit the county.
Infrastructural improvement works have been carried out by staff of the West Clare Municipal District in Lahinch, Liscannor, Ennistymon and Inagh. The promenade walk at Lahinch is now 1.3km in length with an upgrade of 700mm in the North West direction. The car park at the prom has been resurfaced and now covers 9000 sq metres. New beach access, a new slipway and a new disability/universal access ramp has been provided at Lahinch beach with coastal protection infrastructure strengthened and upgraded.
Disability and age friendly pedestrian crossings have been installed at Lahinch with resurfacing done at the Liscannor Rd car park and Frawley's with public lighting and a new drainage system added respectively. The Rue D'Arzon has also been resurfaced from both its junctions with the N67. Kettle Lane has been upgraded with a new asphaltic concrete surface, asphaltic concrete footpaths were also installed adjacent to the N67 from Liscannor Rd turn off towards Lahinch at a distance of 200m at either side. A new paved footway from the Liscannor Rd junction as far as Marine Parade covering 400m at each side of the road has also been introduced. As part of the resurfacing at Miltown Rd car park, a new lighting system has also been installed.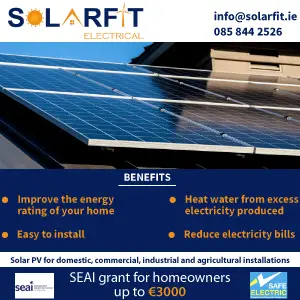 At Ennistymon, the N67 has been upgraded which incorporates the replacement of existing water infrastructure by Irish Water. Also included were the resurfacing and restrengthening from Blake's Corner to Kerry Co-Op including new lining and drainage infrastructure. Inagh's road surface through the village including new lining has been upgraded as has 2.8km of regional road from The Rock Shop to the Cliffs of Moher Visitor Centre.
In an effort to reduce the environmental impact of hosting The DDF Irish Open, the County Council has set up 20 recycling stations in Lahinch. EPA Local Authority Prevention Network funding totalling €15,365 has been secured by Clare County Council to support a resource efficiency project (waste, energy, water)  for Lahinch town for the event and beyond.
Council Chief Executive, Pat Dowling who has been praised by tournament host Paul McGinley for his efforts in preparing Lahinch is hopeful Clare will benefit from the large TV audience and stated they were proud to be associated with such a prestigious event in the Irish sporting calendar. "The number of golf visitors to the island of Ireland continues to grow year on year and this event offers the local tourism sector the opportunity to showcase the County to an international television audience of more than 500 million people.
"Tourism generates significant employment in Clare and has contributed significantly to making our communities sustainable places in which to live and work. Clare County Council is at the heart of public service delivery in the county and has taken a leadership role in developing and promoting our tourism sector and Clare's growing international reputation as an attractive investment location. We have worked closely in partnership with Lahinch Golf Club, An Garda Síochána, The European Tour, Dubai Duty Free, HSE, the local community and others to ensure that visitors to Lahinch enjoy their experience and will consider returning in the future to explore all of what County Clare has to offer".