*Ged McNamara. Photograph: Joe Buckley
Stonehall's Ged McNamara is striving to produce Munster players that will rival the best of New Zealand's offering in years to come as he assumes a new role with the province.
On Monday last, Ged completed his first day as Lead Athletic Development Coach with the Munster Rugby academy. Having volunteered to coach Munster development squads at the beginning of the decade, being headhunted to join their staff in 2019 indicates how highly his reputation has blossomed in the intervening years.
"I got a phonecall to see was I interested and I said 'yeah one hundred percent', they were willing to wait for me until after the Rugby World Cup which was a massive thing for me that the club I've loved all my life was waiting for me. It wasn't a very easy decision because I had such an affinity with Georgia, I felt they had given me a really good go in getting my name out in rugby and in a global sense, it wasn't a quick decision but when your home club wants to wait and make sure you're coming plus I get to do what I love which is developing young adults to go into senior teams," McNamara told The Clare Echo.
He equates the role with his previous one of strength and conditioning (S&C) coach with the Clare minor hurlers. "I loved the role when I had it with the Clare minors and trying to get lads up there. I love watching those guys get in and become regulars like Aron Shanagher, David Fitzgerald, Jason McCarthy and they hold their own, I might be a line in their story but I was some part of it. Getting to capture that with Munster, I can't wait to see where it goes, I've a few ideas and I'm hungry. We can sit back in awe at the All Blacks for the rest of our lives but I'd love to have a good go at putting together some good academy structures that we can produce lads that are even better than these guys, we're not a million miles away from them, they are just better rugby players at the moment, we'll get there".
Four years ago when he joined the Georgian Rugby team he was an intern, when he left The Lelos earlier this month he was Lead S&C Coach with the senior side. Standout moments during the stint include leading the warm-up as they played Wales in Cardiff, winning the 6 Nations B, recording a victory in the Rugby World Cup and his final outing which saw them play Australia. "That game against Australia, I felt overwhelmed, two of my buddies from Shannon had come out for the game, they were in the stand watching and there we are playing against Australia, giving a good account of ourselves, we were able to last with them and were physically as well prepared".
"From a professional point, the Australian game was the highlight but from a personal point of view being there with the lads, experiencing Japan and the World Cup. Getting the kit and seeing Rugby World Cup on it you're saying to yourself 'I didn't have to buy this'. It was amazing". Regarding the competition itself, Ged felt tier two teams were at a disadvantage due to the shorter turnaround they had for games in comparison with the elite sides.
Plenty of highs accompanied the Georgian journey but to be away from his parents Ger and Louise and two younger brothers Jamie and Darren was far from easy. "The amounts of weddings, christenings and family stuff I missed, you'd love a night to be home with the lads to be there for their moments, it's nice going to World Cups and everyone is giving you text messages but I'd like to be able to do that for other people".
2006 saw him began studying health and leisure where his lecturer was Joe O'Connor, S&C coach to the All-Ireland winning Clare and Limerick teams of 2013 and 2018. His relationship with Joe resulted in him getting involved with the Banner minor hurlers and then giving a helping hand to Kelvin Harold with the seniors. "I was helping out Joe and Kelvin, then it was my time to go on my own journey, I ended up in Georgia I don't know how but I was there. I've always been into fitness and speed, I was fast as a young fella and I always felt you could make people faster, how do you make them more athletic that was my purpose and all of a sudden I was the speed guy even though I didn't set out to be. It was an interest that became a purpose at some stage".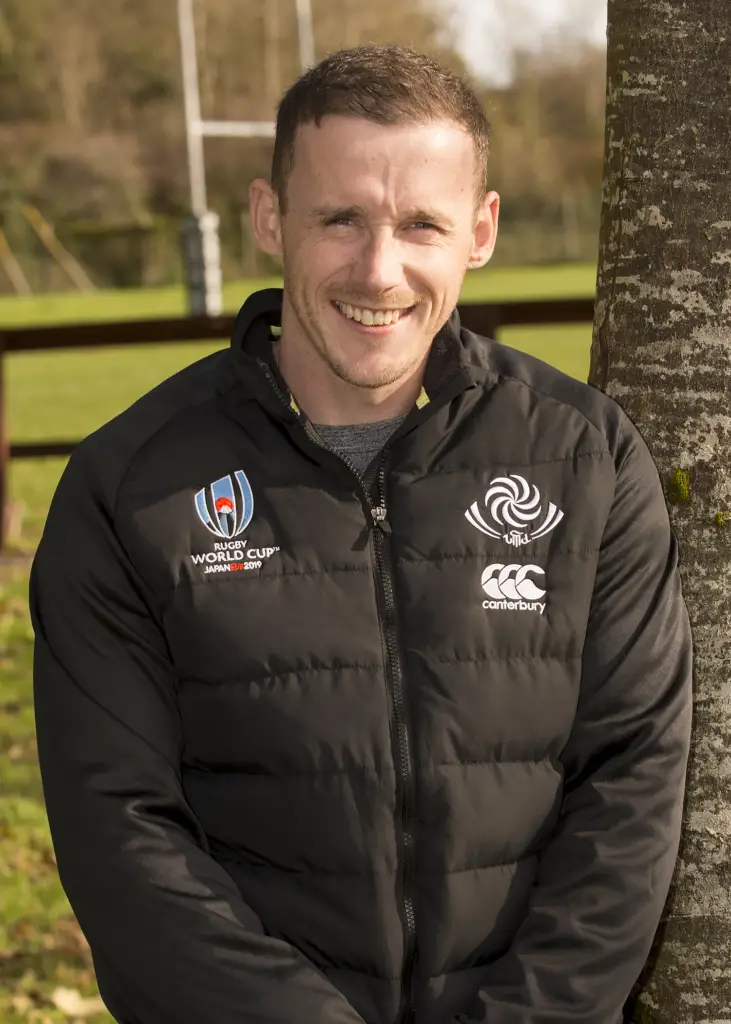 To prepare teams requires effort but for different sports, unsurprisingly contrasting approaches are required. The St Caimins past pupil explained how the S&C training for a rugby player varies to that of a hurler.
"Hurling for me is jog to run, you're jogging or you're running, you're not really walking because it's such a fast sport especially at inter-county level, rugby is a little more hit to sprint. You'd make the rugby boys ready for that collision whereas the hurlers need to be able to go all day, they've got to be able to jog, run and sprint within seconds or a split second, the athleticism is slightly more different. It's more robust and aggressive with the rugby boys but more agile, speed and plyometric based with the hurlers because they have to land, run and jump because they have to make contact, there are some big hits in hurling but it's such a fast game. A hurler will probably do 3km more on average than a rugby boy, that's in less time, hurling is such a reactive sport so with the gym sessions we were trying to keep them bouncy and on to the next one, rugby lads will take more time and make it stronger with their reps, the hurlers are pushing the tempo. Which is right, you don't really know but it's such an interesting one because they are conflicting sports but we did alright with our different programmes".
Often players are the one's acknowledged for sacrifices but Ged outlined how his playing career was shelved so that he could further his coaching experience. "I ended up getting teams, strength and conditioning is a tough job to make money out of so you'll take as many teams as you possibly can to try get them going so you sacrifice your own rugby". On the bright side, he is now returning to rugby and will line out St Senans this season.
There is a buzz about him when he contemplates the latest chapter in his coaching career as he aspires to continue forging excellence. "I'm very excited for what I'm about to do. It's amazing, I've been poxed, I don't know how I've got into these jobs, to get Clare and Munster at such a young age in my coaching career, it's massive, these are the teams I've loved all my life so if I could get Man United at some stage I'd have ticked all the boxes".
Regarding future ambitions down the track, Ged is happy to see what cards he gets dealt. "To go to a World Cup was an ambition, I don't know I did but I ended up at it. Munster was always an ambition of mine. If the stars could align and I could get up to Ireland of course I'd love to do that. A lot of counties are putting in Head of Performances for these teams, Kelvin kind of did with my time in Clare, if that can evolve and you could get your teeth stuck into it I'd love something like that. I'm not running seeing what's next. What I learned is Ireland is a very unique place, it's full of fun, other countries aren't like that, there are different cultures everywhere but I'm not running to leave Ireland, not in the near future, unless Man United did offer me a job then one hundred percent I'm gone. I'm with the club I've always wanted to be with to do the job I've always wanted to do, another World Cup would be awesome".