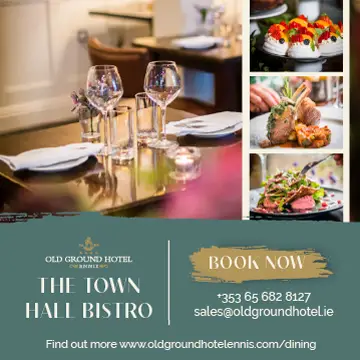 With polling day edging closer, Leo Varadkar (FG) visited Ennis in a bid to secure more votes for the party's ticket in Clare.
Throughout the General Election, The Clare Echo has been following candidates in the Clare constituency. Friday morning witnessed the biggest crowd to be on one such canvass for GE2020 and indeed it was the first instance that a Garda presence accompanied candidates.
Party vehicles with Varadkar's face plastered over them along with the Fine Gael logo were parked in Francis St. Speaking on Newstalk this week, Micheál Martin when asked to describe the Taoiseach in one word said "spin" and this element was certainly evident as the vehicles reminded passers by of the 'Spini' cars used by Spin South West.
Following an interview on Clare FM's Morning Focus, Varadkar answered questions from the assembled local and national media. He stated his belief that the opinion polls and predictions that Fine Gael would lose up to fifteen seats were wrong and that they were conducted prior to Tuesday's leader debate "which I think I did well on". He also flagged "controversies" on Sinn Féin have since "become major news" and Friday's story that Fianna Fáil's Jim O'Callaghan acted as a legal adviser to Gerry Adams.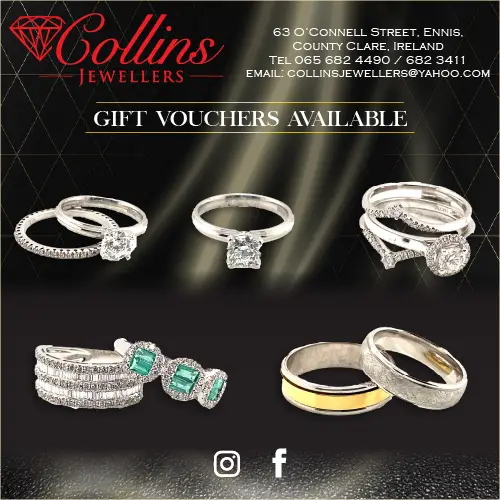 Varadkar was confident two seats would be retained in Co Clare. "We are not taking anything for granted and it's one of the reasons I'm here today, it's going to be a really tight contest. Clare is always tight, it was tight to get the two seats in 2016 and it's going to be very tight to hold on to them on this occasion, we can do it but it's a constituency that throws up surprises and has done in the past. I remember in a difficult election for Fine Gael in 1997 that we famously held the two seats in Clare, all three candidates in Clare will be campaigning until 10pm on Saturday night to convince as many people as possible to vote for our party to give them a high preference".
As the large canvassing team prepared to get started, one driver in his fifties rolled down the window and reminded them "don't forget to visit all the homeless".
Payment and funding was highlighted by staff at the Irish Wheelchair Association. The difficulties in securing transport from rural areas for wheelchair users was another concern issued to Leo. "It's a problem we're running into more and more," he replied.
€2.70 was paid by the Fine Gael leader at Molloy Butchers for six apple and pork sausages. "It will be 11pm by the time I get back to Dublin and I won't get a chance to cook steak," he remarked. Varadkar praised manager Sean Hill for their Thursday offer which gives a ten percent discount to OAPs.
As they returned to Abbey St, a lady was walking up and down calling for change. "Ye won't be getting my vote". Newmarket-on-Fergus native, Kevin McCormack informed the delegation how proud he was to serve his country in the Army. "We need a full Minister", he maintained.
Tony Honan questioned Varadkar on what he was doing for Shannon Airport, "they're all flying into Dublin and there is nothing about the West of Ireland". Next door to him, Tommy O'Donnell also voiced his criticism of the outgoing Government.
Handshakes were part and parcel of the canvass. One man managed to get shake Varadkar's hand on the way in and out of the Eye Care Centre. "I'll shake your hand again because we won't see you till the next General Election," to which the Dublin native responded, "I'll be back to open Jaguar Land Rover, hopefully".
A young man questioned how much of an impact Brexit was going to have on tourism within Ireland. "Tourism Ireland has a significant budget, the Wild Atlantic Way has been a huge success," the forty one year old assured him.
Patrick Bourke Menswear was the next stop where a green tie was presented to Varadkar. "I'm sure you'll be going to America again," Bourke said of a potential March trip to visit US President Donald Trump.
Tension was brewing among the Fine Gael candidates here during the filming of a social media video. "I can't be seen Pat, you're going to have move over," Martin Conway pleaded as they pressed play.
Members of Friday for Future Clare sought Varadkar's view on Shannon LNG. "My opinion is we're doing a security assessment," came the response when asked if he was for or against the possible development.
"We need to fight for everyone's vote. We have great candidates" was the final line issued by Varadkar as their team ventured into The Old Ground Hotel before making way to Waterford and back to Dublin.