*Sean Rouine, Joey Rouine, Brendan Rouine, Ciaran Vaughan, Cillian Rouine, Eoin Rouine. Photograph: Gerard O'Neill
WITH NO LESS THAN TEN of the Rouine clan forming part of the Ennistymon panel, to call it a family affair for the football mad North Clare crew is certainly an understatement.
Five different Rouine families are represented on the panel bidding to claim the Jack Daly for the first time in the club's history. Jack Lynch and Joe Arkins are the only surviving members of the Kilfenora side to win the Clare SFC in 1950 and are the last living North Clare men with such medals. How they'd love to see the North Clare drought end this weekend.
Key to such an outcome would be the showing of the Rouines who will take up a multitude of positions within Mark Shanahan's Ennistymon side.
Brendan 'Beano' Rouine was part of the Clare side to win the Munster SFC in 1992 and also had the distinction of captaining his county. With a solid audition for a role on 'Who Do You Think You Are', he broke down the lineage. "Ann Vaughan who is Ann Rouine she'd be the eldest and has sons Ciaran and Oisin on the panel. You have John Rouine who has Eoin, Éanna and Dara involved in the panel and John is married to O'Gormans from Liscannor great football people. Sean Rouine is a son of Michael and his mom is Sheehy from Kerry.
"You've Joey playing on the team and Danny on the panel, their dad is Joe Joe who won a senior championship medal with Miltown Malbay in 1990 and his heritage would also have the McCormacks from Kilfenora with Mikey McCormack winning a senior championship in 1950 would be his grand-dad, Ciaran McMahon who is Murty's son, his grand-uncle from Kilfenora was also part of that 1950 team. We've Cillian and Brendy who are my sons and their mom is Murphy from Tulla who's brother Mike was captain when they won the senior hurling championship in 2007. There's other brothers playing on the second and third team from all the families. There's championship medals in North Clare, we're just trying to bridge a gap, we're not trying to create history, we just want to bridge a gap". Unsurprisingly, tracing is a strong part of the family's heritage.
Joining The Clare Echo in The Falls Hotel to look ahead to Sunday's final are Beano, Joey, Ciaran, Sean, Cillian and Eoin. A 220 kilowatt turbine provides the 145 bedroom Ennistymon hotel with 100 percent of its power while between them the Rouines have grins capable of lighting up one of these hotel rooms.
Which of the Rouine cousins is the best footballer is the first soft question lobbed in the direction of Beano. "As Fr Ted would say 'that would be an ecumenical matter'," comes the response. Ascertaining who is the most stylish footballer brings no joy but there's more certainty on who comes out trumps in the fashion stakes, "our first cousin Mikie is a barber, he's more stylish than all of us," Sean outlined. That Sean went straight to Flanagan's in Lahinch after their quarter-final win in his full kit as opposed to changing en route demonstrated a thirst rather than a lack of fashion, Cillian empathised.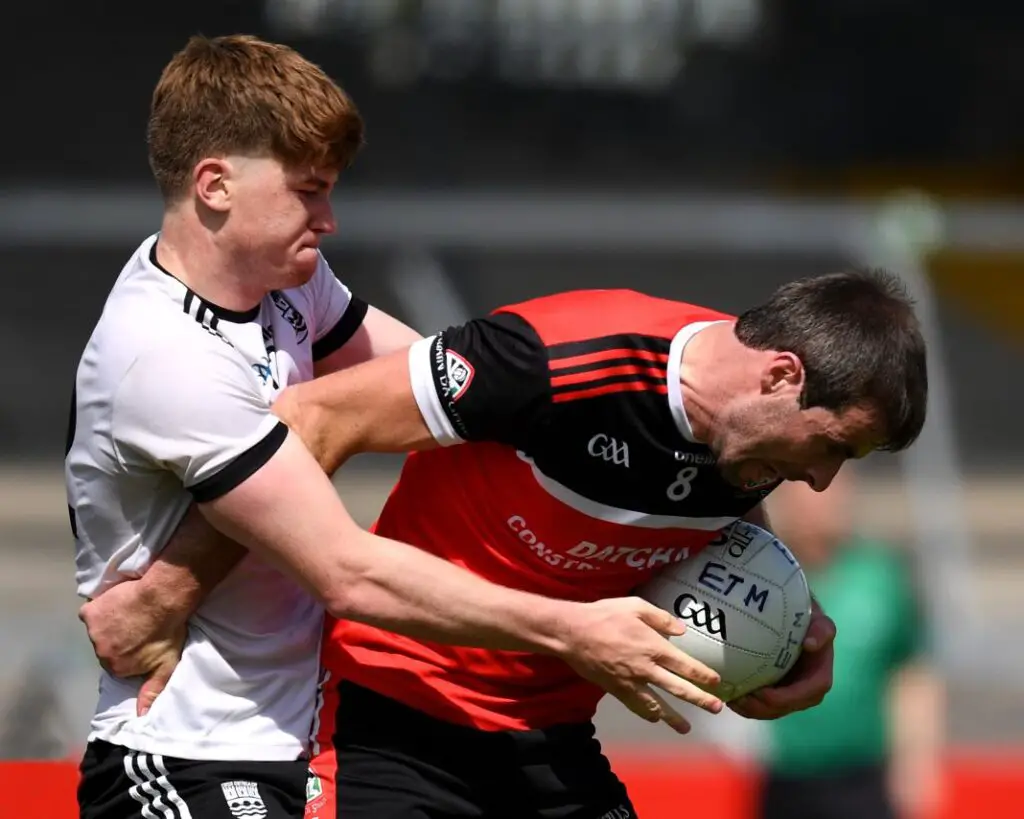 Eoin is unable to pick out one of his cousins as the worst sledger of the lot, Sean a possible contender in this category outlined with a smile, "We're football people, we play a nice brand of football". Equally tough to call for Joey is which of his relations is the best craic, "it's too tough to call" which prompts Beano to advise him to say the McCormacks, "it's like the deaf dog, it's hard to call" and Eoin to put up the cause for the collective, "we're all good craic".
Currently a final year psychology student at NUIG, Eoin appeared to be fighting a losing battle when suggesting his social life was the least active. Were he to head out in Galway, which Rouine would be the best company, "I try to stay away from the nights out. I'd be the one getting the call, we haven't been going out much at all". Looks come from left and right which question his statement, "I haven't gone out," he protested. His cousins are quick to pinpoint him as the one with the biggest temper, "everyone has their moments," comes the response.
After a two and half year stint in Australia, Joey returned to North Clare and to the Ennistymon defence. Though he says he was "enjoying the sunshine" down under, the jury is out. "Gowling" is the verdict of Beano. "I was chasing my tail, it was nice to go and it was nice to come back," Joey added. "Chasing tail, that's what he said," pipes up Sean. "It was nice to see what all the talk was about in Australia. It's good to come back home to the family and to the football," Joey retorted. "I kept myself in shape when I came home, as long as you keep yourself fit you always have a chance of playing senior football in Clare, once I got my few trainings in and a few games I was fairly back in the rhythm of it again".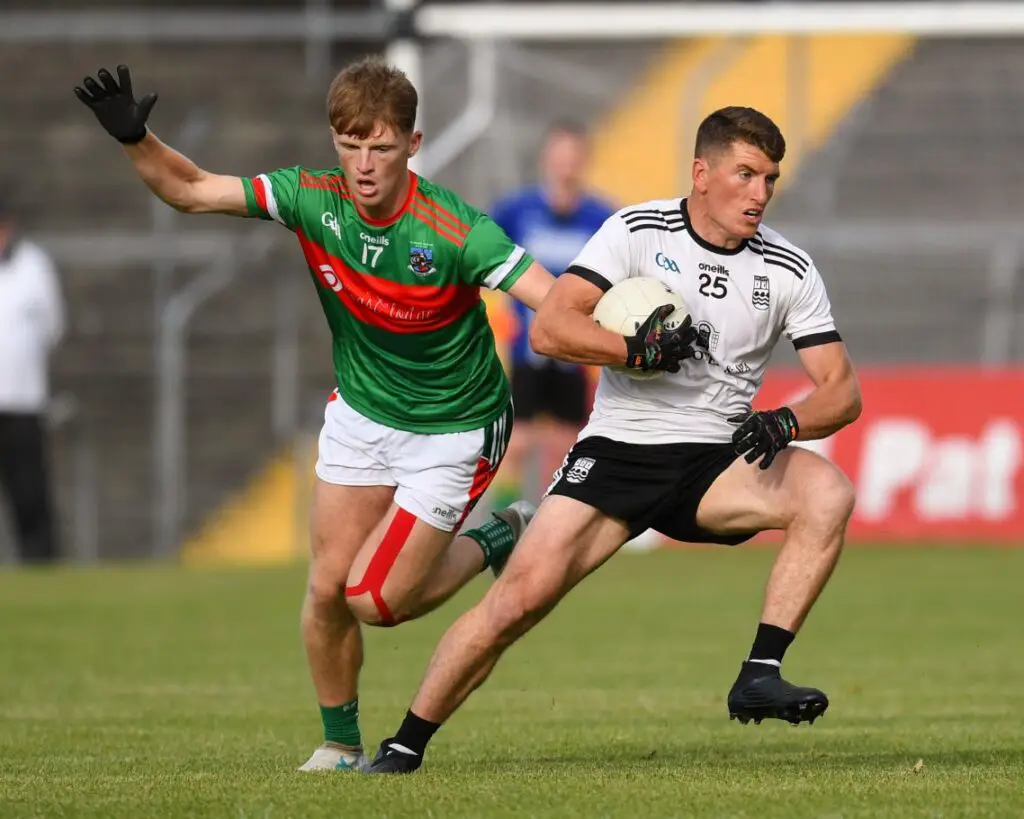 Football is the strongest bond between them. "At all the occasions, it's all we talk about, if there's a 50th it's always overshadowed by football talk, a recent match or an upcoming match, it's all football," Sean outlined. Joey added, "Sometimes we get together for the dinner on a Sunday, Sean's mother (Elaine) is a good woman to cook the dinner, it brings us together as well". Beano acknowledged, "Food would be important". According to Joey the speciality meal represents them well, "we're very traditional that way, the spuds, bacon and cabbage, we're not fussy. It's old school and simple". If the football talk gets too tense, the weather can sometimes become the default subject, Eoin remarked, "once you've the last game covered, the next game covered and what's for dinner you're fairly on your way to going home at that stage".
This year Cillian was a regular starter at corner back for Colm Collins' county side. He had additional company to and from training with younger brother Brendy joining the panel for the first time but the younger brother wouldn't be one for looking to Cillian for advice, "He wouldn't listen to me anyway, it was the same as having any other teammate to be honest, it's nice in a way to have a bit of company going down in the car". Inter-county experience is not new to the family with Eoin a former Clare U20 captain while Cillian and Brendy have captained the county minors.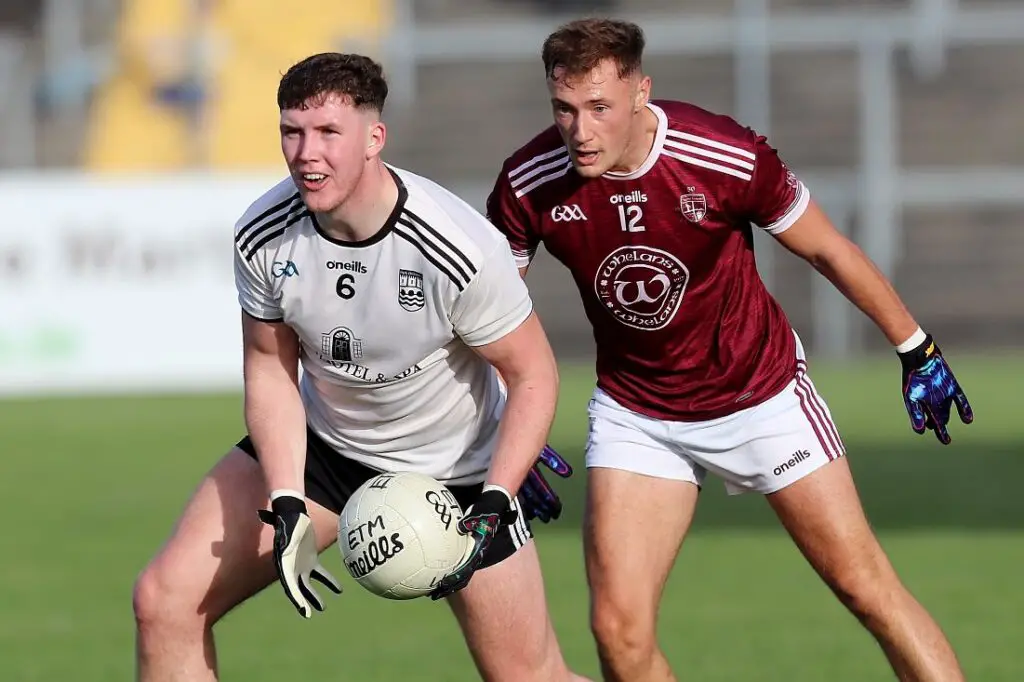 In the eyes of Ciaran and Cillian, Ennistymon have been luckier in 2022 compared with previous campaigns. "We barely got over St Breckan's it came down to the two last frees, you couldn't write what happened against Kilmurry Ibrickane we maybe got even more luck," Cillian reflected. Joey who works at Lahinch Golf Club along with Ciaran added, "we've battled hard in all the games, we've a game plan and we've stuck together, it seems to have worked so far, they are all hard earned, you need a bit of luck but a lot of effort goes in". Eoin gave his take, "We always go out every year believing that we're good enough to do it, that's the first step. To reach the quarter-final is the first aim, once you get over the quarter-final then you're really in the business end so we take each game as it comes, the next one is the big one".
Now a selector having served for close to a decade as chairman, Beano didn't believe there was too much different about this year's approach. "There's very little different, every year you go out you try to give it your all, at the start of the year you set out your target and set out your goals, set out your training. We've had brilliant managements over the last couple of years, we're so blessed to be in a county final this year, it's brilliant for the parish and the community of people, the squad and management, I wouldn't say there is anything different, every club puts their best foot forward every year and after that you try cut down on the mistakes. We've found ourselves in a county final, a lot of people will say it's by hook or by crook, we know we're up against the best team in the county and it's just another stepping stone, let's have a cut at it".
When Ennistymon faced St Joseph's Miltown in the 2018 decider, Joey wore number six, Sean was one of the youngest players to feature while Ciaran was sub-goalkeeper, "I've put away the gloves and retired from the goals since, I was outfield with our intermediates this year". Sean has moved from defence to attack but also as one of the more experienced players of the present squad, "I suppose you never know when the next one is going to come around. Every year every game is cutthroat and you never know when you're going to be back so you have to try make the most of the occasion and do your best to see if you come out the right side of it," he commented of the four year wait to get back to the final.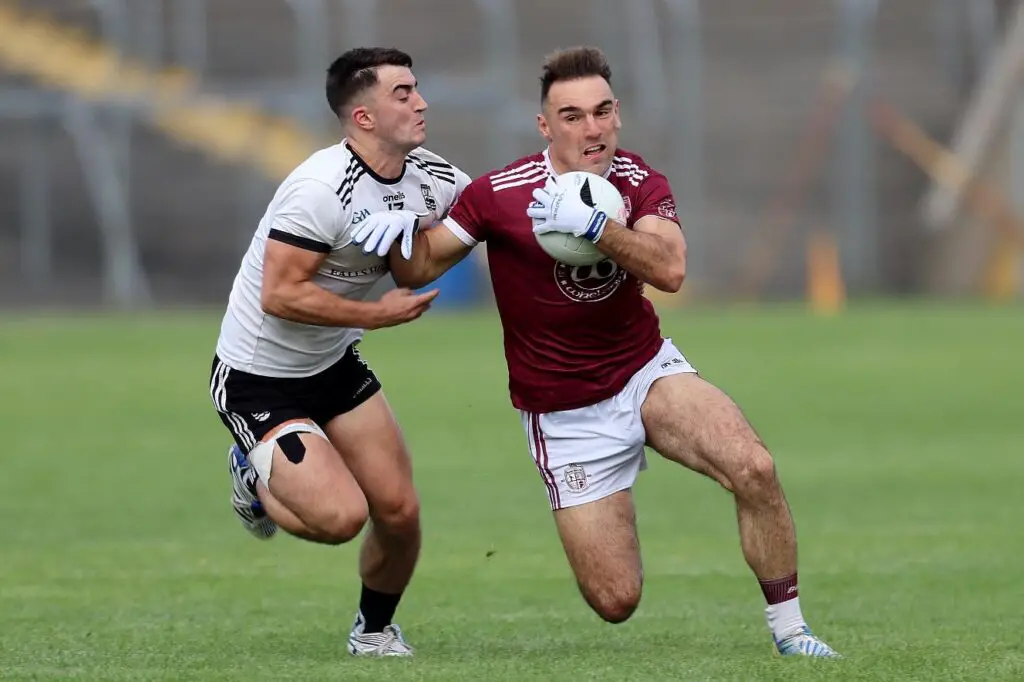 Recently qualified as a primary school teacher, Cillian's expertise is highly rated by his county teammates currently studying at Mary Immaculate College. He's substituting in a number of schools across Clare and is very satisfied with the career, "it's definitely good, I like it a lot to be honest, I'm enjoying the experience I'm getting subbing, I've got a lot of days so far, I'm definitely enjoying it, it is good for the football, I haven't missed any trainings now because of it thank God".
Of the Rouine contingent, Sean is the only one working in Ennis through his role as a personal trainer at Hustle Fitness. Not one to venture around the town, he admitted, "I like to keep a low profile". That his cousins Cillian and Brendy were promoting Lahinch Leisure Centre and not Hustle caused "no beef" among the family. Discussion of the facilities prompts Beano to highlight how fortunate they are within the locality. "We're blessed in Ennistymon to have the gym in The Falls Hotel, we've Lahinch Leisure Centre, Paul Dunne is there in Lahinch and the Community Centre in Ennistymon, we've four gyms within a two mile radius, anyone who doesn't have their strength and conditioning together it's their fault".
Éire Óg boss Paul Madden revealed that the word potential began to grate on him when success eluded them. Similar sentiments are expressed by Beano when reflecting on Ennistymon's bid to translate underage honours into silverware at adult level. "As a club we never put pressure on, we've worked hard at underage, we've worked hard at adult level and that's the way we'd be every day, the day you take the eye off the ball at underage you're on a loser, you have to keep working hard from U6 all the way up along, you have to obviously keep working with your adult teams. Underage competitions are different to adult competitions, potential is a nice word but you have to go out and do it on any given day when you are juvenile or adult, it's all about meeting what's in front of you on a given day and adapting to that, I think the team have done well to adapting to what's in front of them this year".
Providing an additional boost was the run of the intermediates in reaching a semi-final where they lost out to Cooraclare. "We were pushing the seniors to keep their spots, a lot of us were training with the seniors, it was a good stepping stone for lads who are just of age to take a step up next year and get used to playing at a good level, next year again there will be another battle for positions which is great to have. We're only the second team and we're playing intermediate, it's a good level, we got to a semi-final and it's a pity we didn't go further but we were only Junior A last year so it's nice progress," Ciaran observed.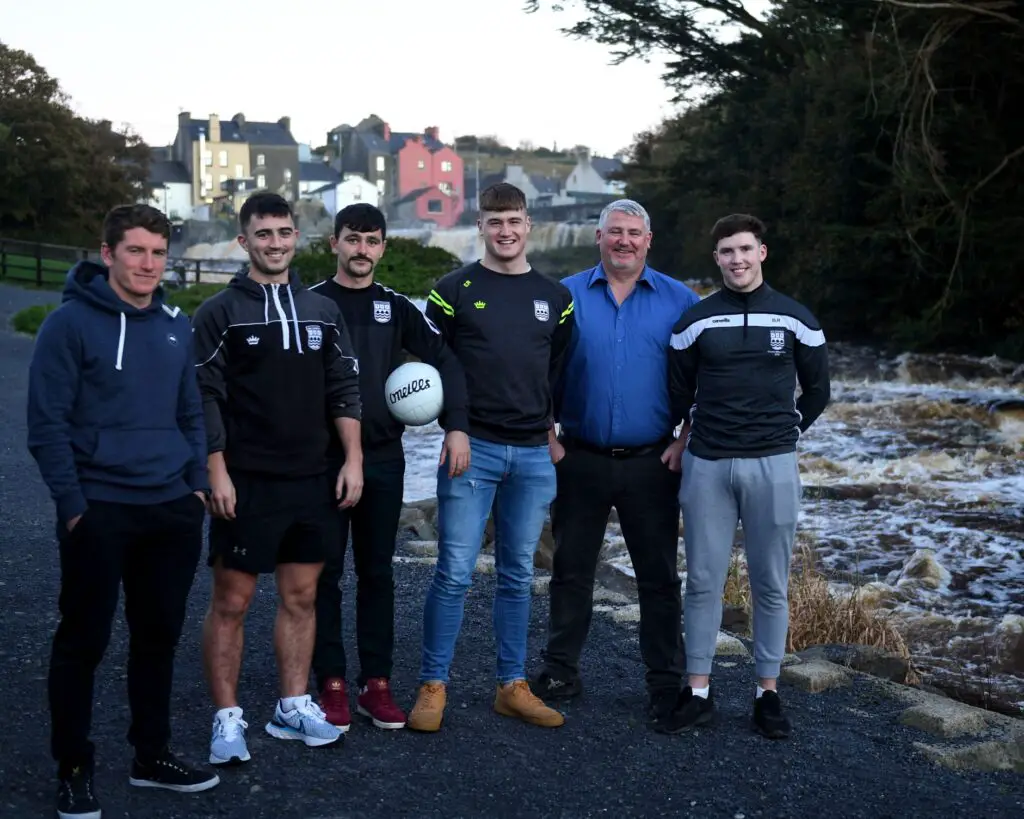 Little confidence is exhibited on the prospect of the Rouines giving the championship a rattle if they made up the entire team. "We'd all fall out with each other," Sean predicted while Eoin insisted they wouldn't progress "far at all", he continued, "It's a big club here and we need everyone, there's a lot of people outside of us contributing to the club, I don't think we'd get very far at all with just us, we need everyone we have on board because it is a dog eat dog championship".
With football regularly discussed, management and coaching is likely to be on the cards, "they all have potential," Ciaran quipped on future roles, "that's a nice word Giggs," Sean quickly responded. "When we stop playing, we'll all probably want to get into it, we won't want to leave the football, it's our life really," Ciaran predicted.
For the week ahead, they won't change their routine with Beano hinting The Clare Echo won't be digested until after the game. Whether it be player, chairman, senior selector or intermediate manager his involvement is at the heart of the club but is he a better chairman or selector is the question directed to his son Cillian, "that would be another ecumenical matter, I won't dig that hole for myself," is the reply.
Just like Beano, his sons and nephews serve as a strong beating heart pumping through the Ennistymon club.