'Clare's busiest graveyard' is in need of a full-time caretaker according to Cllr James Breen.
He led the call for the appointment of a full-time caretaker at Drumcliffe Cemetery at the February meeting of the Ennis Municipal District. The matter was discussed in the Council Chamber twelve months ago following a motion from Cllr Paul Murphy requesting additional to help visitors find graves easier.
As Breen sought on update on a full-time appointment, Administrator Bernadette Haugh in an official reply referred to the views expressed at the January 2018 meeting. "The members concerns were raised with the Rural Development Directorate who confirmed that 'A registrar/caretaker is employed in Drumcliffe Burial Ground with sufficient hours allocated for the completion of works required for this position'".
Cllr Breen said he is a regular visitor to the graveyard as his parents and siblings are buried there. "There is no one there to tell people where people are buried. Senior citizens are coming with flowers and the gates are closed, sometimes it is very difficult for a senior citizen to hold flowers and open the gates," he highlighted. "I cannot see why the busiest graveyard in Clare hasn't a full time caretaker. It is about time the busiest graveyard in Clare has a full time caretaker and I am seeking the appointment immediately".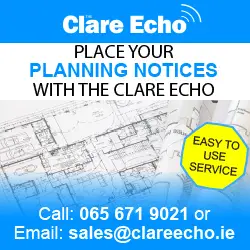 Over twelve months ago, Cllr Pat Daly seconded Cllr Murphy's motion looking for signage and he also seconded Cllr Breen in requesting the appointment. "It is one the biggest graveyards in the county by a mile. Why not have a full time person there? There is people coming from different counties looking to see relatives and there is nobody there to help them".
Fine Gael's Mary Howard said she is "a regular visitor to Drumcliffe. For older people it is an issue, they might not have a steady walk, they could have the assistance of a cane and will struggle. It is necessary to have someone there full time".
Director of Service, Carmel Kirby thanked the elected representatives for flagging the issue. "While the Rural Development Directorate have assured us there are enough people to manage it, thanks for bringing it to our attention that people are having trouble looking for graves. We will have a further discussion with the Rural Development Directorate and come back to you".