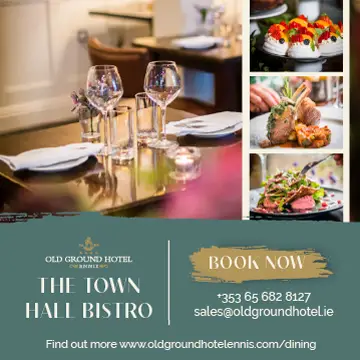 Enterprise Ireland CEO, Julie Sinnamon is to address a Shannon Chamber webinar this Wednesday.
Prior to COVID-19, Julie had committed to speaking at a Fine Grain Property sponsored luncheon at Dromoland Castle organised by Shannon Chamber. Although the lunch cannot proceed, alternative arrangements have been made which includes a live interview between Ms Sinnamon and Chamber CEO, Helen Downes.
For the hour-long webinar, the reaction of indigenous companies to the pandemic will be discussed along with Enterprise Ireland's priorities at a regional and national level. Julie who announced her resignation as CEO in February will also share her views on what the change in working practices means for the marketplace along with the issues clients are facing.
Detail on supports from the Government and Enterprise Ireland will be highlighted while Julie will give an insight on the feedback from those availing of supports in the past ten weeks. Brexit is also on the agenda while attendees will be able to submit questions during the webinar.
A native of Co Down, Julie has served on the Investment Committee of the Irish Strategic Investment Fund, part of the National Treasury Management Agency, since 2015, having been appointed by the then Minister for Finance, Michael Noonan (FG).
She is a Board member of both Social Entrepreneurs Ireland and The Young Scientist & Technology Exhibition Limited and a member of the National Competitiveness Council.
Advance booking for the free webinar can be completed below.