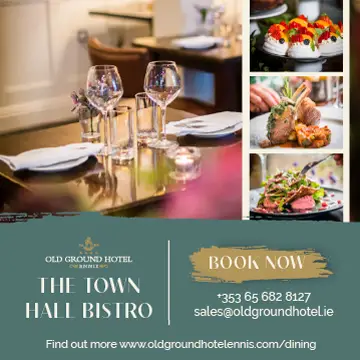 *Éire Óg's Philip Talty. Photograph: Gerard O'Neill
Relegated from the Cusack Cup last season, St Joseph's Miltown and Éire Óg began their campaigns to return to the top division with impressive wins over Cooraclare and Cratloe.
Elsewhere Kilmihil and St. Joseph's Doora/Barefield got their campaign off to winning ways with victories over O'Currys and Wolfe Tones respectively
Dean Ryan sparkles on his return to Eire Og
Éire Óg 1-12
Cratloe 1-4
Venue: Páirc Mhichíl Uí Eithir, Cratloe
Dean Ryan marked his return to his native Éire Óg with a contribution of 1-2 as they overcame the challenge of Cratloe at the latter's venue.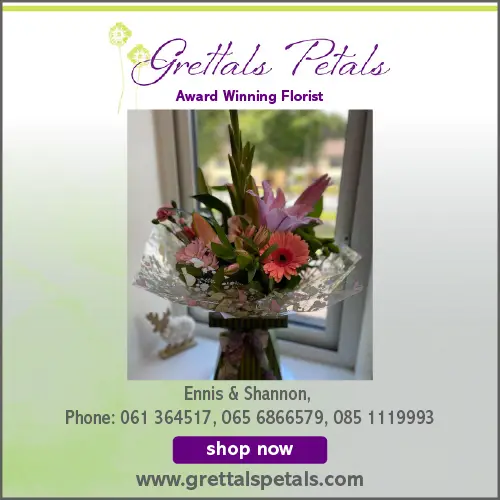 After a couple of seasons with Na Fianna in Dublin, former inter county player Ryan has returned to his native club and he lined out at centre back on Saturday.
The first half was a fairly tight affair and the sides went to the interval on level terms, 1-1 to 0-4
Three points separated the side midway through the second half but from here on the town side dominated and ran out deserving winners on a day when Philip Talty kicked 0-5 of their final tally.
Rian Considine was Cratloe's scorer in chief and he contributed their goal on a day when the home side were reduced to fourteen men after twenty minutes when Jack McInerney was sent off.
Éire Óg; Shane Daniels; Gearoid Collins, Dean D'Auria, Gavin D'Auria; Eoin Guilfoyle, Dean Ryan, Ultan Shields; David McNamara, Gavin Murray; Luke Moore, Darren O'Brien, Sean Perrill; Andrew McElwee, Dara Walsh, Philip Talty;
Subs: Mark Collins for D. D'Auria; Luke Coyne for McElwee; Alex McNamara for Moore.
Cratloe: Padraigh Chaplin; Emmett Costigan, David Collins, Denis Mundy; Rian McNamara, Sean Collins, Morgan O'Connell; Sean Gallagher, Tommy Rooney; Rian Considine, Cathal McInerney, Luke Healy; Jack McInerney, Jack Danagher, Sean Ryan.
Subs: Cathal Lohan for O'Connell; Aidan Crowe for Mundy; Danny Dunne for Healy; Michael Flanagan for J. Danagher; Healy for Costigan
Referee: Fergal Gray (Feakle)
First half goals vital for St. Josephs
St. Joseph's Doora/Barefield 2-12
Wolfe Tones 0-13
Venue: Gurteen
First half goals from Dara O'Shea and Eoghan Talty steered St. Joseph's Doora/Barefield to this merited win over Wolfe Tones at Gurteen on St. Patrick's Day.
The winners played with the aid of the breeze in that first half and they went to the break with an eight point advantage, 2-7 to 0-5.
Substitute goalkeeper Paddy Bugler played in attack for the winners and he contributed 0-3 of their tally on a day when Craig Riordan was the visitor's top scorer with 0-6 while Sam Costello scored 0-3.
Both sides were short a number of regulars due to their involvement with the Clare under 20's.
St. Joseph's Doora/Barefield: Tom O'Brien; Peter Collins, Dara O'Callaghan, Conal Dorgan; Cian Moloney, Sam Costello, Dara Whelan; Mark Hallinan, Dara O'Shea; Kieran Thynne, Dara Nagle, Conal Kelleher; Ciaran Browne, Eoghan Talty, Paddy Buglar;
Subs: Odran O'Connell for Talty (inj|); Gearoid Nealon for Bugler; Jack Scahill for Dorgan;
Wolfe Tones: Gary Cusack; Shane Nihill, Jason McAuley, Aaron Brennan; Liam Dooley, Jayme O'Sullivan, Dara O'Neill; Brian Murphy, Dara Treacy; Dean Devanney, Craig Riordan, Sam Costelloe; Liam O'Dwyer, Eoin Gough, Conor Carigg.
Subs: Ben O'Neill for Dooley; Stephen Donnellan for O'Sullivan; Conor Ferns for Carigg; Dan Riordan for O'Dwyer; Robert Cahill for O'Neill
Referee: Jim Hickey (Cratloe)
Miltown lay foundation in opening half
St Josephs's Miltown 3-11
Cooraclare 0-8
Miltown laid the foundations for this win in the opening half at the end of which they were eleven points clear with the score at 2-8 to 0-3.
They continued to hold the upperhand in the second half and emerged with a merited win on a day when Paul Keane (2), both in the opening half and Jamesie O'Connor were their goalscorers.
Similar to most clubs who played at the weekend, both sides were short regulars due to commitments to the county senior and under 20 teams.
St Joseph's Miltown: Mark Cunningham; Cormac O'Loughlin, Eoin O'Brien, Cormac Devitt; Enda O'Gorman, Micheal Murray, Gearoid Burke; Oisin Looney Darragh McDonagh; Sean Hayes, Liam Hehir, Jamesie O'Cnnor; Paul Keane, Cormac Murray, Cian Mahoney;
Subs used; Gordon Kelly, Cian Flanagan, Brian Curtin, Euan Lineen, Cillian Keavey;
Cooraclare; Mark Lillis; Ronan Donnellan, Niall Kelly, Fergal Donnellan; Jake Garry, James Burke, Thomas Downes; Padraic O'Donoghue James Chambers; Gearoid Lillis, Ciaran O'Donoghue, Sean Browne; John Lillis, Jack Carey, David Foran;
Subs used; Noel Gavin, Colin McNamara, Conor Chambers, Killian Burke and Ciaran Ryan.
Referee: Martin Downes (Naomh Eoin)
Victory for Kilmihil in hard fought contest
Kilmihil 0-14
O'Currys 0-10
Kilmihil, under new management, got their challenge for division 2 honours off to a good start with a four point win over O'Currys.
Playing with the aid of the breeze in the first half they opened a six point lead and went to the break 0-10 to 0-4 in front.
O'Currys will rue a couple of missed chances in that first half on a day when Eoin Troy and Thomas Clancy each kicked 0-3.
Martin O'Leary top scored for the winners with 0-7 with Sean Crowley scoring 0-5
Kilmihil: Sean Cafferky; Shane Downes, John Finnucne, Mikey Keating; Stan Lineen, Fionn Febbraro, Conor Crowley; Gavin Downes, Conor Finnucane; Jack Keating, Sean Crowley, David Coughlan; Sean Johnston, Martin O'Leary, Michael Cotter.
O'Currys; James Troy; Stephen Kelly, Sean Haugh, Dara Keane; Seamus Keane, Michael Foran, Jim Marrinan; Thomas Clancy, Cathal Downes; Paddy Clancy, Eoin Troy, Eoin Kelly; Shane Browne, Danny Downes, Eoin Brew
Subs: Jonathan Clancy for Marrinan; Martin Daly for P Clancy
Referee: Joe Kelly (Cooraclare)