Ger Dollard is to leave his role as Chief Executive Officer of Rásaíocht Con Eireann (RCÉ) / Greyhound Racing Ireland.
A native of Limerick City, Dollard had been CEO since September of 2017 and will depart in September of this year. Prior to this, he served in the post of Deputy Chief Executive of Clare County Council and Director of Economic Development.
Dollard worked with the local authority for 20 years. He began as a finance officer but most notably held the role as a Director of Service where he was responsible for the management of the planning, economic development, tourism, community and enterprise functions of the Council.
He was also town manager of Ennis Town Council and was the first Director of Service for the Ennis Municipal District. While with the Council, Ger played a key role in the promotion and development of internationally famous tourism projects, such as the Cliffs of Moher Visitor Experience and the UNESCO Burren Geopark. He was involved in the promotion of Loop Head Lighthouse as a visitor attraction and spent four years on the board of the Clare Youth Service.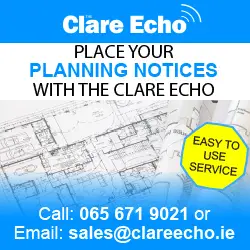 Both of his parents whom are decades hail from Co Clare, his father Patrick was a native of Fountain in Ennis while his mother Mary Murphy came from The Hand in Kilmaley. He was also related to the late Sean Ó Murchú, the widely-known county council planning officer for many years.
In a statement confirming his departure, Gerard outlined, "I have seen first-hand over the last four years the passion and interest that exists across the country for the sport of greyhound racing. I feel, however, the time is now right to look at a new chapter in my career and take the opportunity to pursue other areas of interest. I look forward to continuing the job of work over the coming months and progressing a number of initiatives before departing RCÉ in September".
Chairman of Rasaíocht Con Éireann, Frank Nyhan paid tribute to Ger's contribution during his four year tenure. "The past four years have been a challenging time for RCÉ and the wider greyhound industry. The Board would like to acknowledge Gerard's contribution during what has been a period of great change for RCÉ and the industry generally and wish him well for the future. The Board will immediately take steps to progress the recruitment process for a new CEO".