KILKEE Chamber of Commerce have thanked Clare County Council for their quick response to a graffiti incident in the town.
"We'd like to commend and sincerely thank Clare County Council for their efforts in removing all traces of the graffiti," Kilkee Chamber of Commerce Chair Elaine Haugh said.
Shocked locals woke up to the phrase "Earth is flat" spray painted all over the beach huts and the brand new roundabout.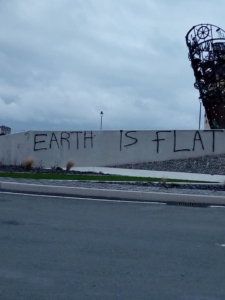 "We're all a bit shocked by it. We got up this morning and to see our beautiful beach and brand new roundabout was kind of a shock to us all.
"Especially this weekend is the start of our season and for someone to actually get a can of spray paint and put it around the town is really kind of startling," Elaine added.
The incident has been reported to the Gardaí and they are looking through CCTV footage to see if the culprit can be identified.

Kilkee Chamber of Commerce will hold a beach clean-up tomorrow, March 31, from 12 noon to 3pm.