*Killian Shannon performing on board the Ruby Princess.
A Corofin musician has been stranded on board a cruise ship in Australia for the past month along with fellow band members.
Killian Shannon first boarded the Ruby Princess with members of Emerald Tide on December 4th as they commenced a four month tour on the cruise ship. It was intended to appeal to cruise passengers with an Irish heritage. Killian is the son of Kilfenora Céilí Band flute player Gary and the nephew of Sharon Shannon.
However in the interval, the outbreak of COVID-19 has changed the atmosphere on board. New South Wales authorities initially deemed the ship to be a low risk in transmitting the virus with passengers allowed to disembark on March 19th.
Approximately one third (15) of Australia's reported COVID-19 deaths are linked to the Ruby Princess. Hundreds of cases (600) are also attributed to the Carnival Corp owned ship. Government and police investigations are ongoing as the 2,700 individuals allowed to disembark in Sydney did not have to undergo testing.
The four band members and an engineer, all of whom are Irish are still on board along with the ship's crew of 1,040 comprising of different nationalities.
On March 20th, it was announced that the virus was on board, those still on the ship were to told to return to their cabins and await additional information. Movement was later allowed on the cruise ship with social distancing in practice along with daily temperature checks.
As the evening progressed, Cillian presented to the ship's medical centre with a scratchy throat, he was then instructed to enter into isolation in a guest cabin. The same instruction was then issued to members of Emerald Tide. Coughing and a loss of sense of smell were symptoms he recalled. Cillian tested positive for COVID-19.
New South Wales enforced home isolation for all non-essential workers which meant Emerald Tide were unable to leave quarantine after a fortnight. They have now been in isolation for four weeks where they received three meals a day and are given updates via the ship's intercom.
Emerald Tide became the first Irish band to work for Princess Cruises, up to the outbreak they rated their outing as "quite successful". Passengers have remarked that their performances were the highlight of the trip.
Current conditions are "scary", Killian admitted. "Some days have been tougher than others. I've been trying to keep myself busy. Our balcony lets us get fresh air and shout down to each other whenever we need to".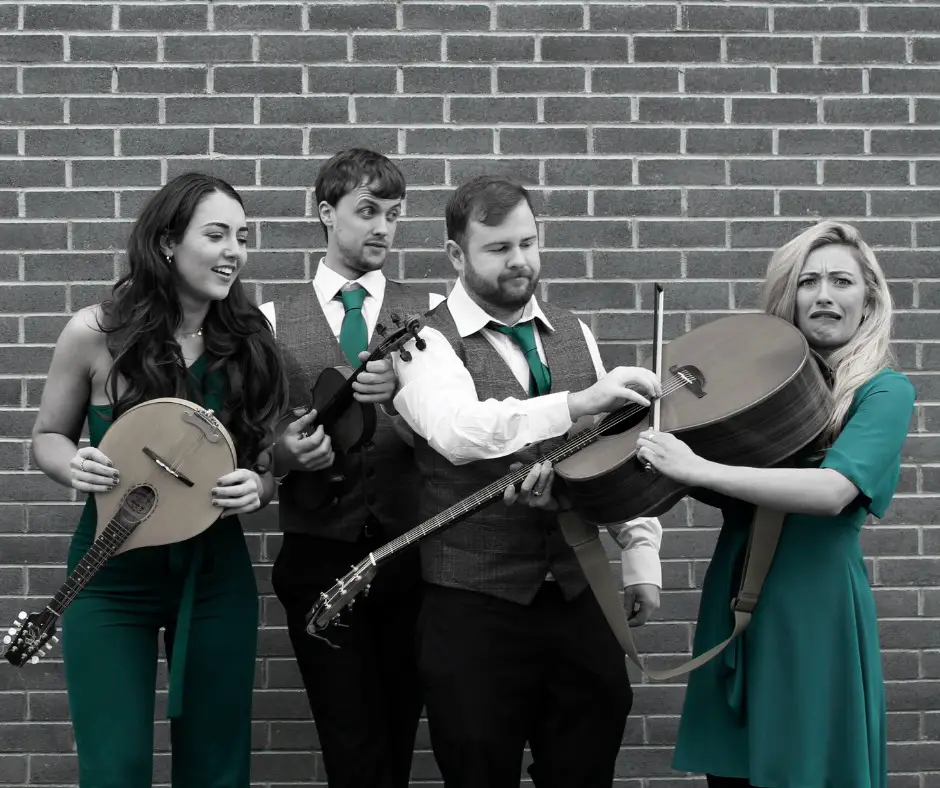 "Everyone wants to get off. It's very scary. We're just taking it day by day, hoping that each one is a day closer to getting home," he said. The Clare man said that 140 crew members have tested positive for the virus but he expected a significant increase once everyone underwent testing. "It's quite scary. It's the not knowing that is the scariest part. We have no idea when we will be let out of our cabins. We can't be sure there won't be another outbreak".
He said, "I'm hoping we can disembark from here and fly home. We don't really know where we'll be going. My hopes are we'll be allowed to stay here for as long as it takes for us to get disembarked".
Negative coverage from the Australian press has been met with an outpouring of support from the Irish public. Over 6,000 people have signed a petition in support of repatriating the Irish crew on board the Ruby Princess, while the local community in Wollongong has arranged more than 1,000 care packages to be sent on board. This support is positive but they remain fatigued and in desire of face-to-face contact, the only interaction they have had in the last four weeks has been to have their temperature checked.
A spokesperson for the Department of Foreign Affairs stated that the Irish Consulate in Sydney is in contact with the Irish citizens on board the Ruby Princess. State and federal authorities in Australia have been also contacted to ensure the health and safety of the five Irish individuals.
It said it is also in contact with state and federal authorities in Australia to ensure the health and safety of the Irish citizens.