Ennis' temporary mobility plan has branded as overly "conservative" with elected representatives calling for selected streets to reopen.
Brought in as a response to COVID-19 to enable social distancing "on the narrow streets of Ennis," the Temporary Covid-19 Ennis Town Centre Mobility Plan is subject to ongoing review with a meeting of the mobility group to be held in the next fortnight.
Mobility stakeholders include all seven councillors in the Ennis Municipal District, the HSE, An Garda Siochana, Ennis Chamber of Commerce, Retail Excellence Ireland, Retailers of Ennis, Better Ennis Vintners Federation, Older Persons Council and disability advocates.
Senior executive officer with the Ennis MD, Leonore O'Neill explained, "It was collectively decided by the group not to alter the traffic re-routing measures during the current level 5 lockdown". She noted that the guidelines on social distancing had not changed. She insisted that what is in place is "a temporary measure" and outlined "proper public consultation" would occur if permanent pedestrianisation was to be considered.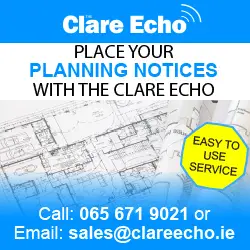 Reopening of certain streets should be considered "Clare's COVID numbers continue to improve," Cllr Pat Daly (FF) proposed at Tuesday's meeting of the Ennis MD. He detailed that business persons in the town were "tired and upset" presently, "the pandemic has caused serious damage". He stated, "There is a fear among businesses in O'Connell St and Abbey St that their business will never reopen, I hope to see light at the end of the tunnel when Level 5 is reduced".
Well-being has been tested for all people, Cllr Clare Colleran Molloy (FF) commented. She predicted there will be a push to change the current approach at the next stakeholders meeting. "We've had a year of learning so scientists pointing to very low risk of transmission outdoors, we have learning under our belts and need to bring that to our committee". She added, "there is a concern that we have been too conservative".
An "extreme negative impact" has been experienced by Ennis businesses, Cllr Johnny Flynn (FG) maintained. He recalled starting his first job aged 14 as a vegetable boy and said young people were deprived of employment opportunities in the town centre. He stressed the need to secure a return of Click and Collect along with moving the parklet on O'Connell St to Bank Place.
Continued roll-out of the vaccine and reducing cases "can bring a bit of hustle and bustle back to the town," Cllr Mark Nestor (FF) remarked.
"None of us like to see a dead town but it is dead at the moment, that is the same for a lot of towns across the country," Mayor of Ennis, Cllr Paul Murphy (FG) felt. He noted the measures were introduced as a reaction to the pandemic. All members of the mobility group have "the interests of the town at heart". He added, "I know the vaccines are coming on but there are more strains, the worst thing we could do is have a knee-jerk reaction and reopen too soon, we have to thread carefully.