Few names are more synonymous with Clare handball than the Nash family, the love of the game runs deep in their veins, it's part of the reason why the continue to give their all in the alley and give back by helping to coach the next generation.
Twenty one year old Clodagh has All-Ireland titles at schools, Féile and Community Games to her name as well as adding national minor and intermediate doubles competitions, world success at U17 and U23 doubles are also part of her collection.
Trips to Tuamgraney Handball Club were common in her youth, as the youngest of the five she would often travel from home with either her father Jim or mother Mary to collect any of the siblings, Cathal, Dervla, Diarmaid and Barry. "We've all maybe spent an evening in the alley here and there. My sister Dervla and brother Cathal played in primary school but chose to give it up after that, Cathal focusing more on hurling for a couple of years, Dervla went away to school and started playing hockey. Other than that, Barry and Diarmaid played the whole way up, Diarmaid is still playing in the senior ranks and is getting on well, I've been lucky to follow in their footsteps".
Those footsteps were first taken back in 2005, as she competed in the U11 Cumann na mBunscoil competition aged seven. "I was sent from Scariff NS as the girls representative and walking into the Tulla handball alley it finally dawned on me that I've to compete and play a game, it was a great learning experience and I love going back now watching the Cumann na mBunscoil if I'm around because for most boys and girls it's their first bit of competitive handball being thrown in at the deep end".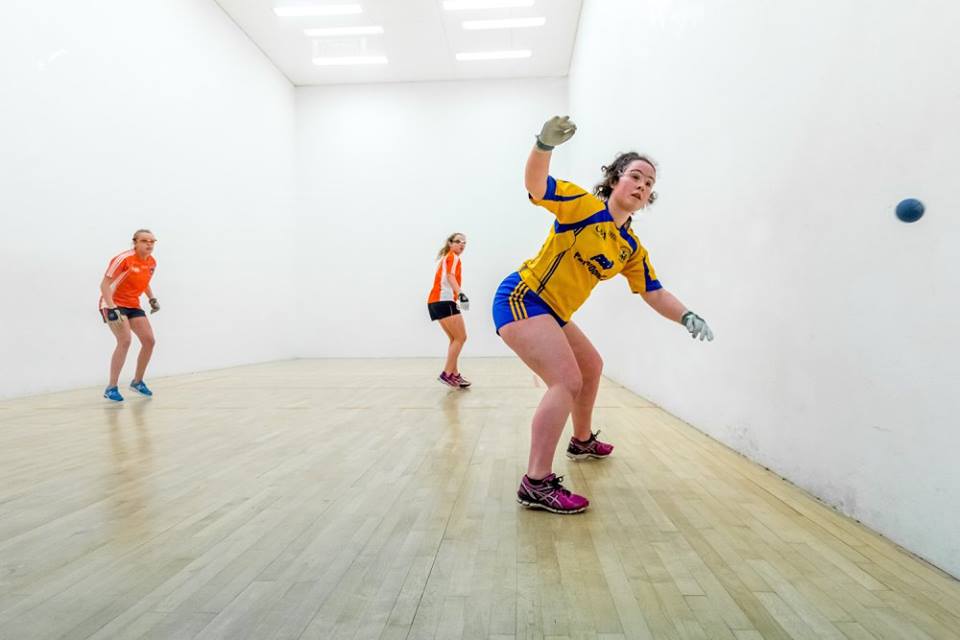 An economics and finance student at UCD, Clodagh often trains with her brother Diarmaid when their schedules allow for it, something which she revealed has helped improve both of their games. "My performance can be a bit sub-par compared to his. When I was that bit younger, we look a bit alike so if he turned up to a competition people might know your name but wouldn't know you were Diarmaid Nash's sister, that put a little bit of pressure on. He's a left handed player, I'm right handed, we'd have quite different styles of play, I like to play a slower game and wear the other person down whereas he has a more attacking style and would depend a lot on his sidearm whereas I like playing the roof and making my opponent work for it.
"We do play a little differently, it is good in a way because we end up complimenting each other in ways because we're always pushing the other person to do exactly what they don't want to do when we're training. I haven't felt too much pressure, the handball community because you are playing on your own, there is very much an expectation that you have to make it off your own bat, Diarmaid can't win from watching me on the outside so I knew from the off I had to play and win my own games and be my own woman".
Diarmaid has carved his own reputation as one of the best handballers in the country, such a rise in the ranks appeared to be on the horizon for Barry until his tragic death in January 2014 aged 18 following a car crash. An all-rounder, Barry was held in high regard by all who knew him. At the time, Clodagh was a boarder at Ursuline Secondary School in Thurles and had to bring to life the scene as depicted in Seamus Heaney's poem 'Mid-Term Break'.
"When it happened we were all in huge shock, we wouldn't have expected something like that to happen any family, when it lands at your own doorstep you try deal with it as best as possible. He passed away on a Sunday night and for me, not only was I going back to school the week after the funeral but I was also heading back to boarding school so I was moving away from home, away from all the memories, it had its pros and its cons, maybe it was great to be around friends and have that support system at the time. Life rolls on and you realise that very quickly.
"I know the week he passed away I was supposed to play Munster championship for the schools and obviously it got postponed to the following week but it was kind of nice the following week Dad came up to Thurles, took me out of school, I went and played the handball match on the Wednesday and it broke the week up, every week then we just got on with as good as possible but it was nice to play and keep myself involved in something I know he thoroughly enjoyed and we both got great days out of it, Dad has enjoyed watching us play. It has been a nice link, it's nice to meet friends of his that he would have played with throughout the years especially in college, you would meet them at a lot of tournaments, it is a nice link but sport is great in that sense, it gives you a real lease of life and makes you realise there is winning and losing but at the end of the day there are obviously more important things too".
Currently on a six to seven week break having had no recess for the last sixteen months, the Scariff student is hopeful of playing some more camogie but outlined what keeps enticing her back to the alleys year after year. "You're looking to get back into the alley because you have fond memories of playing in there. There is something about that just draws me back if I'm having a bad day in work, school or college, the best thing I can do is grab the gear, go down to the alley on my own, it's a real thinking space, it shuts you off from the rest of the world and it's nice to get a bit of exercise. Somebody said recently they couldn't run a lap if you paid them but throw a hurley into their hand or throw a pair of goggles on them it's very easy to follow a ball around the place, we're a bit like dogs that way we like chasing things".
Such continuous hard work has been rewarded, her All-Ireland intermediate doubles success with Doireann Murphy in April the most recent example. "It was a huge achievement, we had been trying for the past two years to break into the senior ranks after coming up from minor. You think after being a minor it will be no bother but it takes you that bit longer because you realise there are girls there the last six or seven years still looking to push up, it ended up being more challenging than we thought. It's straight knockout so one loss and you're out, there's no backdoor which makes it more difficult because you have to perform, you can't rely on a sub coming on. We set out at the start of the year and that's what we both wanted to achieve, it was our end goal no matter what else happened. It was nice to get there in the end".
She is of the view that Clare "goes against the norm" when it comes to retaining female players with the likes of Murphy, Bridín Dinan, Ella Donnellan and Caitríona Millane all of the same age to Nash still playing the sport. For this, she credits the strong club scene in the county plus the methods of training with mix fun and competition.
When time allows, Clodagh attempts to implement such styles of coaching with Tuamgraney, the club now has over 100 juvenile members, the figure was around 30 in her younger days. School visits first drew her brothers to the sport, such efforts must be maintained to recruit new players while she added the benefits of the game for those playing hurling and camogie are very valuable.
"Having the hand-eye co-ordination is a massive bonus no matter sport you turn to. As regards promotion, of all the sports it is probably one of the best ones for promoting females on the same level as males, ladies handball is pretty much seen as the same level as the males within media and that is brilliant to see it get the same promotion, any media outlet that is at that is obviously doing their job very well, there is room for improvement in all of us and myself personally I would like to see a bit more promotion on TV".
Tuamgraney's Handball Club is one of iconic settings of East Clare and as Nash points out it forms a link with several parishes in the area. "The handball alley is a really nice thing in Tuamgraney, where it is set is in the heart of East Clare and it doesn't matter what hurling club you belong to, what school you went to or where you live, you're always welcome inside the doors of Tuamgraney Handball Club, when they pay their membership they are more than welcome to go in and out whenever they want. Recently they did up a factsheet, we have nine primary schools, two secondary schools, three colleges all feeding in and I think ten different hurling clubs all feeding into Tuamgraney Handball club, it does bring the community together in that sense. While you might be rivals on the hurling field, you'll end up playing alongside them in the handball alley, it's nice that way and it creates friendships down the line".
Outside of the alleys, she has volunteered with UCD Overseas, a charity founded by Ennis priest, Fr. Tony Coote and has completed a year-long placement with Concern Worldwide, in September, her final year at college will commence. Handball will play a part in adding a release from the study, it always has and always will.