A CLARE adventurer is in final preparations for a 600km odyssey which will see him traverse ice-melt rivers, mountains and glaciers this July in Iceland.
Ennis native Dermot Cosgrove, who is now living in Kilkee, will spend three weeks on foot carrying a 45kg hiking cart behind him as he treks from the most northern point of Iceland to its most southern point.
Dermot has in recent years trekked the Arctic Circle trail and the mountains of the Pyranees all in the name of raising money for a cause close to his heart, the Irish Dogs for the Disabled charity.
Speaking to The Clare Echo from Algeria where he works for a Spanish oil and gas company, Dermot spoke about his motivations behind taking on this project which will be the ultimate test of physical and mental strength. A former member of the French Foreign Legion, Dermot is no stranger to adversity.
"Here in Algeria, I have a nice 2-kilometre loop that I do laps on to train and at the moment I'm bringing a 35kg tyre around to similate dragging something behind me – except it's in 35-degree heat." In Iceland, it will be other extremes Dermot will deal with as he will experience temperatures dipping to -30 degrees while he carries a 45kg weight on his hiking cart. "The idea behind the hiking cart is to allow me to carry 45kilos. The plan is to be 100 per cent sustainable for the three weeks so I won't be availing of any resupplies while I'm crossing and everything I need; food, which will be vacuum packed, and water; I'll be pulling along behind me."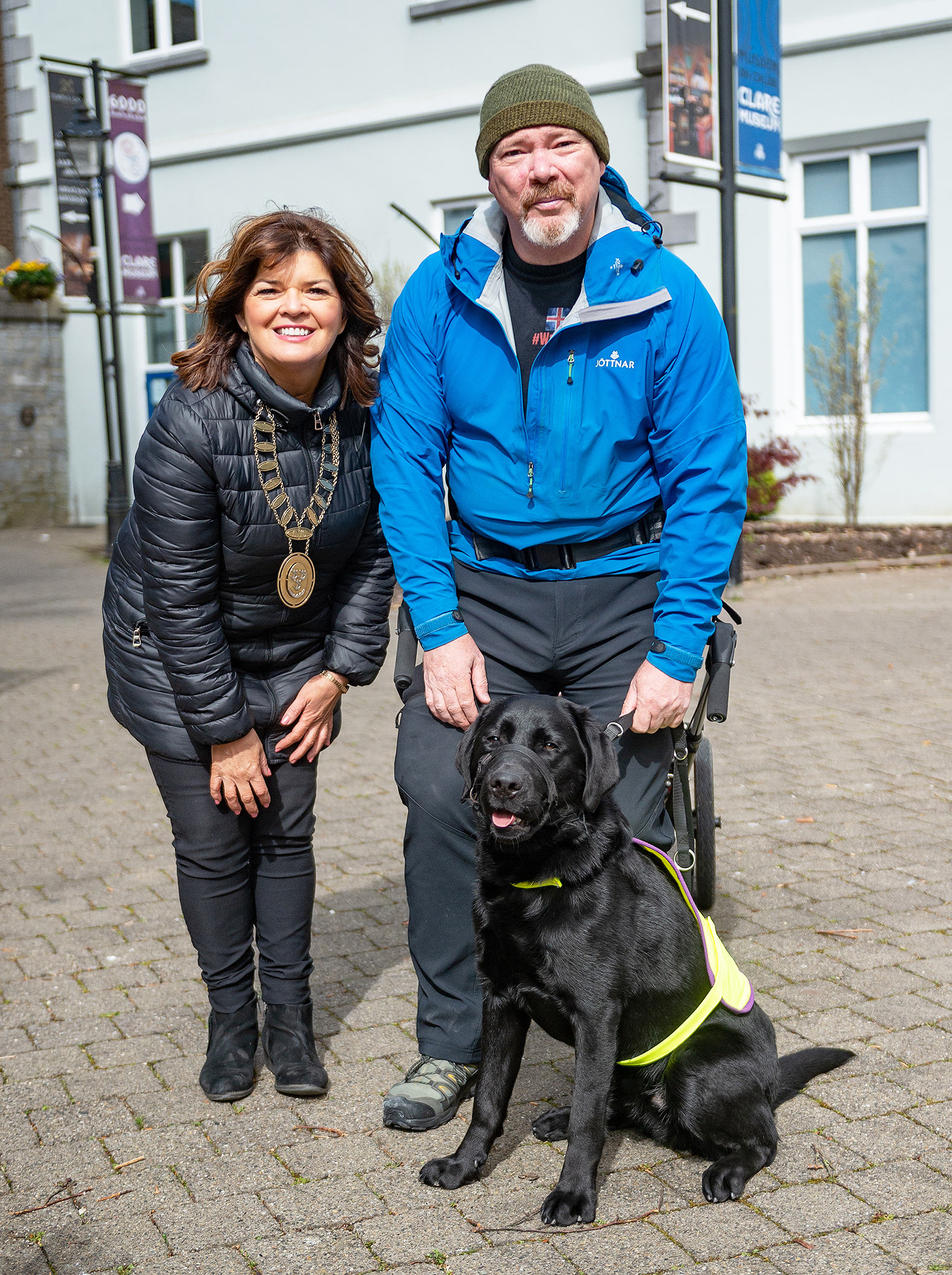 Dermot's trek will begin on July 6 from Iceland's most northerly point. He will begin by following back trails that are mostly used by 4x4s and as he gets further south, he will traverse the Icelandic Highlands.
Dermot continues, "The elecvation is going to be similar if not more than what I've done before. I'll be crossing down one of the biggest glaciers there is, the largest in Iceland. The temperature range will come and go as I go along and I'll have quite a lot of river crossings and the rivers there are ice-melt rivers. As I hit the southern end, the last 10 days of the trek I'll be into cross-country. One of the trails is between two volcanic glaciers and last year it was closed because of blizzards so I'll have to make a last minute decision about taking on that but if I can't I have a back-up route. It will still be the full 600km, if not a little bit more."
Speaking about his deep connection with the charity which is beniffiting from his trip, Dermot is hoping to get to the €25,000 mark for Irish Dogs for the Disabled, who he has already raised in the region of €15,000 for to train up new dogs.
"They're a very small charity," Dermot began. "My connection came through my sister Claire, she'd been fostering dogs for Irish Dogs for the Disabled for 16, 17 years now. There's a family connection there with them. When I did Greenland I decided I would raise funds for them but in the run-up to Greenland, and now getting ready for Iceland, I'm learning more and more about what they're doing.
"They've diversified from just the strict assistance dogs to they're training to be therapy dogs. They're about to have the first dog that will go out to help sexual assuult victims, which is fantastic. These are dogs that will be paired with with kids who are victims of sexual abuse, helping them through giving testimony. The charity don't receive any government assistance so they rely on all charitable donations so it's massive motivation to me to be able to help out them."
The gratitude from Dogs for the Disabled was marked last year when they named one of their newest recruits "Kossie".
If anybody would like to make a donation to Dermot's trek, go to www.dermotcosgrove.ie or if you would like to get involved as a sponsor, contact Dermot by email at dermotcosgrove@hotmail.com.