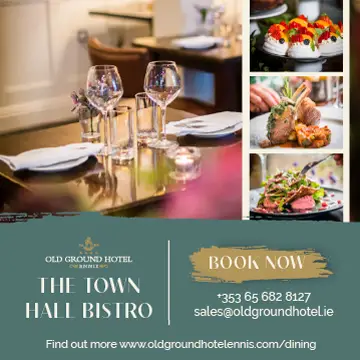 An Garda Síochána have been asked by Clare GAA to investigate continuous abuse of Board Officers and are said to be considering excluding members of the media from attending future meetings alongside club delegates.
On Saturday, Chairperson of Clare GAA, Joe Cooney confirmed to The Irish Independent that they have gone to the Gardaí over social media abuse directed at County Board officials by anonymous accounts. "We've handed it over to An Garda Síochána now and we want a thorough examination to be carried out to find out who's behind it and put an end to it".
The move arises as club delegates backed the decision to bring the case further following a discussion on the matter at their October meeting. Several representatives voiced their disgust with comments online stemming from one account on both Twitter and Facebook.
Vice Chairman of Clare GAA, PJ McGuane was the first to speak on the matter and did so minutes after the ratification of Brian Lohan. His initial views appeared to be directed towards the media for tweeting from meetings and delegates feeding information to other sources. "This news is already gone out. Why can't we wait? Why is everything we discuss out there before it becomes official," the Cooraclare man asked. He said that he had been involved in the GAA for sixty five years and that it "has cost me an awful lot of money".
McGuane highlighted, "A lot of the facilities in this county have been put in by people of my generation". He said he was happy to take on anyone in a debate and be challenged but criticised personnel for spilling information to people not involved in the organisation. "This nonsense has to stop. Ye should be ashamed of yourselves. Every committee we have is leaking like Mrs Brown's milking bucket". Upon concluding his remarks, PJ received a strong round of applause from delegates in the room.
Irish Officer, Flan O'Reilly stated, "I am glad PJ has said what he had to". The Cratloe clubman felt of the social media sites, "people can say what they want like, it is out of control". "We have seen it politically how it has influenced the world".
"Some of the stuff out there is scurrilous, ridiculous and insulting," Ruan's Michael O'Regan commented. "I have been involved with the GAA for forty five years and have worked with decent, honest, honourable people. Hearing what is being said about these decent, honest, honourable people is disgusting".
Retired referees Tom Stackpoole and Ambrose Heagney also spoke out against the actions. "It is pure disgraceful what is going on," Stackpoole remarked. "I refereed for twenty years, abuse of match officials was mentioned at every convention but it is disgraceful the abuse that has been levelled at club officers. This Twitter and Facebook is horrendous. I'd be gone from refereeing after two games if this was the abuse we got," Heagney said.
Newmarket-on-Fergus delegate, Pat Corry admitted he had some respect for people who stood up and criticised but put their name to their views, those that don't he described as "cowards". He continued, "If you can't put your name to a statement, shut up". Ex Clare Junior hurler, Niall Romer was keen to see the discussion come to an end and told delegates, "I can't text so it's not me".
John Meade of Kildysart was quite frustrated, "If you are passing on information to him, know what ye are fucking talking about". Meade was referenced in an online post by one account for "saying a general rule". He added, "Whoever is giving this idiot information needs to get it right". Meade concluded, "He tried his best to split the county".
Kilmurry Ibrickane secretary John Brew acknowledged, "It is obvious people can feel hurt". He told the meeting that he has been blocked by a page which is directing abuse at county board officials for challenging some of the comments. "People like that are only trying to generate a mob and doing so while hiding behind a keyboard". He added, "There is a lot of good people here and on the top table".
Former Board Chairman, Michael 'Malty' Donagh believed the abuse "overstepped the mark". He stated, "It would put a man to the edge of a rope if it was continuous or sustained". He voiced his and St Joseph Miltown's full support for the County Board and its officers. "They have started it and it has to be given a finish, it has to be investigated. We are not Claremen if we don't".
Another ex Chairman, Michael O'Neill spoke on the matter. He felt "castigated" but "it didn't bother me" regarding commentary of being added to the five man selection committee tasked with appointing the 2020 senior hurling manager. The Ballyea man was fearful there could be a "struggle to get officers in the future". He said the people behind such accounts would be unable to take on roles such as club delegates because "they haven't the balls".
Further support of the County Executive was issued by Sixmilebridge chairman, Paddy Meehan. He was appalled with the abuse issued to Pat Fitzgerald, the county secretary and called on the clubs to show leadership in dealing with the issue. "Don't forget Davy Fitzgerald was hounded out by the same people".
"We are in dangerous territory and we have to stick together as a family of the GAA," Doonbeg's Michael Neenan stated. "Send out the message, we will not back down". Broadford's Danny Chaplin noted, "Somebody in this room is giving information to this individual. A big call was made for openness and transparency but he had information on the future management before anyone else, how? He said Broadford had "utmost confidence" in the County Executive.
Following any other business, members of the media present including representatives for The Clare Echo, Clare FM, The Irish Examiner, The Clare County Express and The Clare Champion were asked to leave the room.
A further discussion followed on the issue of media attendance at meetings. The Clare Echo understands that some of the more vocal critics of the online abuse were pushing for members of the media not to be present at meetings and were favourable to the suggestion of the PRO Michael O'Connor issuing a brief to them at the conclusion of each gathering.
However The Clare Echo also understands that clubs including Broadford and Clonlara reminded the meeting that there is a difference between social media and print media. It was also flagged that print and broadcast media play a valuable role in promoting GAA within the county.