Suicidal Clare men and women are not being admitted to the Limerick Psychiatric Unit because of their address, it has been claimed.
Mental health advocate, Gary Fitzgibbon addressed elected members of the Shannon Municipal District (SMD) at their July meeting and gave a detailed account of the conditions dealt with by people struggling with their health.
At the beginning of the month, Gary was invited to speak at the Dáil and earlier this year in a column published by The Clare Echo, the Shannon man openly discussed his experiences with the Irish Mental Health system.
He told councillors in the SMD that "people in suicidal distress are going to A&E in Limerick". He believes a better system has to be in place to accommodate people in this position so that A&E is not their first port of call. Gary outlined that Clare patients who go to University Hospital Limerick are denied admission to the county's psychiatric unit as are those from neighbouring counties, "people are being turned away and lives are being lost," he added "It's not an unreasonable demand for people who ask for help to get it".
"What Bressie is to Ireland, Gary is to Clare" said Cllr Mike McKee of the advocacy work he has done for mental health services. "The issue is so serious but not being taken as serious as it should be", the Sinn Féin councillor commented. Fianna Fáil's Cathal Crowe highlighted, "political flags are put on the ground for these issues". His party colleague, Cllr Pat McMahon said of the Clare patients being turned away because of their address, "Mr Trump wouldn't make that up". Cllr John Crowe felt the address being a factor was "bizarre".
"Two people under the care of Clare Mental Health Services took their lives in the last three months", Gary stated. He is disappointed with the facilities for people in Clare struggling with their mental health. "When brave enough to ask for help, they should receive it".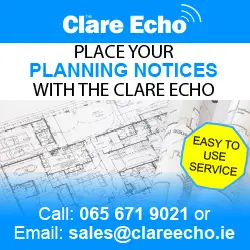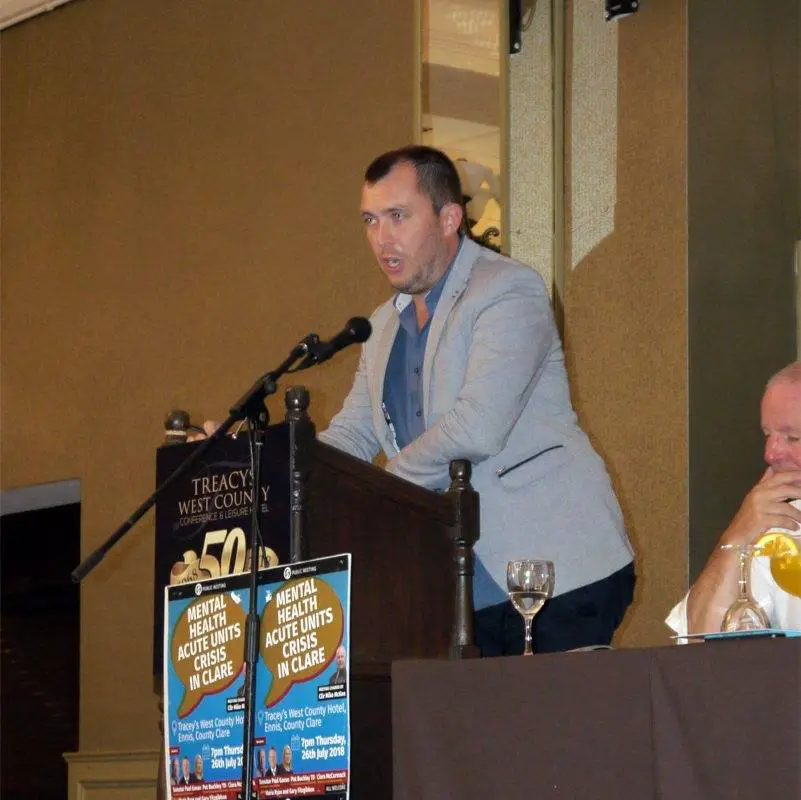 When contacted by The Clare Echo about the issues raised by Gary, the HSE issued the following statement. "Anybody presenting in the ED at UHL with suicidal ideation will be assessed and an appropriate treatment response arranged. If the patient is from Clare and requires admission this will ordinarily be arranged for the Acute Psychiatric Unit in Ennis. From 9-5 every day each Community Mental Health Centre is available to assess anybody who presents with suicidal ideation or any other Psychiatric emergency.
"Out of hours all emergencies in the region are seen and assessed in the ED at UHL. People presenting will be assessed by the psychiatric Crisis Team and an appropriate plan of treatment recommended. If admission is required this can be arranged in either Unit 5B or the Acute Psychiatric Unit in Ennis. Patients from Clare and Nth Tipperary who require admission will usually be admitted to the APU Ennis and patients from Limerick to Unit 5B in UHL. Out of hours there are also crisis nurses based in Ennis & Nenagh/Thurles whose services are available to existing patients".
Gary told The Clare Echo that he did not receive such treatment and subsequently filed a complaint with the HSE. "Admission was required for me and I was told in no uncertain terms at the time that I wouldn't be admitted to 5B because of my address. Nor was I admitted to APU Ennis. I wasn't even offered a follow up appointment, left to fend for myself while admitting being suicidal. I lodged a complaint with the HSE over this".
In November of last year, Mr Fitzgibbon lodged the complaint with the HSE. Gary noted that waited 'eleven days' without contact from his treating Community Mental Health Team feeling 'abandoned and in a very vulnerable state'. The report acknowledged there was a breakdown in communication between The Crisis Liaison Service and Gary's treating Community Mental Health Team which resulted in a delay in receiving treatment for his mental health condition but the complaint was subsequently upheld.
*Photograph: Carey Dev