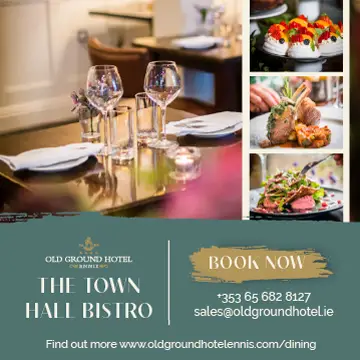 Captain Aidan Mulcahy. Senior Captain John O'Donovan, Junior Captain Harry McEnery, Lady Captain Niamh O'Regan and President Oliver McNamara.
A combination of snow and heavy rain resulted in the cancellation of many golf competitions across the county on Saturday last when most courses remained closed.
Despite this, however, Woodstock hosted their captains' drive in, which had been cancelled a week earlier as a mark of respect to former lady captain Patricia Graham whose death had taken place.
The inclement weather on Saturday last did not deter a big crowd of members from gathering for the drive in ceremony for men's captain Aidan Mulcahy. senior captain John Donovan, junior captain Harry Mc Enery, lady captain Niamh O'Regan who were joined by club president Oliver Mc Namara. The drive in was followed by a social evening at Hotel Woodstock.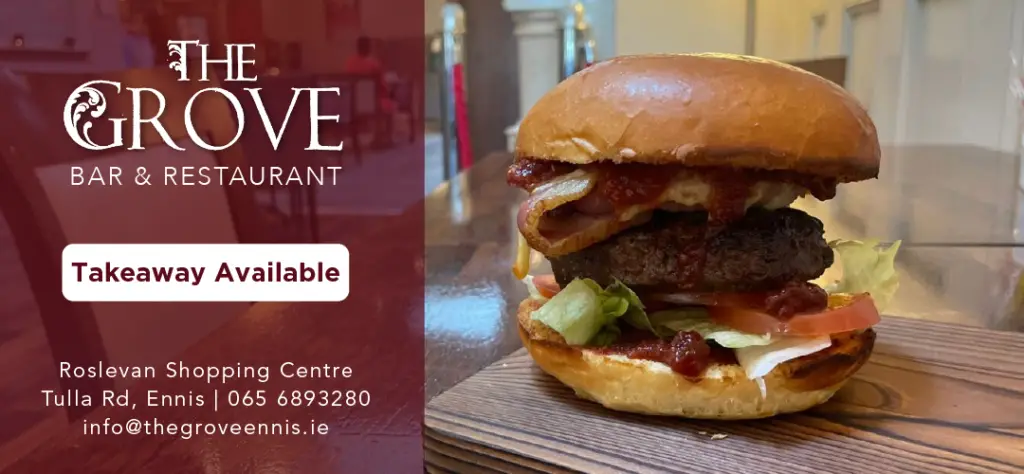 The Spring league continues this week when the format will be modified fourball betterball (Preferred Drive). There will be a club singles this Friday, Saturday and Sunday
Lahinch Golf Club:
The annual Play in Pink Day organised by the ladies section at Lahinch Golf Club will take place on Monday April 3. This fundraiser is in aid of Breast Cancer Research at University Hospital Galway. This will be an invitation event with at least one member on each team. The format will be a team of four.
In past years many members have supported this very worthy cause by sponsoring a Tee Box for €50. This year again, the organisers are appealing for similar support. Donations may be handed into the Golf Club Office or made over the phone: 065- 7081003. Raffle Tickets will be available on the "I donate" platform as in previous years.
Ennis Golf Club:
Michael O'Reilly won the men's singles stableford competition (yellow tees) at Ennis on Sunday with 44 points from Eamonn Corry who had a similar score, Noel Whelan was third with 42 points followed by Frank Owens with 40 points. Leo Herbert won the gross with 35 points.
Last week's ladies 14 hole stableford winner at Ennis was Anne Kelly (20) with 31 points. She had two to spare over Helen Hartnett (27) with Sinead O'Sullivan (51) in third spot and she also scored 29 points. Monica Finnerty (23) was fourth with 27 points.
On the 9 hole competition Anne Fealy (24) was the winner with 19 points from Mary Leahy (16) who had a similar score. Patricia O'Reilly (25) was third with 18 points.
The winners of the senior ladies outing last week were Frances O'Reilly, Carmel Verling and Eileen Holly with 43.3 from Mary McMahon, Mary Glynn and Helen Hartnett with 45.
Kilrush Golf Club:
Dominic Enright (9) was the winner of the weekend singles at Kilrush with 32 points. He had two to spare over Des Murphy (16) with third spot filled by Matthew Dillon (19) who also had 30 points
Gort Golf Club:
Paul Brennan (3) was the winner of category 1 in the men's singles at Gort at the weekend with 42 points. Category 2 was won by Pat Curtis (13) with 40 points. In category 3 the winner was Michael O'Dell (20) with 45 points while P.J. Whelan (25) won category 4 with 45 points.
Sixmilebridge Golf Society:
The first outing for Sixmilebridge golf society members for 2023 took place to Dundrum golf club on Saturday.The winner was Barry Deasy from Diarmuid Bucke with Trevor Whyte in third spot followed by Dermot McNamara. The nines were won by Eric Purcell and Stephen Mulready.
Haven Arms:
Members of the Haven Arms society in Kilrush played for their President's (Gerry Malone) prize at Doonbeg Links last week.
Brian Scanlan was the winner with 39 points from Denis Nagle with 35 and Ross Cullinan with 34. The society captain for 2023 is Jeremiah Brennan.