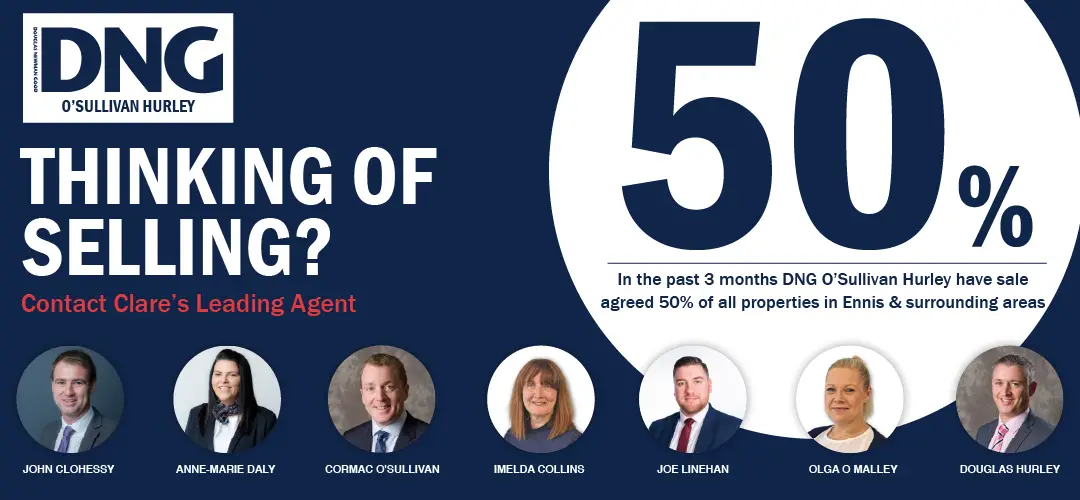 *Pictured here at the Cliffs of Moher Visitor Experience from left are Jarlath O'Dwyer – Burren Ecotourism Network, Siobhan Nolan – Doolin Ferry Company, Joan Hamilton – Doolin2Aran Ferries, Helen Browne – Doolin Cave, Frances Connole – Burren Centre, Kilfenora, Geraldine Enright – Cliffs of Moher, Mark O'Shaughnessy – Cliffs of Moher, Birgitta Curtin – Burren Smokehouse, Lisdoonvarna, Councillor Joe Garrihy, Sharon Malone – Falls Hotel, Ennistymon

Longer stays have been underlined as the priority with the Burren Ecotourism Network now having its own information desk at the Cliffs of Moher.
Launched at the end of August, the desk which will be manned by member businesses of the Burren Ecotourism Network. Its objective is to create stronger awareness among visitors to the Cliffs of Moher of the riches that lie beyond its gates in the Burren and surrounding areas.
CEO of Burren Ecotourism Network, Jarlath O'Dwyer felt the task is to see a spread of visitors from the Cliffs. "The Cliffs of Moher Visitor Experience has become Ireland's most visited natural attraction and is a major asset in promoting tourism to the county. The challenge now rests in leveraging the national and global interest in the Cliffs of Moher Visitor Experience to deliver more revenue to the businesses and communities of the county. Encouraging a longer stay is key to this"
"Members of the Burren Ecotourism Network will assist visitors, tour guides, group leader and bus drivers in deciding on where to go and what to do next in the area before they leave the cliffs and head off to another county altogether. The information desk is designed to give businesses in the area the opportunity to promote themselves and their offering, encouraging tourists to "stay another night," O'Dwyer explained.
Cllr Joe Garrihy (FG) attended the launch. He said, "In a challenging year like 2019, tourism businesses have to engage in new activity to generate extra footfall, and collaborating with each other through initiatives like this at the Cliff of Moher Visitor Experience is an example of what can be done".
"We feel that if we can create better awareness of the Burren and Cliffs of Moher Geopark, and all that it has to offer to the people that are here on the ground right now, we stand a stronger chance of converting some of those visits into extended stays. This has been our objective for some time and as part of a number of initiatives, we feel that working together like this will certainly help," added Joan Hamilton of Doolin2Aran Ferries.
A revalidation inspection was carried out by a team from UNESCO at the Burren and Cliffs of Moher Geopark, the result of which is due in November. "The Geopark is on its way to becoming an internationally recognised premier destination because of the density of natural wonders, the rich culture and heritage of the area along with the supply of excellent accommodation food and entertainment," Jarlath said.
"We still have a huge task ahead in getting the Geopark Status recognised even further so that when people consider coming to Clare, they automatically think that they are visiting a destination that will take them a number of days or even a week to full explore and appreciate. Much of this type of awareness creation will be done on-line but a considerable amount will also need to be undertaken locally also through collaboration, improved road signage along with consistent messaging at individual sites and businesses," he added.