Lack of a follow up from An Garda Síochána in East Clare has been criticised by an elected representative.
Speaking at a meeting of the Clare Joint Policing Committee, Cllr Pat Burke (FG) relayed the frustration felt by three "victims of crime" in East Clare. This included a handbag stolen from a car which was broken into, the robbery of a van and the purchasing of a second hand vehicle with forged notes.
Of the stolen handbag, Cllr Burke stated, "The car was followed and the registration was reported. There has been very little follow up if any from the Gardaí or who owned the car and where it could be found. I can tell you it was heading in the direction of Limerick". One local tradesman had his van containing all his tools robbed, "there has been no follow up and he's still waiting to hear back," Burke claimed.
A car sold on DoneDeal was paid for "in forged notes", the Whitegate councillor outlined. He said that there was no correspondence issued to the "unfortunate man" who sold the car and that the vehicle was later found "burnt out".
"An elderly man from rural Ireland said there is no punishment for these criminals, if I go to the pub, drink 2 pints and drive I'm a criminal. The least they deserve is a follow up, it is not good enough that these gangs of criminals are getting away with it. I don't expect answers today, I'm just highlighting this, law abiding people in rural Ireland are afraid to drink two pints but people are getting away with this in broad daylight," the former Leas-Cathaoirleach of Clare County Council added.
Chief Superintendent, Seán Colleran said he was "disappointed to think people felt we didn't follow through". He continued, "Our strategy is to put the victim and people at the front, there is a difference between receiving information and someone following up on it".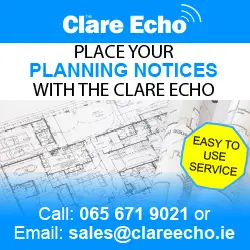 "I would not like people to think that we're just out to get law abiding citizens, it is not about us targeting easy targets". Cllr Burke replied, "That is the perception". The Chief Supt added, "That is not what we do. Sometimes people are very slow to report incidents to Gardaí, would encourage everyone to report to us".