*Photograph: Sport Action Photography
A former Treasurer of Clare GAA has revealed the best way for the Association to improve its financial situation.
In its financial accounts for 2020, Clare GAA showed a loss of €478,359, this included €195,575 associated with the sale of land at Caherlohan. Less expenditure was incurred for the year with the figure of €1,082,569.00 below the €2,009,993 recorded in 2019.
Current Treasurer, Michael Gallagher at County Convention issued a stark warning regarding the finances of Clare GAA. "The well is now dry, and it is up to each of us sitting around our computer screens this evening to take on the stark task of replenishing it".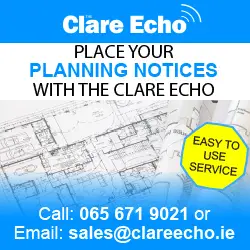 At the July sitting of the County Board, the Doonbeg clubman delivered a bleak financial outlook where he declared that the finances were in "dire straits". Ongoing costs associated with inter-county teams has long been flagged as an issue by Gallagher, he has criticised teams having to three to four physios and large backroom teams. The former Garda labelled the bills from inter-county panels as "a running train" and warned "Clare County Board will go bust" if they were to continue.
Speaking at the February meeting, ex Treasurer of the County Board, Bernard Keane offered his advice on how the current finances of Clare GAA can be improved. "The best way of improving finance is by winning an All-Ireland," he declared.
Keane recalled that finances were on a "downward trajectory" in 2011 and 2011 "but the success of 2013 changed our entire finances" and noted that the All-Ireland replay that year was the "cherry on the cake".
"Success doesn't cost, it pays," the St Josephs Doora/Barefield clubman stated. "We can't just leave it to Brian Lohan and Colm Collins, the positive needs to be coming from every club working for the common goal," he added.