*Managing Director & Editor of The Clare Echo, Stuart Holly. Photograph: John Mangan
A NEW report from the Audit Bureau of Circulation (ABC) has verified The Clare Echo's position as County Clare's most circulated newspaper.
ABC figures released this week confirm The Clare Echo as the standalone leader in the local circulation race with a weekly circulation of more than 15,000 copies being independently verified by the audit bureau.
At a time when many newspapers have reported declining readerships, The Clare Echo has bucked this trend by showing strong increases. For the reporting period from July to December 2020, it was confirmed that more than 345,000 copies of The Clare Echo newspaper were circulated in total, or an average of 15,047 per week. This marked an increase from the Jan-Jul 2020 period when The Clare Echo was certified for 14,372 weekly newspapers.
The Clare Echo now becomes the first Clare newspaper to become ABC certified since 2011 when The Clare People and The Clare Champion last underwent the circulation auditing process. Newspapers that have opted out of ABC certification are anxious to conceal plummeting circulation figures, according to industry sources.
The ABC circulation figures are the recognised indicator of accurate newspaper circulation levels. The UK-based auditor publishes reports twice yearly for newspapers in Ireland and the UK, to monitor the true levels of newspaper circulation in both paid for and free newspaper markets. An ABC certificate confirms a newspaper's figures have been independently verified, giving comfort and confidence to the advertiser.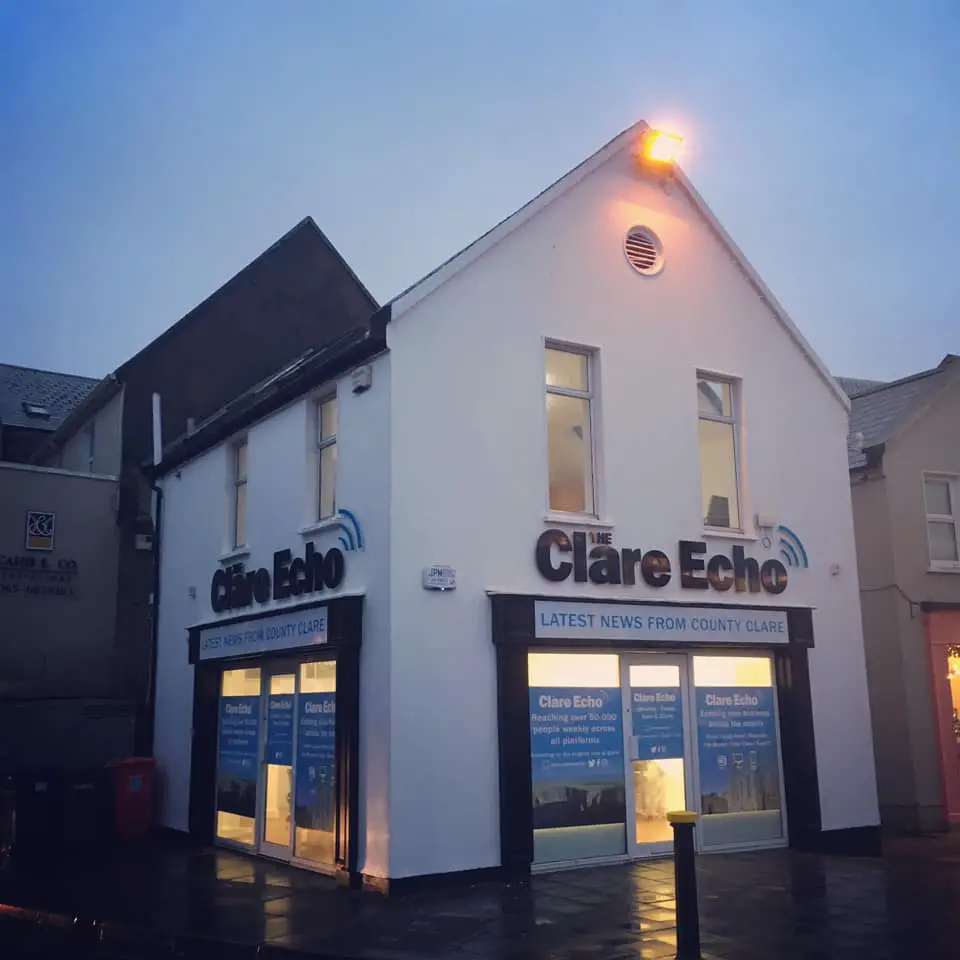 Established in 2017, the family owned Clare Echo has quickly established itself as a leading regional media company with a reputation of being modern, trust-worthy and community oriented. Recognising this as a turbulent time for readers and advertisers, Managing Director and Editor Stuart Holly says the new report was an important step to show The Clare Echo's commitment to transparency and trust.
He said, "Last year when the pandemic changed our lives, The Clare Echo team recognised the importance of local media more than ever. While many newspapers were unfortunately forced to scale back, we saw it as the opportune time to grow our product and ultimately be there to provide the public with reliable, accessible information.
"By being ABC audited, we are now the only newspaper in Clare with proven circulation figures. This is a hugely important step in our growth and I would like to thank all our readers and advertisers for engaging with The Clare Echo. Thanks to their support, we are proud to be able to call ourselves County Clare's most read newspaper."