*Patrick O'Neill. Photograph: Arthur Ellis
Tributes have been extended to the late Patrick O'Neill, a champion athlete who later played integral roles with local charities.
From Church Drive in Clarecastle, Patrick O'Neill was the son of Paddy and Teresa. He died at Galway University Hospital on Thursday last at the young age of 49 following a battle with cancer. He had been living at Marian Avenue in Ennis.
He grew up in the village and became an integral part of it holding roles in sporting organisations, the youth club and the scouts.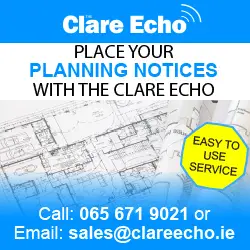 During his youth, Patrick excelled on the sporting field and was held in high regard by his peers. He was part of the Tony Forristal winning Mid-Clare team of 1986. He also collected minor hurling championship medals that year and the year after, his ability at fourteen years of age to make the team is still recalled fondly by supporters of the Magpies. He was part of the Clare minor hurling panel which claimed provincial honours in 1989 and lost the subsequent All-Ireland decider to Offaly.
Patrick won a silver medal at the Community Games in 1986 in the 100m and was also a promising cross-country runner. He was Treasurer of the Munster Snooker Council up until his death.
In more recent years, he was involved with groups such as the Clarecastle Folk Choir and the Clare Crusaders. He sang 'From Now On' at a Crusaders fundraiser, his funeral on Saturday heard a rendition of the Hugh Jackman song. A spokesperson for Clare Crusaders expressed their gratitude to Pat's fundraising contributions and involvement over three years with the Strictly Come Dancing Fundraiser. "It is with a heavy heart our greatest showman said goodbye to us. He was a gentleman, very proud to be supporting all the children that attend the Clinic".
Through his work as an Airport Fire Police Officer, Pat was known and embraced by many colleagues at Shannon Airport with strong friendships formed as he climbed the ranks. He joined the Airport Fire Service in 1992. His working life began at the age of sixteen.
Speaking at Patrick's funeral mass, Fr Pat Malone commented, "Our funerals are very different now to what they were in recent times but the sincerity, love and sense of care that people have for Patrick is still very evident".
"All he did, he always did with perfection and tried to have it spot on. When it came to doing anything, if it was done, it was to be done properly. He was a man of standards," the Clarecastle parish priest added. The presence of the Clarecastle flag at the bottom of his coffin was also striking, he felt, "If you're a Magpie you're always a Magpie, you never give up if you're a Magpie, of all the flags the bottom one is a Magpie one because that is what he was rooted in".
Patrick's smile was recalled by individuals paying their respects, Fr Malone noted. "I was looking at the RIP comments, they were one of the things I wouldn't have seen until recently because I met the people and heard what they said. People are using them now that never did. Some beautiful comments mentioning his goodness and kindness but so many mention his smile and how it reeled them in and comforted them".
Fr Malone said he was struck by medical staff who offered their sympathies. "The medical staff who are used to seeing people who are sick and going through extraordinarily suffering, the beautiful way they spoke about him is a tribute to him, to his courage and patience, he could appreciate when others were doing a very difficult task whether it was caring for them or bringing them very difficult news.
Addressing the mass, Patrick's son Kevin spoke of his admiration for the "incredible person my Dad was". He continued, "Dad's are someone to look up to, someone to admire, someone to laugh with and someone to talk to and share everything life has to offer. So incredibly lucky to have shared all of this and more with my Dad Pat, I'm blessed to have a father like him. To say we loved my father is an understatement and to say we will miss him is a greater understatement.
"Although he didn't beat cancer, the firefighter in him shone through and he fought until his very last breath, the strength my dad has shown us all has been incredible, there was no one like you and no one will ever be again. I will cherish our memories and do my best to carry on your legacy," Kevin added.
Patrick is survived by his siblings Martin and Ann-Marie, his loving children Kevin, Simon and Jorrdan, extended family and wide circle of friends.