*Joe Killeen. Photograph: Martin Connolly
Upon his election to Clare County Council, Joe Killeen shared his concern for North Clare's future and the need for it to be seen as a viable option for families to choose to live in.
A primary school principal in Gort, Joe was elected on the fourth and final count in the Ennistymon Local Electoral area last weekend following in the footsteps of his first cousin, Tony who was elected to the Council in 1985 and later the Dáil where he served as Minister of Defence.
"I feel very privileged to have been elected by the people of North Clare, I really didn't expect that I was going to be able do it first time round but I've been involved in my teachers union for a good long time and I've a lot of experience of bringing people together, establishing what the difficulties are and finding solutions to problems, I'll bring that to bear in my role as a councillor in the North Clare area".
Speaking to The Clare Echo, the part-time farmer highlighted the visible issues in his area. "I would like to see North Clare as an area where young people see value in establishing a home, setting up a family and contributing to the communities of North Clare which will in turn enhance the lives of everybody in these communities. I have a concern for our transport system within North Clare, I was instrumental originally in setting up the North Clare leg of the Clare Accessible Transport and now with the overall base being moved outside of our county, I'm determined to ensure there will be further routes established to increase connectivity for people and allow them to take the bus to work on occasion and support communities within our area. As a farmer I will be very interested in promoting and aiding environmentally friendly farming and the branding of bespoke North Clare agricultural produce to allow families gain a sustainable income for farm produce".
Key to his success was the presence of his cousin, Tony on the canvass. "Tony definitely was a help, I've been involved in his campaigns since the 1990s. I would be familiar with the organisation of the campaign and I put that into place in this campaign. My own family became very involved, we were all involved with Tony's campaign as well, lots of my cousins and friends came out to offer their support from each and every party to give me a hand to get out and meet all the people. Ultimately it is down to the people who had the vote to put their trust in a particular candidate, I'm delighted I was that candidate and I will do my level best to fulfil the need they have identified on the doorstep".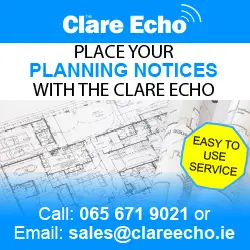 His year long term as President of the INTO concluded in April and on how he managed to multi-task that role, the election campaign, his farming duties and preparing to return to school, the Corofin man revealed, "I'm a principal of a school for the last thirty years and if you want to get something done in your school you ask a busy person.
"That's the person who can go to the hurling match, bring the kids to a communion or confirmation practice, I would be one of those busy people. I enjoyed my role as President of the INTO with 47,000 teachers and travelled the 32 counties, I enjoy working with people and like being involved in the coalface trying to solve problems and bring all the different constituents together to try find a solution and devise a long term plan for an area or to solve a particular problem and bring about improvements in an area".