*Patrick Kelly, Imogene Toft, James Toft. 
Clare motorcyclist James Toft smashed world records on his last visit to Pendine Sands, now he's putting the final touches on preparations on the return trip and he's bringing with more competitors.
In September last, James recorded the fastest ever land speed time in his class for the half-mile (129mph) and full-mile (169mph). Almost twelve months he's nearly set to go bigger and better in Wales for what he described as "Europe's mecca for land speed racing".
His wife Imogene, a native of the UK who went to school in Kilrush will be looking to create a world record in class driving her Audi A8 4.2 V8. Ennis' Patrick Kelly, a friend of the couple is always seeking to carve out a world record with his Seemog Buggy.
Speaking to The Clare Echo, Toft who grew up in Lahinch and was educated in Ennistymon is buzzing to rev up across the water. "Very excited isn't the word, everything is piling towards it. Last night, I was out in the shed till 11pm just assembling bits of the bike, Patrick was the same with his buggy, he messaged me at 11:30pm asking was I finished. We just finished Imogene's car the end of last week, we finally got the exhaust system sorted. It's snowballed up on us pretty quickly".
Public interest is always growing for James' exploits on the bike with dozens of people coming into his place of work, the Photoshop in Ennis to chat to him about it. "The support is great, people come into the shop to me. I completely underestimated how much support I would get, it was in the paper before I went and then when I came back, people went out of their way to come into me to talk to me about it.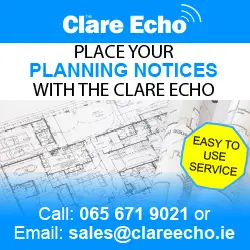 "The support I've had is great from customers coming in and from businesses, Paddy Kelly are looking after us, ST Auto Centre have been a great help into me, Pat Foudy Tyres, I've been ridiculously surprised at how much people wanted to get involved and get on board. Last year it was a case of doing it and see what happens, now people know we're going. Earlier today I had two people in, one man with his daughter who was fourteen and she knew it was three weeks away, she knows the countdown better than I do. The support in Clare has been phenomenal, it really has".
Clocking up such speeds on Clare roads would result in any driver losing their licence so practising for the event largely hinges on making alterations to the bike. "There's not many areas you can practice in to be honest, this year there has been a lot more development with the bike. Last year I raced on the Saturday and the Sunday with it, all the week before I commuted to work on it. It's still road legal but there's a lot more changes, it needed a lot more power and more aero-dynamic changes".
Motorbikes and speed have been a love of the Kilkishen's resident since his childhood but with the dream comes the prospect of a nightmare ending. "I've had a few bounces. I've been very lucky, it's something we don't talk about as much but I've never had real accidents competing, I've smacked up on a few track days and I've written off enough bikes in my time but I've been very lucky in all honesty, I've managed to walk away from everything I've had. Getting up in the morning you'd be a bit stiff after some injuries but I've never been hospitalised, people have had much worse at much less speeds than I've had".
Visiting the Pendine Sands is nothing new for James but come September 14th and 15th, breaking world-records that he set on board a Suzuki Hayabusa represents a different challenge and one he cannot wait for.