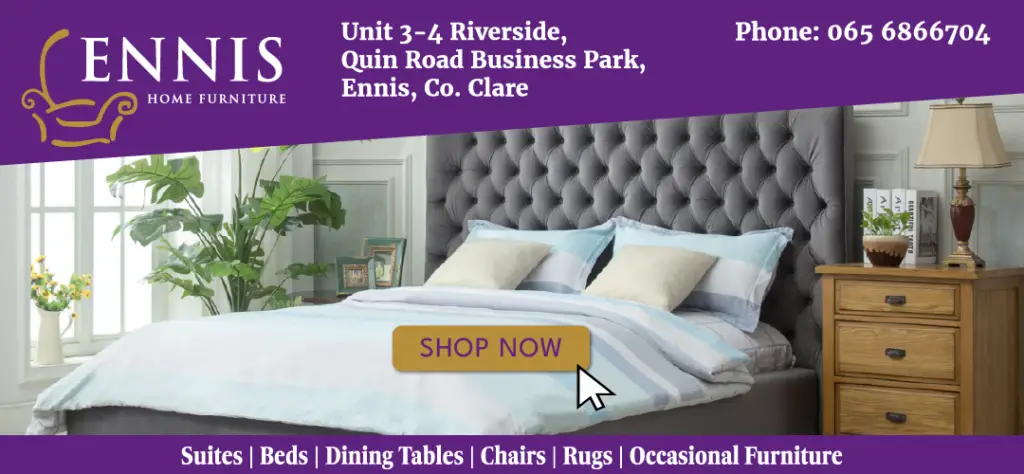 WITH International Women's Day this week, The Clare Echo speaks to some of our county's most prominent businesswomen to learn what makes them tick, and their plans for the future. From hoteliers and café owners to gym owners and candle entrepreneurs, we learn what has inspired these women in their careers and ask for their tips on making it as successful business people. Keep an eye on our website for Part 2 of this series.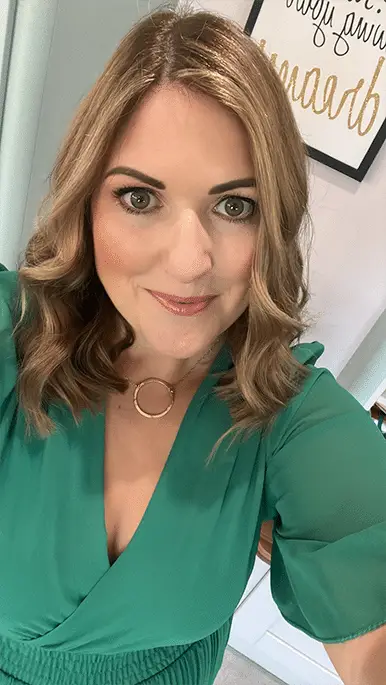 Sarah Gould – Riverside Hair & Beauty
WEST Clare woman Sarah Gould has packed a lot into her life as a young business owner. A winner of the Rose of Clare in 2004, Sarah also carried out volunteer work in Africa. However today, her name is certainly synonymous with hair and beauty in West Clare. Proudly celebrating 10 years in business last October, Sarah has developed Riverside Beauty in Cree into a glimmering example of how a modern and successful business can thrive in a rural setting.
Having established on her own during the global recession in a rental premises in Cree, Sarah's energy and ambition were key in growing the business. In recent years, she navigated the choppy waters of running a hair & beauty business during Covid-19. Through continued expansion – and developing an online business (rsbeautyshop.ie) – today she employs a bustling team of beauticians and stylists in an ultra-modern, custom-built and wheelchair accessible premises.
Sarah proudly employs nine women in the West Clare village. Training in young stylists and starting them on their career path is important to Sarah, who herself speaks very highly of her own early employers including Dierdre Body in Ennistymon, and Valerie Burns in Ennis.
Wedding hair and make-up, and all things nails are among Riverside's most popular services while recently, Sarah has invested in new machines to bring more advanced treatments to the salon including laser hair removal and a hydrafacial machine. "It all feeds into offering a higher level of service, a broader and more professional offering that you can get in many salons."
Such investment is appreciated by customers notes Sarah, with clients of registered salons such as Riverside Hair & Beauty being able to avail of a higher standard of service. Sarah is grateful to customers who continue to support legitimate beauty businesses which offer training and employment, establishments which are highly important to drive standards in the industry which comes under threat from black market offerings.
"Without the local customers, I wouldn't have this business. They keep me going, along with the holidaymakers in West Clare during the summer, the hotels and the weddings are important business to us which is a nice addition to our local customer-base. I am so grateful for all their support."
For more information about Riverside hair and beauty, please visit www.rsbeautyshop.ie or call 0659059735.

Eileen Keaveney – Hometrends
Eileen Keaveney, a native of Roscommon, stepped away from her promising career in Kellogg's Ireland to partner with her husband Finbar to grow and develop Home Trends.
Home Trends thee Furniture & Bedding store is situated on Parnell Street, Ennis, has been supplying quality furniture, bedding and home accessories over a decade now. A key contributor to the direction of the company since its inception, Eileen's insight is informed by more than 25 years in business development, operations, and customer engagement.
Eileen has a BSc in Business Information Technology and has served in senior executive positions in public and corporate companies including Vodafone and Kellogg's Ireland. Finbar and Eileen were both looking for a fresh challenge on a professional level, while also seeking a better work/life balance that would benefit their family
Furniture Sales are an exceptional barometer of the economy and store owner Eileen says she has noticed a significant upturn in recent times. "When we started our business in 2013, the furniture business, no more than many other businesses, was in a bad place. Thankfully we are seeing a gradual improvement. People seem to be more confident to spend, property is moving and there are first time buyers on the market again. There isn't a day that goes by that we don't have somebody in with plans to furnish their home. Also, people working from their home are seeing the need to do up their house more". The eye-catching newly painted building has a front and back entrance, which is complimented by its interior which was refurbished in 2020, a testament to their commitment to their customers. The second floor has a huge display of rugs, flooring, dining, wardrobes, bunk beds and occasional pieces.
Eileen says "Our Spring Sale is now on so it's an excellent time to invest in that luxurious mattress, or 3-piece suite. We also have some lovely rugs, mirrors, and soft furnishings to brighten and decorate any space in your home, all prices have been reduced in store.
Focus on the Customer – The Home Trend's team have worked tirelessly to ensure their customers' requirements are catered for which has led to a loyal customer base over the past decade. Eileen & Finbar pay a special tribute to their staff and say "behind every success story is a great team, we have been blessed with a fantastic team of people who show dedication and loyalty on a daily basis"
Supporting Irish Jobs – An integral ethos of Home Trends is to support Irish manufacturers and therefore secure Irish jobs. Home Trend's main suppliers for mattresses and beds are Aurora Bedding and Faith & Ethan based here in Ireland, providing top quality mattresses, headboards, bases, lockers and footstools.
Eileen added, in 2017 Home Trends launched the elegant Errigal Collection and are now the exclusive stockist of this beautiful Irish handmade collection of suites, chairs, and footstools. "This new range offers an invaluable service, whereby your three-piece suite, corner suite or armchair can be designed to your specific measurements. The customer can decide on the fabric and color, an excellent service and people just love the end product"
Finbar & Eileen would like to take this opportunity to thank all their customers for their incredible support, loyalty, and kindness over the past 10 years. Home Trends, 29 Parnell Street Ennis (V95ED79) 065-6797853. For more information find us on Facebook / Instagram – Home Trends Ennis or www.hometrendsfurntiure.ie
Chantell & Danielle – Wix and Wax
Wix and Wax Ireland is a luxury home fragrance company. Their workshop is based in Ennis where they manufacture a range of hand poured home fragrance products including melts, candles, diffusers, rooms sprays and gift boxes for our own brand. At the beginning of 2020, when the world stood still due to the Global Pandemic, the pair decided to turn thier passion for home fragrances into a business.
What 5 words that describe your business?
Dedicated, Sustainable, Excellence, Dynamic, Genuine.
What are your most popular products or services?
Our wax melts, we have 2 ranges including our snap bars and brittle wax with over 20 fragrances to choose from. They are made cruelty free, vegan friendly materials.
What do you enjoy most about owning a business?
We really love the independence owning our own business provides. However, the most rewarding part is positive feedback.
What inspired you to start your business?
The most inspiration came from having control over our work life balance and our children Matthew (Danielle's son) and Kayden (Chantell's son) really, were the inspiration that drove us to taking the risk.
What makes your products/services special?
Our products are completely hand poured in our workshop in Ennis. Unfortunately, a grey area in the industry allows for candles and products made outside of Ireland to be labelled as Hand Made as long as the product is labelled in Ireland. Our products are certified Guaranteed Irish. We are eco-conscious and provide vegan friendly and cruelty free products.
Biggest challenge?
Brexit was one of the biggest issues to date. We do have a lot of UK suppliers and this really disrupted our supply chain when first introduced…It did how ever lead to us finding newer and better suppliers in cases.
What tip would you give women starting a business?
Approach the Local Enterprise Office. They have a wide range of support and courses. We sought out their support shortly after we started our business and they have had a huge impact on the success of our business to date.
How do you relax?
We we're candle lovers before we became candle makers, for us the most soothing environment is being surrounded by our candles and melts.
People may be surprised to know…
One of our most asked questions as business owners is who is Wix and who is Wax. We got asked so much we played a game of rock, paper scissors to decide. Chantell is Wix and Danielle is Wax!
Favourite moment?
We won Best New Business in the Clare Business awards in 2021 and received a Community and Social Responsibility Award from Water Safety Ireland for our campaign in 2021 which raised €2,500.
We we're also featured on RTE's Nationwide in 2021 which was very surreal.
Future plans?
Our long-term plans are to begin exporting. We would like to break into the European and US markets. Providing more employment in our community is also important for us. We currently have 4 employees including ourselves and hope that grows by the end of the year.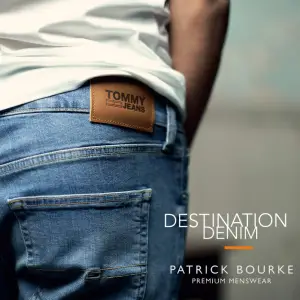 For more information about Wix and Wax Ireland please visit wixandwaxireland.com, find them on social media or call 065 68 48613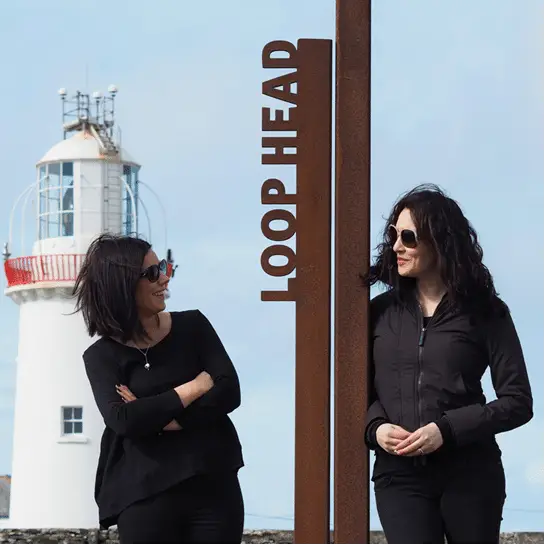 Ailish Connolly & Liz Greehy – Kilbaha Gallery
IT'S girl power on the double at Kilbaha Gallery where co-owners and sisters-in-law Ailish Connolly and Liz Greehy have headed up the business exhibiting and selling original art on the tip of Loop Head Peninsula.
Selling quality, contemporary, beautiful Irish art is the heart of what they have done for nine years, and Liz tells The Clare Echo that Kilbaha Gallery is an extension of her family's tradition in art, with her father and brother both having established careers as renowned sculptors.
Approaching the end of their first decade in business, Liz admits, "In one way it feels like it's gone really quickly but in other ways, we've felt the challenges."
Running a post-pandemic business is notoriously challenging however Liz admits that they were well prepared to pivot for the changing landscape. Making the decision to indefinitely close their café, Liz and Ailish focussed all their attentions on expanding their art business online. "We were in a very lucky position to be honest as we had invested in a great website designed by Acton Web, prior to the pandemic, so we had started down that e-commerce path. We were aware that there was a great opportunity online to expand our reach beyond our location."
Enlisting the services of Kilrush photographer Rosie Prenderville, the website showcases their art to patrons across the globe. Purchasing art is an intimate experience, admits Liz, so they have taken strides to ensure a seamless process for the buyer. "We have everything photographed beautifully so you get a good idea in terms of what you like, we also offer more close-up videos of the pieces if the customer requests that. I think at this stage, we can assure the customer a seamless and trustworthy process. Selling art online is not easy but we've built up a trust with a very good client base so now people who have never been in the gallery before have bought art from us a lot, from America and around Europe."
Liz and Ailish are studious about their business, and have built their credentials in the industry through education, developing relationships with artists, and taking great care in protecting the artists' work. As such, they have a waiting list of artists eager to work with them.
Asked to offer advice to any woman venturing into the business world, Liz stresses the importance of understanding the financial side of business. "Knowledge is power. Try and do some courses, start-up business courses, get a reasonable knowledge around finances. It's very easy to put that to one side and concentrate on what you love doing which is the primary role of what your business is, but businesses are won and lost in the office, somebody told me that and I'll never forget it.
"I would also say to men, women, anybody, try and retain balance in your life. It's very easy to become married to your job in a sense and that can lead to burnout so it's very important to be kind to yourself in all of this," added the West Clare native.