*An Taoiseach, Micheál Martin and Alexandria Forbes, MeiraGTx pictured at the unveiling of MeiraGTx's industry-leading gene therapy manufacturing facility in Shannon. Photograph: Brian Arthur
AN TAOISEACH, Micheál Martin (FF) has formally unveiled Meira GTx's new GMP manufacturing facility in Shannon.
Stretching over 150,000 square feet, the facility is the first commercial-scale gene therapy manufacturing site in Ireland. The company's CEO explained that they searched the world before deciding on Shannon as its location.
Meira GTx's Shannon site contains three facilities. One built to be flexible and scalable for viral vector production for clinical and commercial supply, in addition, a facility to manufacture plasmid DNA – the critical starting material for producing gene therapy products – and thirdly, a Quality Control (QC) hub performing advanced biochemical quality control testing for MeiraGTx clinical and commercial programmes.
Up to 100 people are currently employed by Meira GTx in Shannon, this figure has the potential to rise to 300. Co Clare was chosen as the location due to its proximity to a number of world-class bioscience institutions, as well as partner companies in the healthcare sector. The company now plans to accelerate the development and delivery of gene therapy treatments to patients facing a wide range of both genetic and non-hereditary disorders – ranging from inherited vision loss, salivary-gland conditions, and neurological diseases such as Parkinson's, to potentially diabetes, obesity, and some cancers.
Alastair Leighton Senior Vice President of Manufacturing and Supply Chain at MeiraGTx said it was a day of celebration. He recalled, "In December 2019, I came to the West of Ireland with the IDA as a sceptic thinking perhaps this wasn't the place to invest for global manufacturing and I left two days later thinking it was the only place to be". An employee with the company for almost four years, he said they decided on their current location two days before the country shut down with the pandemic and credited the assistance of Shannon Commercial Properties in making this "our new home".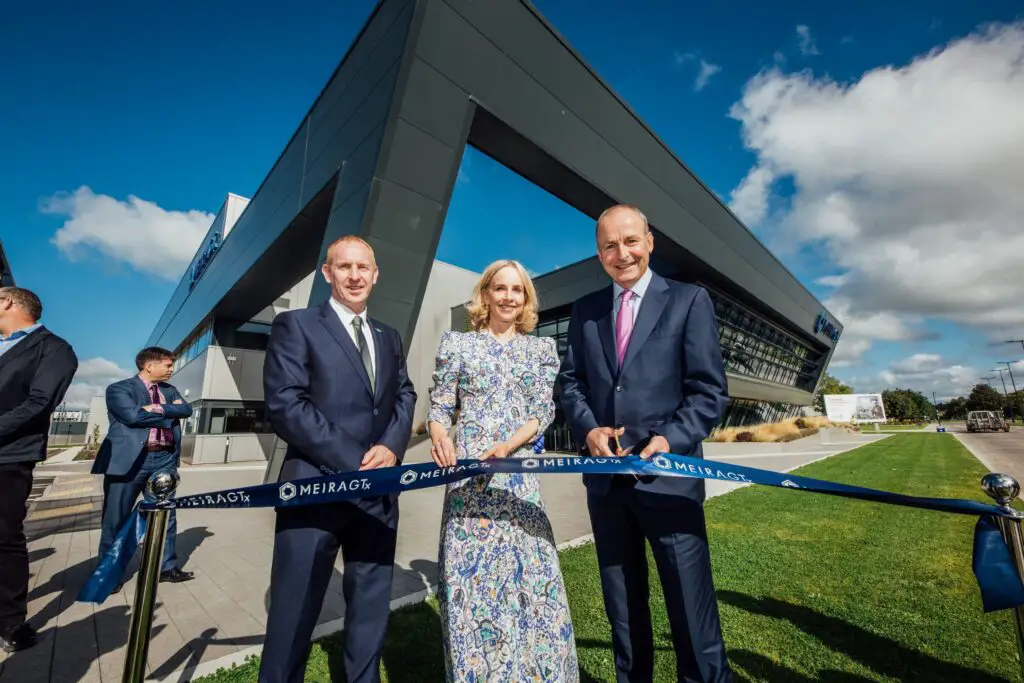 There was "a magic formula" to help alter their decision to set up in Shannon, the Taoiseach quipped. He commended their work in "pioneering into new areas to deal with diseases". The new facilities represented "a significant milestone" for Meira GTx, the Taoiseach stated, "the tremendous strides you have made in the areas of gene therapy allow you to remain at forefront of development. Your facilities here are testament to the thriving world class biomedical industry in Ireland. I am saying this as Cork man, you are perfectly placed in the Mid-West". He told employees their work would play a big part in helping people and their quality of life.
President and Chief Executive Officer of MeiraGTx, Alexandria Forbes explained that the area of gene therapy was "a completely new form of medicine and it can be used to transform a person's life". Manufacturing is among the most difficult aspects of genetic medicine, Alexandria outlined, "there is a huge amount of documentation, testing and quality to be provided around genetic medicine which means your product is determined by manufacturing. To be a company truly innovating, you have to be world class with manufacturing". The facility streamlines gene therapy development, testing and manufacturing capabilities together in-house reducing the time to patients for advanced therapeutic products
Recounting the early days of the business, she said, "When we started, we couldn't find facilities in the world to manage, what we've built in Shannon is a facility that is unique in the world, we produce the starting tool". She added, "One of the reasons when we searched the world for a place to build this facility is the access to incredibly high quality of staff, the training people receive, collaboration with Government and agencies, this specific part of Ireland provided something that was unique".
Head of Manufacturing with Meira GTx, Greg Simmons spoke of the warm welcome he and his family received since moving to Clare five months ago. They received a package containing a Clare jersey for their two year old son upon moving to Clarecastle, "he's draped in yellow and blue running around the garden shouting 'up the banner'" while his daughter who was born in Limerick received the present of a Limerick jersey, "it tells of the welcoming we received as a family". The intent to get the facility built was clear with Conack Construction being able to work throughout the pandemic, he noted. "We are really excited about what happens next," he added while paying tribute to the efforts of Shannon Airport Group and the IDA.