*Doireann Murphy. Photograph: Veronica McMahon
SHOWINGS against Cork and Kilkenny in their opening outings of the National Camogie League have left the Clare manager optimistic for the season ahead.
An eight and one point defeat respectively have been Clare's lot so far following their clashes against Cork and Kilkenny, both games held in Cusack Park.
Losing to Kilkenny was not what Clare deserved, joint manager, John Carmody maintained. "We're gutted, I felt we were the better team on the day, we deserved something from the game but we will take a lot from it, it is early days, it's only February, when I got involved with Conor we spoke about it and the gap to the big three but I think over the last two weeks we've certainly shown we have the character, we have a small tight-knit group and by God they are showing pride in the jersey and no little skill out there today. We're developing a game plan, you can see the structure, we have a few big players to come back from injury and we're looking forward to the year".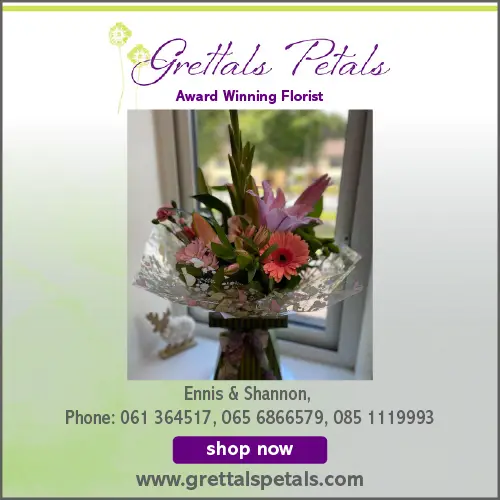 He was adamant their displays to date give reason to be optimistic. "There's more in us, we're happy with what we did today but there is certainly more in us, hopefully today will give us more belief in the group. Circumstances have dictated that the League is about a huge learning process and making sure we're ready when the All-Ireland series starts".
Next up they face Limerick and the Kilmaley man outlined they will be going all out to collect a win. "Training has been disrupted by the conditions the last two weeks being honest, we haven't had a session on a pitch in three weeks, we're hoping to get four or five good sessions in between now and the Limerick game and see can we improve the performance again and hopefully get a result".
During Saturday's defeat, the Daly sisters Susan and Lynda returned to action one week on from Scariff/Ogonnelloe exiting the All-Ireland series. "The two Dalys should be commended, ideally we'd have liked to give them this week off but we needed them in today, with the injuries we were short numbers, it's great to have them back. We've spoken about what Scariff/Ogonnelloe have achieved for Clare camogie, I'd like to think the performance last Sunday and today that players want to come in and be part of this group, it's about coming in and putting on the Clare jersey and showing the pride that this group have, if we can add four or five players to this group then the sky is the limit for what this Clare team can produce," Carmody said.
He added, "We've good players, we've a lot of work to do but thankfully we have a tight-knit group and they want to work and they are willing to work, as the evening's stretch we'll be going on and getting hurling sessions in we can only improve and improve massively, we've a lot to look forward to for the year ahead".
Kilkenny boss, Brian Dowling felt they were not at their best and fortunate to claim the win. "We were very lucky to come away with the points today, we didn't deserve it, we didn't play well at all, we were missing our chances, our composure was poor at times but in fairness to the girls they stayed at it and we got a good score at the end to win by a point".
Both managers were frustrated with the showing of referee, Andy Larkin. "It was a very frustrating game, I don't think I was ever involved in a game where there was so many stoppages, there was no flow to it, everything seemed to be a free, it was very frustrating on both sides, we couldn't tackle without it being a free. We're coming away thinking camogie is being more physical and then it turns out that it is not, any neutral watching that game couldn't say they enjoyed it, it was just stop start and that is very frustrating, there was no flow to the game," Dowling stated.
Carmody added, "We had to have a word with the referee after ten minutes, we thought he was only refereeing one team but he settled down after that".