A West Clare widower and father of one was ordained as a priest at the weekend.
Quilty man, Martin Shanahan was ordained to the priesthood for the Diocese of Killaloe by Bishop Fintan Monahan celebrated in Saint Mary's Church, Mullagh on Sunday.
Bishop Monahan referenced the experience Martin brings to the priesthood from his family and working life. He was married to Mary Margaret O'Flaherty from 1992 up until her death in 2011. They had one child together, Eoin who was the organist for the ceremony. Interestingly, both Martin and Eoin were students in Maynooth College at the same time.
For over thirty years, Martin worked with the ESB in Miltown Malbay and Moneypoint. It too was referenced by Bishop Monahan during the mass. "Having worked in the ESB for many years one would hope on the feast of Corpus Christi that he would bring some of the power and energy and strength of the Lord in The Bread of Life to us in his ministry along with the light of Jesus Christ and of course not forgetting while he's on a roll the renewable wind energy of the Holy Spirit that we celebrated just two weeks ago here in Mullagh at Confirmation".
Martin has always had a strong affinity with the church. He was the first Chairman of the Killaloe Diocesan Eucharistic Adoration Apostolate and served as a volunteer for many church organisation and community groups in the diocese.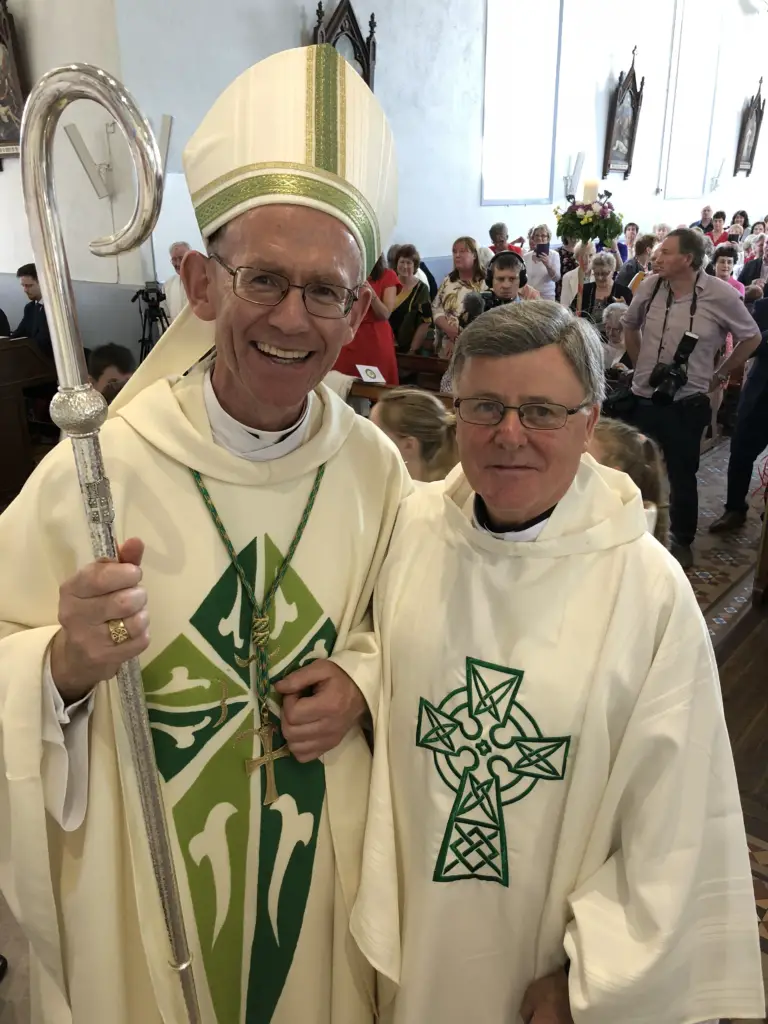 In his final message to the congregation, Bishop Monahan passed on his best wishes to Fr Shanahan. "Congratulations and every blessing to Martin on this happy day. We rejoice and celebrate with you and your and promise to keep you in the prayers for the generous ministry of service you are about to take on. It is great to have you as an esteemed colleague of the presbyterate of Killaloe diocese. I hope you will be very happy and fulfilled as a priest of Jesus Christ. I know you will continue to do outstanding work".

Fr Shanahan pursued theological studies at the Priory Institute in Tallaght under the direction of the Dominicans. He entered Maynooth to study for the priesthood in the Diocese of Killaloe in 2015. Martin was ordained to the diaconate in the diocesan Cathedral of Saints Peter & Paul, Ennis, on Sunday 26 November 2017 and has been ministering as a deacon in Ennis Parish since that time.
He celebrated his first mass of thanksgiving in Quilty over the June Bank Holiday weekend. No announcement has been made as to where Fr Shanahan will be based in the Diocese of Killaloe but diocesan appointments are expected to be announced in the next week.