Unfinished business and a huge carrot of winning a provincial title await the Clare senior hurlers after they comprehensively defeated Limerick on Sunday.
One week previous Gerry O'Connor told this writer that prior to the Tipperary game he felt his and Donal Moloney's management position was under threat, now they're preparing for their second successive Munster Final and the smile on his face in Cusack Park spoke volumes.
"It's been some turnaround, we're on a journey, we started this journey last November over in Fenway in Boston, we said that every competition that we entered whether it was Fenway, the Munster League, the All-Ireland series or the Munster championship we were going to commit to it fully and pick the best team that was available at the time and ultimately this is another step on that journey and we're playing Cork in a Munster Final. We have unfinished business with Cork from earlier on this year and from last year and we're really looking forward to what I presume will be Thurles going down and expressing ourselves", O'Connor said.
Clare's Munster record is poor, Gerry and Donal became the first Clare management to secure back to back Munster final appearances since Ger Loughnane in 1998 and 1999. Six managers have been in the hotseat in the interval. The prospect of provincial success excites the Éire Óg clubman.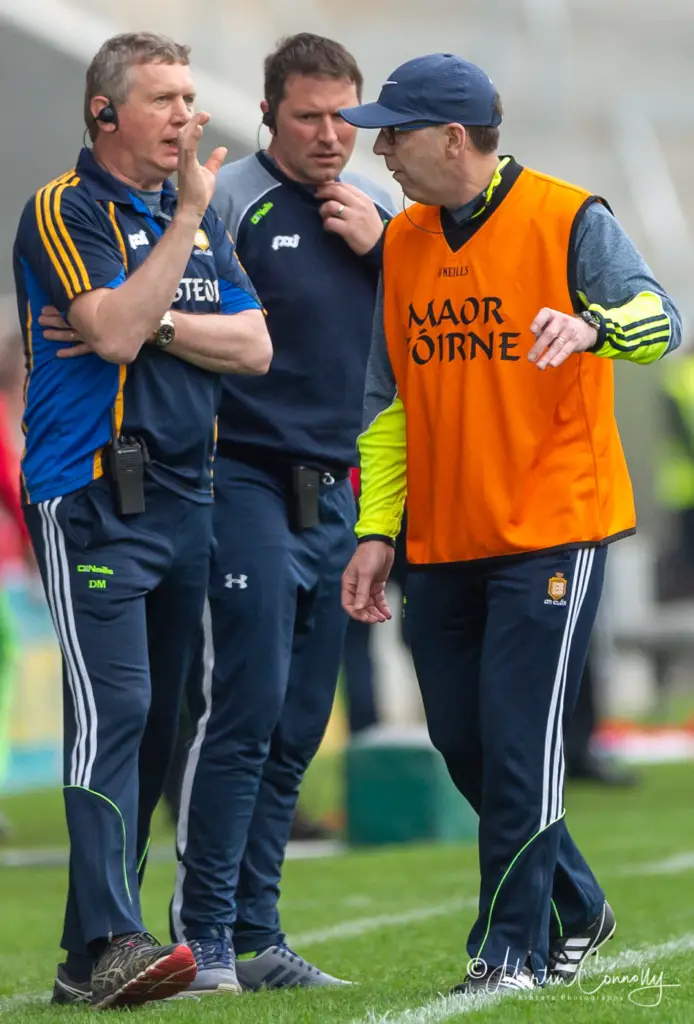 "It's a huge carrot. We've had four incredible games in Munster, the Munster championship I think and I'll say it again a disconnect with our supporters over the last number of years, the most positive aspect is for us to look around here, see all these people who we recognise from our U21 days and to give a performance like we did in that second half and the thing about playing at home is you can be under more pressure but our guys fed off that energy that was coming off the terrace and delivered a top class performance".
Throughout their days managing at underage and senior level, Gerry and Donal have swapped the sideline roles of Bainisteoir and Maor Foirne for every second game. Noticeably this year they have broken the tradition, Gerry was 'Bainisteoir' for successive games against Waterford and Tipperary with Donal as 'Maor Foirne'. Then versus Limerick, Donal was 'Bainisteoir' and coach Gavin Keary 'Maor Foirne' with O'Connor located alongside their extended backroom team. "Myself and Donal are getting a bit old so we said we'd give it to somebody a bit young and fit like Gavin," explained a smiling Gerry.
With both teams reduced to fourteen before half-time, each management had time to plan on how to work it to their advantage at the break, in these discussions Clare decided to make as much space as they could for Clonlara's John Conlon. "We left that channel free for John to run into and no better man to exploit that space, we could also be a bit critical of him there were a few runs that Tony Kelly had made where he could have possibly picked him out. Ultimately it was our composure to stick to the game plan, play to the lines, short snappy twenty forty metre stick passes and that's what us over the line.
He continued, "I have to mention the Clare support, since we started out here in our first home game, since that Shane O'Donnell shoulder I think there was a reconnection with our supporters and they've been just magnificent, they were magnificent in Thurles but they were superb here today, they really drove on the team when needed".
Last week it was reported that his joint manager, Donal Moloney had been handed down a proposed ban following an incident during the Tipperary game. On whether it would be in effect for the Cork game, he stated "I've no idea. That will go through due process, Clare GAA and the County Board are looking after that".
Similarly he wasn't inclined to say too much on the dismissal of David Reidy but was aware of the reaction that his clubmate was unfairly given the line. "That's what we're hearing and that's what was said to us at half-time. The referees have a decision to make and we're not going to comment on any refereeing decision. We'll go through whatever process we've to go through to see if there was an actual injustice done there".