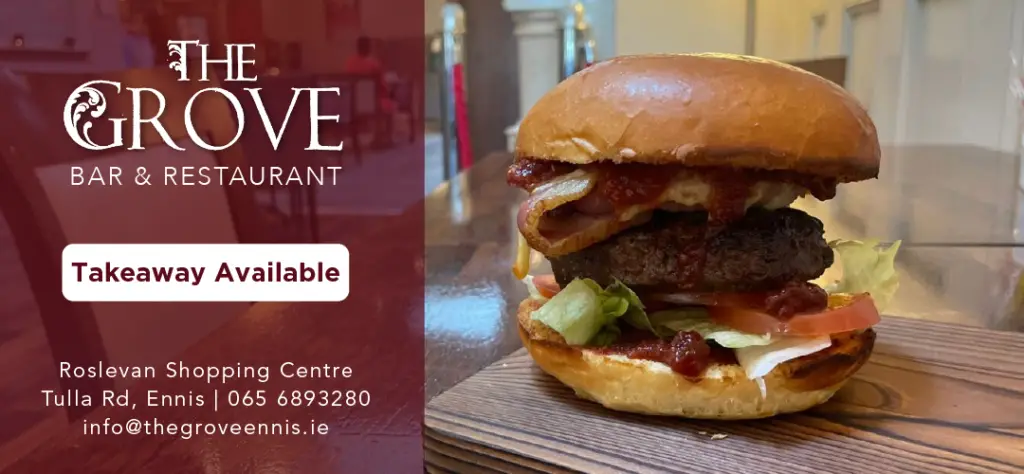 *Peter Duggan is outnumbered by Gearoid McInerney, TJ Brennan and Daithí Burke. Photograph: Gerard O'Neill
CLARE WERE NOT STRONG enough to deal with Galway's senior hurlers, the county manager has conceded.
Qualification for the knockout stages of the Allianz National Hurling League is no longer achievable for Clare's senior hurlers this season after they fell to their second defeat of the competition, this time a five point loss to neighbours Galway.
A promising start saw Clare build up an 0-08 0-01 advantage inside the opening quarter but Galway were within a point by half-time and leading four minutes into the second half.
There was an inability to grow from this strong start, manager Brian Lohan acknowledged. "We got a good start and they got to grips with it a bit and they kind of dominated the second quarter and got back into the game before half time. They were a good bit stronger in the second half. In games like this against good opponents you try and make hay when you are on top and then try and hang in there when the opposition team is on top. They got on top of us a bit but they are good quality players and good opponents and they were a little bit stronger than us".
Adding new players along with getting results is the goal during the League, Lohan said. "It's important to win matches and you are trying to win every day you go out. We were hoping to put in a better performance than we did today but we were up against a good opponent and we have to take that into account. We are disappointed not to get the result but there are some good prospects.
"We saw a good few guys today but we just weren't strong enough to deal with Galway in the second half. That's the name of the game. You try and see as many players as you can but you also try and win as many matches as you can. We saw a good few guys today but we just weren't strong enough to deal with them in the second half".
On the flip side, Galway boss Henry Shefflin was the one annoyed with how his team started but pleased with their finish. "We got a poor enough start, we changed the team again slightly for this one, that was dictated by some of players coming back from injury. We were slow to start and Clare were moving very well with a slight breeze. We grinded our way back into the game and we put ourselves in a good platform for the second half. It was a good performance. Training has gone fairly well in the last few weeks and we were hoping to see that today".
Kilkenny great Shefflin was content to have not picked up any further injuries. "We got game time into a lot of players. It was important that we didn't pick up any more injuries as we had picked up a few in the last few weeks. It was great to see lads back in the field, They have that bit of experience and it's probably easier for some of the newer players to play around them as well.
"Conor Cooney played very well and he linked up the play very well. He also played very well the last day and was one of our better players on that occasion, took the frees very well. Evan (Niland) came in and he took the frees and it wasn't a bother on Conor. He just went about his business which is a great sign. They moved the ball very well today and threw it to the man in the better position. Yes, we had some bad wides. There were aspects of the game which were pleasing but there is plenty to work on. Coming down here to Ennis is always a difficult challenge. It was good to get a performance, especially in the second half," he added.