*Photograph: Burren Eye Photography
Defeat in Sunday's Munster Intermediate club final brought the curtain down on St Breckans' year, manager Donie Garrihy was pleased to see his charges fighting till the end as they had pledged to do.
In defence the men from North Clare impressed in the opening half as they worked the ball up the field under considerable pressure and kept Templenoe to five points despite the Kerry men boasting the majority of possession. For their part, Breckans had four first half wides which Garrihy said was referenced in the dressing room at the interval.
Speaking to The Clare Echo, Garrihy outlined, "The message at half time we gave them too many chances and they capitalised on them, but for that we'd probably be eight points to one up, that is going to hurt us but our excellent defending gave energy to the rest of the team".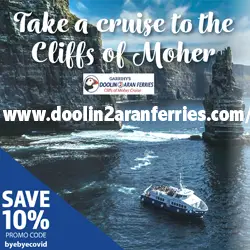 Reflecting on the full sixty minutes, Garrihy pinpointed a missed goal opportunity on thirty four minutes that would have put Breckans on level terms. "Ten minutes into the second half we coughed up a guilt-edge goal chance, we'd have been a point up or level, it would have been game on but they went down and got a point to go four ahead, very close, very close. Obviously the black cards and the red card hurt us but I don't think we blinked an eyelid we just got on with it, substitutions came on and we played with fourteen. I think they died with their boots and kept their integrity, they asked questions of Templenoe".
January saw St Breckans hold their first meeting as they put their plans in place for the 2019 season. With senior status achieved for 2020, the two time Oscar Traynor winning boss felt all involved would need to take a step back before considering their involvement next year. "I would like to reflect now on the season and have a rest, they need a rest, it's been a long road but we kept our integrity and I'm happy with that".